Rockies could resume Anderson talks with A's
Rockies could resume Anderson talks with A's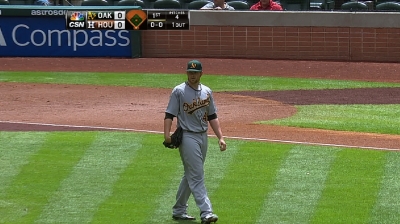 LAKE BUENA VISTA, Fla. -- The Rockies finished last week deep in talks with the Athletics in an effort to acquire left-handed pitcher Brett Anderson, but they didn't complete the deal because of questions about Anderson's medicals, particularly a right foot injury he suffered last season, according to Major League sources.
While the deal didn't happen, it's possible it can be revived during this week's Winter Meetings or beyond. It is not clear who the Rockies would have sent to the Athletics in return for Anderson, who turns 26 on Feb. 1.
Anderson is viewed as a pitcher who has upside if he can stay healthy. He is 26-29 with a 3.81 ERA in 84 career games, including 73 starts. The A's have rare rotation depth with seven starters. By moving Anderson, set to make $8 million in 2014, Oakland believes it can address holes in its Minor League system. Recent reports have suggested that there are plenty of potential suitors for Anderson, but the Rockies emerged last week as the team that has pursued a trade extensively.
FOXSports.com reported Friday that the teams were unlikely to revive the deal this week, but a source told MLB.com Monday morning that there is a possibility the teams could find a way to make the deal work. The Rockies are looking for an accomplished pitcher with some experience for their rotation, and some of Anderson's numbers fit what the team is seeking. He averages 7.1 strikeouts against 2.4 walks per nine innings during his career.
Anderson spent 91 days on the disabled list in 2010 because of left elbow issues and had Tommy John surgery in '11. He returned in late '12 but saw his time cut short because of an oblique strain. Last season, Anderson started for the A's on Opening Day and made six starts before suffering a stress fracture in his right foot. He did return in late August for 10 relief appearances (0-0, three saves, 5.74 ERA) and made one appearance during the American League Division Series, giving up one run in one-third of an inning in the A's 8-6 loss in Game 4 against the Tigers.
To battle the injury situation, Anderson told MLB.com last week that he is working out with a personal trainer in the Houston area this offseason.
"I think I'm a good pitcher when I'm healthy, but it's been a while since I've had that long haul," Anderson said. "I'm looking forward to that. I want that. I want to pitch, I want to play, I'm tired of getting hurt. It sounds good in theory, but it's about going out and doing it. I'm putting the work in, and I'm trying to be as proactive as possible and exercise all options to prevent any injuries."
Thomas Harding is a reporter for MLB.com. Follow him on Twitter @harding_at_mlb. This story was not subject to the approval of Major League Baseball or its clubs.