Rox hope rotation steps up to complement elite defense
Colorado expects Tulowitzki, Gonzalez to return healthy in 2015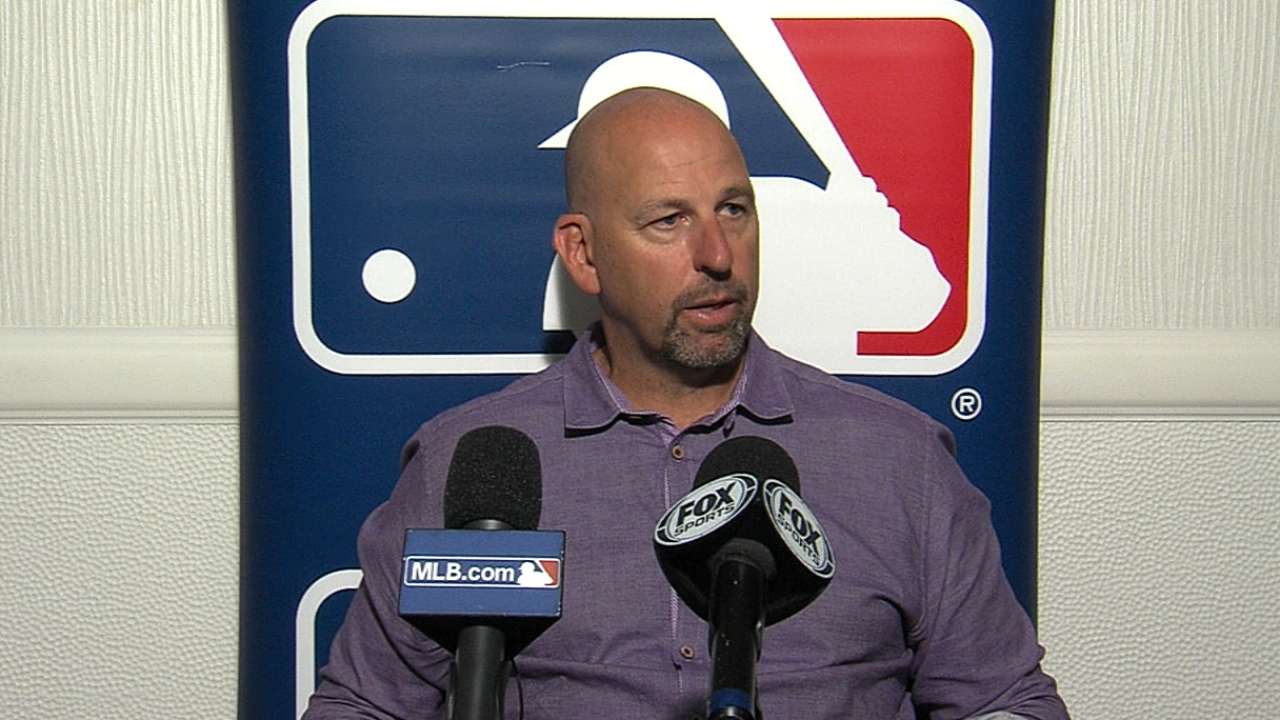 DENVER -- The Rockies are entering 2015 with a "Why not us?" attitude.
In this age of competitive balance, when the majority of teams are either in or on the fringe of contention at the non-waiver Trade Deadline, the Rockies don't feel it's preposterous to believe they can shake off four straight losing seasons, including 96 losses in 2014. But there is work to do to put together a roster, especially a pitching staff, that offers talent to back that hope.
Here are some of the issues that must be settled:
10. What impact can Nick Hundley make as the new veteran catcher?
News broke on New Year's eve of Hundley reaching an agreement with the Rockies, although there is no official announcement yet. Will the Rockies move Wilin Rosario, whose bat is far superior to his glove, or can they hang onto him and use him as a backup behind the plate and at first base?
9. Are several promising young hitters able to build on 2014?
Outfielder Corey Dickerson took advantage of his first chance at regular playing time by hitting .312 -- an average that would have had him in the NL Top 10 if he'd had enough plate appearances -- and leading NL outfielders with a .960 OPS (counting pinch-hit appearances, his overall OPS was 931). Third baseman Nolan Arenado not only won his second Rawlings Gold Glove award in as many seasons in the Majors, but he increased his batting average 20 points and his homer total by eight, despite playing in 22 fewer games. Outfielder and leadoff man Charlie Blackmon couldn't maintain his strong first month -- no one could -- but hit .288. Do they become the Matt Holliday, Garrett Atkins and Brad Hawpe of the successful teams from a few years back?
8. How many of the Rockies' pitching prospects will help at the Major League level?
Turns out expecting the world in 2014 from recent right-handed high-level Draft picks Eddie Butler and Jon Gray was asking too much. But will they become factors sometime in '15? How about lefty Tyler Anderson, another top pick? Righty Chad Bettis, who displayed nasty stuff last spring, struggled as a reliever, but can he turn the corner as a starter? Will Christian Bergman, a 24th-rounder in 2010 who was a surprise contributor last season, prove he belongs? The playoff teams of '07 and '09 owed a large part of their success to homegrown products Aaron Cook, Jeff Francis, Ubaldo Jimenez and Franklin Morales. The difficulty in attracting free-agent pitching means the top of any successful Rockies rotation will consist mostly of homegrown starters.
7. Will the left-handed relievers make a right turn?
Rex Brothers had a 1.74 ERA in 2013. Boone Logan had appeared in 51 or more games in six of eight seasons through 2013. Brothers' effectiveness (5.59 ERA) and Logan's health (three disabled list trips with elbow issues, one more DL placement with a digestive ailment) disappeared in 2014. Could it be that all they need is a turn of the calendar?
6. Can reliever LaTroy Hawkins squeeze another solid year out of his 42-year-old right arm?
Hawkins was supposed to gracefully yield the closer job to Brothers last season. But while Brothers struggled, Hawkins exceeded expectations, earning 23 saves, making 57 appearances (to bring his career total to 1,000) and striking out 32. It would be nice if the Rockies find or develop another closer -- Brothers or rapidly improving righty Adam Ottavino are the candidates -- and make Hawkins a setup man. Either way, Hawkins' savvy and grit makes him the leader of a bullpen that could be an important factor if all else goes well for the Rockies.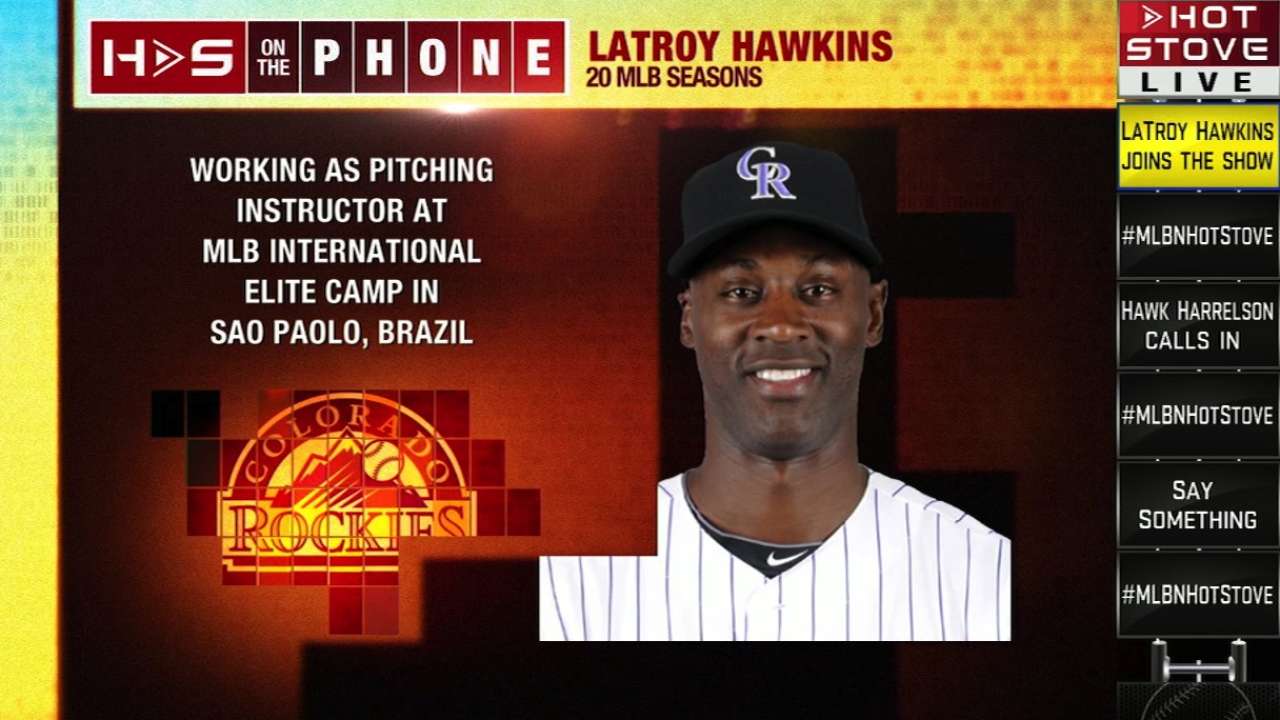 5. With everyone healthy, will this be recognized as the best defensive infield in baseball?
Shortstop Troy Tulowitzki and Arenado have two Gold Glove Awards apiece, and second baseman DJ LeMahieu earned his first last season. First baseman Justin Morneau was a finalist last season. It would be nice for the Rockies to demonstrate how far defense can take a club.
4. Can Morneau continue the second act of his career?
Morneau won the American League Most Valuable Player Award in 2007 and was considered one of the top players in the Majors before injuries cut his participation 2010-12 and he had a healthy but less-than-spectacular season in 2013. After signing a two-year deal with the Rockies, he won his first career batting title and revitalized his career. The Rockies resisted the Marlins' attempt to trade for him, and are looking at him as a productive hitter and club leader.
3. Will a new front-office structure lead to harmony and happiness?
Quite simply, the two-headed leadership of Dan O'Dowd and Bill Geivett in general manager-like positions didn't work. A much debated aspect of the leadership was the stationing of Geivett in an office in the clubhouse area. Now Jeff Bridich has a traditional GM job, and manager Walt Weiss has been given a greater voice in personnel decisions. Will this communication lead to better roster makeup and remove the feeling of being watched over by the front office? The truth is, the success of any system depends on the record, which wasn't good under the old system.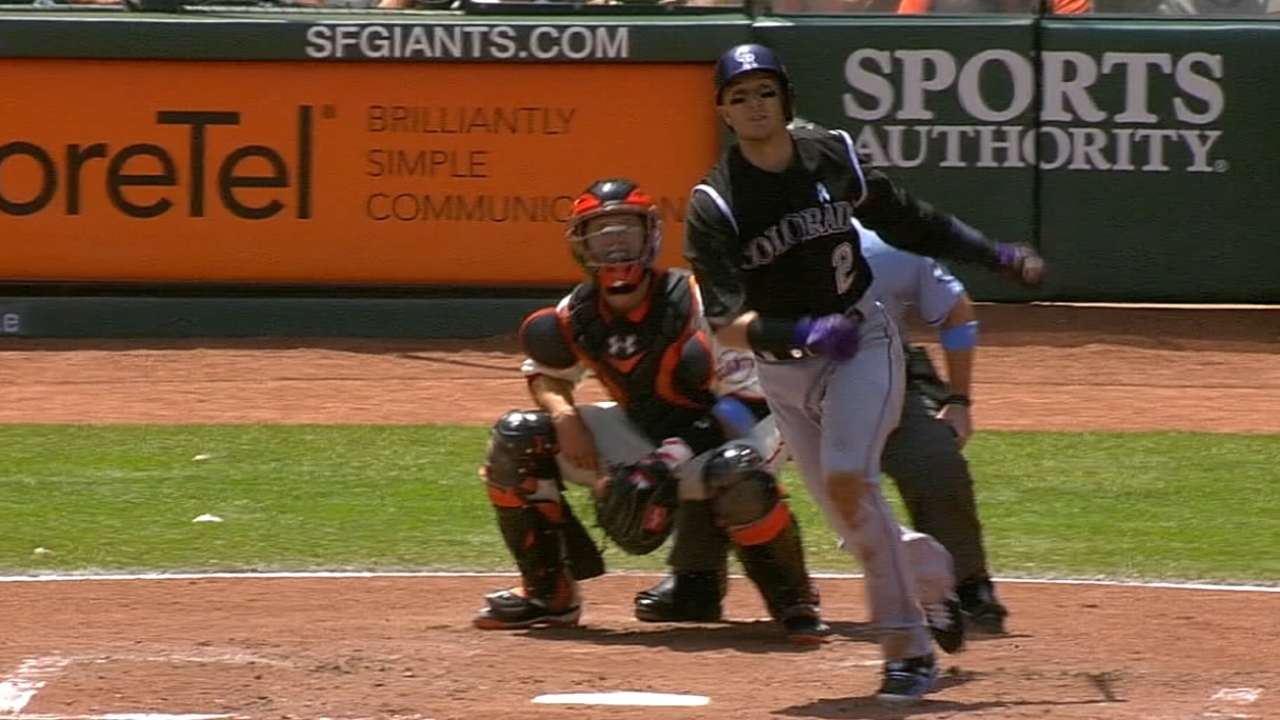 2. Can the Rockies keep their stars healthy?
Will the surgery to repair Tulowitzki's torn left labrum -- an injury he played with for years before finally undergoing the procedure in August -- be what solves the repeated leg muscle issues that have nagged him for years? Will outfielder Carlos Gonzalez's left knee, which also required surgery in August, come back strong enough to provide stability for his power stroke? With these two All-Stars, the Rockies can reasonably expect a strong offense.
1. Will the Rockies pitch competently enough to make the rest of the points matter?
Lefty Jorge De La Rosa's consistency with the club has earned him a two-year, $25 million contract. Beyond him are questions. Will righty Jhoulys Chacin, who has talent for the front of this rotation, shake off last year's shoulder injury and make good on his potential? Can lefty Tyler Matzek build on a strong rookie year? The biggest question is: Will the Rockies succeed in bringing in a solid veteran who can pitch at or near the front of the rotation?
Thomas Harding is a reporter for MLB.com. Read his blog, Hardball in the Rockies, follow him on Twitter @harding_at_mlb, and like his Facebook page, Thomas Harding and Friends at www.Rockies.com. This story was not subject to the approval of Major League Baseball or its clubs.