Descalso's experience could be key for Rockies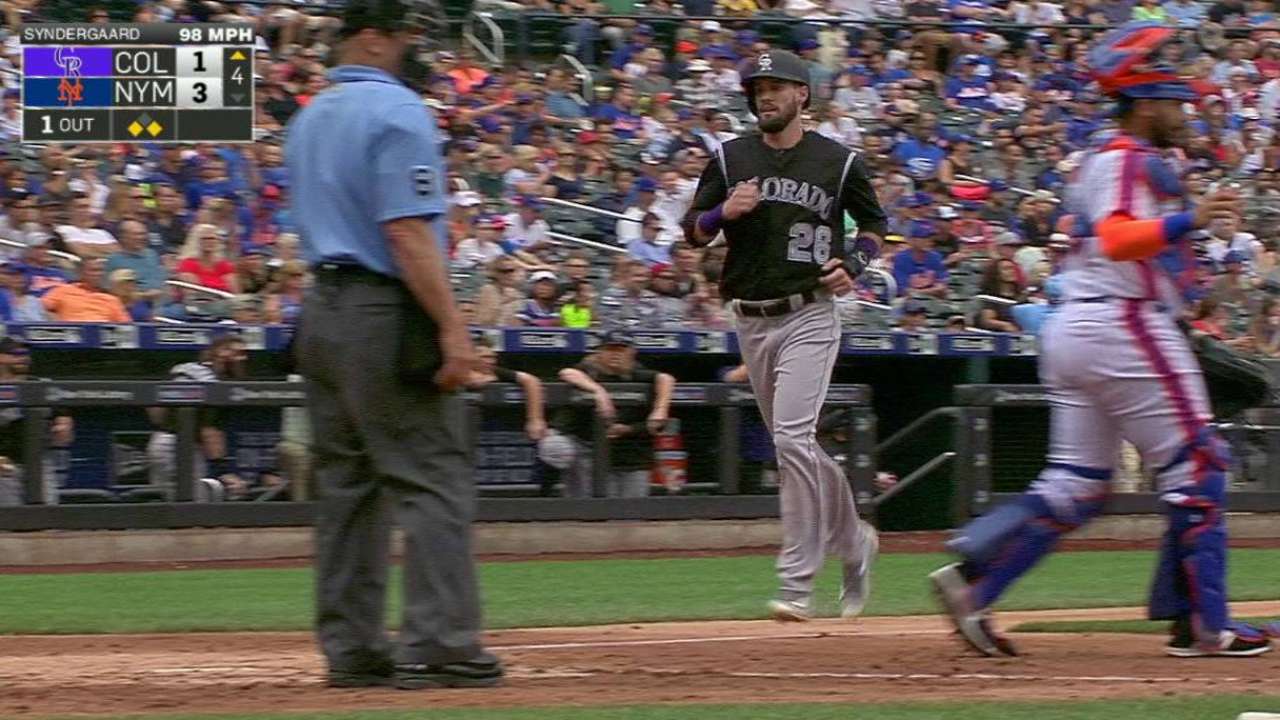 DENVER -- Playing a role in a playoff race is nothing new to Rockies veteran Daniel Descalso. But with shortstop Trevor Story's regular-season-ending thumb injury, Descalso will have a much larger role than expected.
Descalso had two key hits off the bench in Game 6 when the Cardinals won the 2011 World Series, and split time at shortstop as a runner-up in 2013. His Cardinals also lost in 2012 and 2014 in the National League Championship Series.
But after playing all four infield positions and left field for the Rockies, Descalso looks poised to take the bulk of the reps at shortstop.
"I don't claim to have all the answers, but I have been around for a while, and I have been on winnings teams and played in the postseason and big games," Descalso said. "I enjoy talking about the game and situations and approach. I don't sit there and preach to guys, but if guys have questions, I'll try to answer them as best I can."
Descalso is in the midst of a career season and has been among the Rockies' top hitters. Entering Wednesday's game against the Dodgers, his .429 on-base percentage was tops on the team by more than 30 points, and his .324 batting average only trailed rookie David Dahl, who had played just eight games.
That's a significant improvement over Descalso's first season of his two-year, $3.6 million deal with the Rockies, in which he hit .205 with a .284 OBP.
"Danny made some noticeable adjustments over the offseason," Rockies manager Walt Weiss said. "You could see it when he got to Spring Training. A lot more rhythm in his setup. I think that's been the foundation of the success offensively. He always has had a great idea how to take a competitive at-bat, but I think there's a little more juice in the bat and a little more rhythm to hit with."
But Descalso's value goes beyond his bat. He will likely still be used at first base to give Mark Reynolds a day off, and he has value as a veteran with playoff experience.
When Descalso played with the Cardinals, he modeled his work ethic after various perennial All-Stars, including teammates Albert Pujols, Yadier Molina and Adam Wainwright. Utility man Skip Schumaker took Descalso under his wings to show him how to be a professional.
Now he tries to do the same with the Rockies.
Descalso sees similarities between those Cardinals and these Rockies. In his words, starting pitching sets the tone for playoff teams, and Colorado starters have a 3.48 ERA since July.
"Over the last month, we've gotten really good starts from our pitchers, and they've allowed us to stay in games and give us a chance to come back late or steal a win," Descalso said. "It starts with starting pitching. I know it's kind of cliché, but it's true. If you have good starting pitching, you're going to have a chance to win every ballgame."
Ben Weinrib is a reporter for MLB.com based in Denver. This story was not subject to the approval of Major League Baseball or its clubs.