CarGo, Descalso return to starting lineup
Rockies Notes: Club weathers week of freak injuries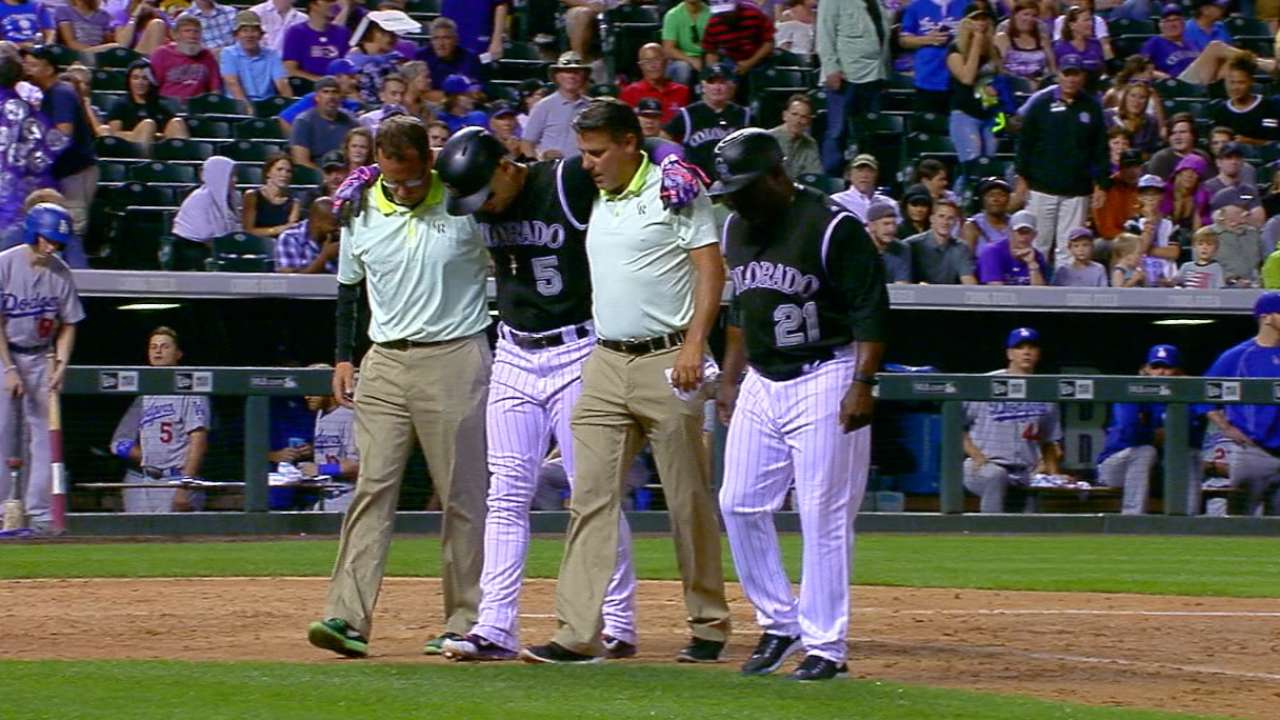 DENVER -- It seemed for a moment that the Rockies had been bitten by an injury bug, but that scare has passed.
In a matter of days, Carlos Gonzalez sprained his left ankle, Daniel Descalso sustained a left shoulder contusion in left field and outfielder Ryan Raburn incurrerd a left knee contusion when he was hit by an errant throw from Jon Gray during pregame warmups.
Although shortstop Trevor Story will miss the rest of the regular season after undergoing thumb surgery Thursday and outfielder Gerardo Parra remains on the disabled list with a high ankle sprain, the team is otherwise healthy again. Gonzalez and Descalso returned to the starting lineup Friday night against the Marlins, and Raburn played Thursday after sitting out two games.
"We had too much accumulated in a short period of a time," Raburn said. "Sometimes that can get a little frantic with three, four guys having freak things happen in a week. Things like that, you deal with it, but in some sense you have to move on and figure out ways to win ballgames."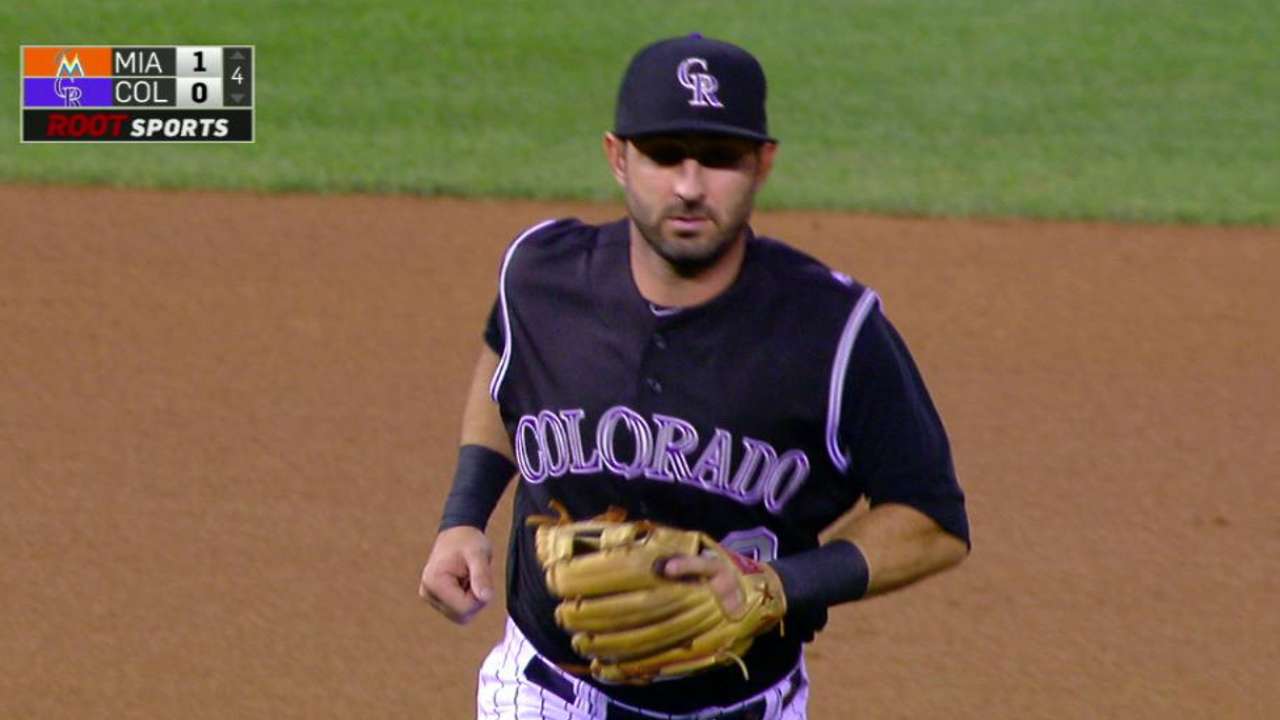 Despite the injuries, the Rockies have been playing well. From Raburn's injury on July 29 to Descalso's injury on Thursday, the Rockies went 4-2 and were three games out of the second National League Wild Card.
"One way to get a competitive advantage is staying healthy," Rockies manager Walt Weiss said. "It's an X-factor. It's key. You keep your core guys healthy, obviously you're going to be in pretty good shape."
Reflecting on Teixeira
Yankees first baseman Mark Teixeira announced Friday that he will retire at the end of the season, and Rockies relievers Boone Logan and Chad Qualls played with him in New York from 2010-2013 and in 2012, respectively.
"He's had a good career, a long career," Qualls said. "I was only in New York for a month, but I just remember he'd always hang out late, and we'd ride the second bus together. Just a down-to-earth guy that enjoyed baseball."
Left-hander Jake McGee faced him six times while pitching for the Rays, holding him to two hits and striking him out twice.
"I remember facing him, he was a pretty balanced hitter," McGee said. "His bat stayed through the zone quite a bit. I tried to stay the other way against him."
Facing Ichiro
Marlins outfielder Ichiro Suzuki entered the weekend series at Coors Field two hits shy of 3,000. As a point of comparison, when Rockies rookie David Dahl was born, Ichiro was in his third professional season.
"It's pretty special to see what he's done," Dahl said. "He had a lot of hits, too, in Japan. If he hits it here, it'll be pretty crazy to see and for me and everyone else to watch. Obviously I don't want to see our pitchers give up hits, but if we win, it's all right."
Ichiro was not in the starting lineup Friday night against left-hander Jorge De La Rosa.
Ben Weinrib is a reporter for MLB.com based in Denver. This story was not subject to the approval of Major League Baseball or its clubs.