Hoffman making case for call to Majors
Rockies' No. 3 prospect acquired from Toronto in Tulo trade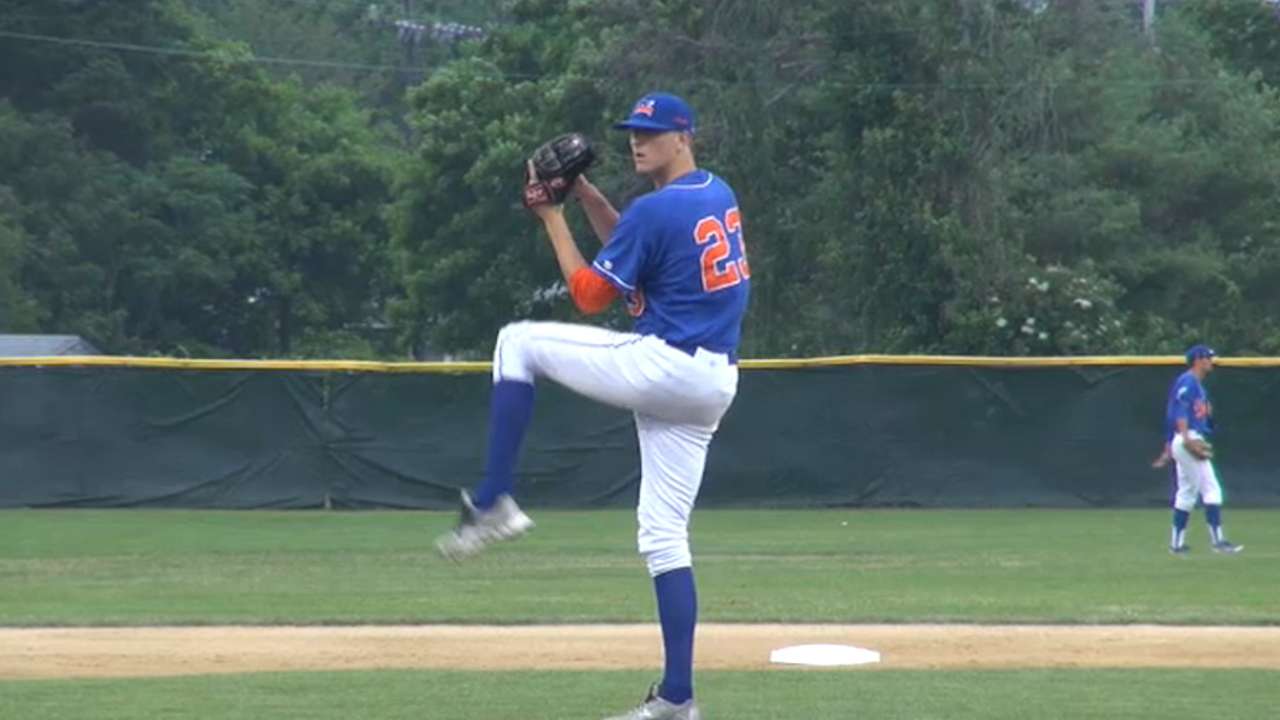 COLORADO SPRINGS -- Rockies No. 3 prospect Jeff Hoffman told himself before the season he wanted to reach the Majors in 2016. Now, he appears close to reaching his mark.
Hoffman, a right-hander, was at his best Sunday in Triple-A Albuquerque's 3-1 win over Colorado Springs, tossing five scoreless innings with one walk, one hit and nine strikeouts.
Acquired as the centerpiece of last year's blockbuster Troy Tulowitzki trade with Toronto, Hoffman is hitting his stride in his first healthy season since undergoing Tommy John surgery in May 2014 while at East Carolina.
"I think tonight was probably the most consistent I've been," Hoffman said. "My fastball was down to both sides, breaking ball was working at the bottom of the zone and were buried when I wanted them to. I think once the consistency gets there, that's when everything will take off."
Finding that consistency is the final key for Hoffman. He feels like his stuff is better than it was at college, when he was a potential first overall Draft prospect before the elbow injury. The Blue Jays took him ninth overall.
"In college, I feel like I just threw hard," Hoffman said. "I had control but I didn't have command. Through my first two years of pro ball, it's been a work in progress with my command, and tonight it showed pretty good in the zone. I feel like I'm way, way ahead of where I was coming out of the Draft."
Hoffman has had innings limits placed on his starts, similarly to how former top prospect Jon Gray was handled last season before his August promotion. Sunday, Hoffman was lifted after 66 pitches.
Even during the shortened outings, Hoffman has made big strides. His seldom-used changeup has turned into a weapon after he did not have a great feel for it in college.
"I think both of us were kind of the same coming out of college," said Isotopes left-hander Kyle Freeland, who was selected by the Rockies one pick ahead of Hoffman. "We didn't have a very strong changeup just because we could get away with fastball, slider and curveball in college. I think for both of us, our changeup has come a long way since then."
The Rockies would need to clear a spot on their 40-man roster to promote Hoffman, but he's making a case that he belongs in their young, talented rotation. And it's not just because of a fastball that reaches 96 mph.
"The one thing that's been really good with him is the work ethic and what he brings to the bullpen every day," Albuquerque pitching coach Darryl Scott said. "The adjustments that he wants to make, he's not stuck in 'this is how I'm going to do this.' He's very open and wants to put himself in the best possible position to execute pitches."
Ben Weinrib is a reporter for MLB.com based in Denver. This story was not subject to the approval of Major League Baseball or its clubs.