Mundell named South Atlantic League MVP
Rockies' Rodgers named Most Outstanding MLB Prospect
DENVER -- Rockies 2015 draftees Brendan Rodgers and Brian Mundell received high praise for their first full seasons in the South Atlantic League.
Mundell also was tabbed the league MVP, while Rodgers was selected as the Most Outstanding MLB Prospect. Both players were named to the 2016 Annual All-Star Team, with Rodgers named the league's top shortstop and Mundell named the league's top first baseman.
Additionally, Yonathan Daza was named one of the league's top three outfielders.
Mundell, Colorado's seventh-round pick in 2015 and the Rockies' No. 29 prospect, leads the league in hits (164), extra-base hits (72), total bases (265) and runs scored (90). His 57 doubles set a Minor League record. He also ranks second in batting average (.320) and is tied for first in RBIs (80). The last player for the Asheville Tourists to be named League MVP was Rosell Herrera, in 2013.
Rodgers, the third overall Draft pick in 2015 and the club's No. 1 prospect, according to MLBPipeline.com, put up impressive numbers, considering he is more than two years younger than the average player in the SAL. He is third in the league with 19 home runs, fourth with 73 RBIs, and also boasts a .282 average. He would be just the third middle infielder in Tourists history to hit at least 20 home runs.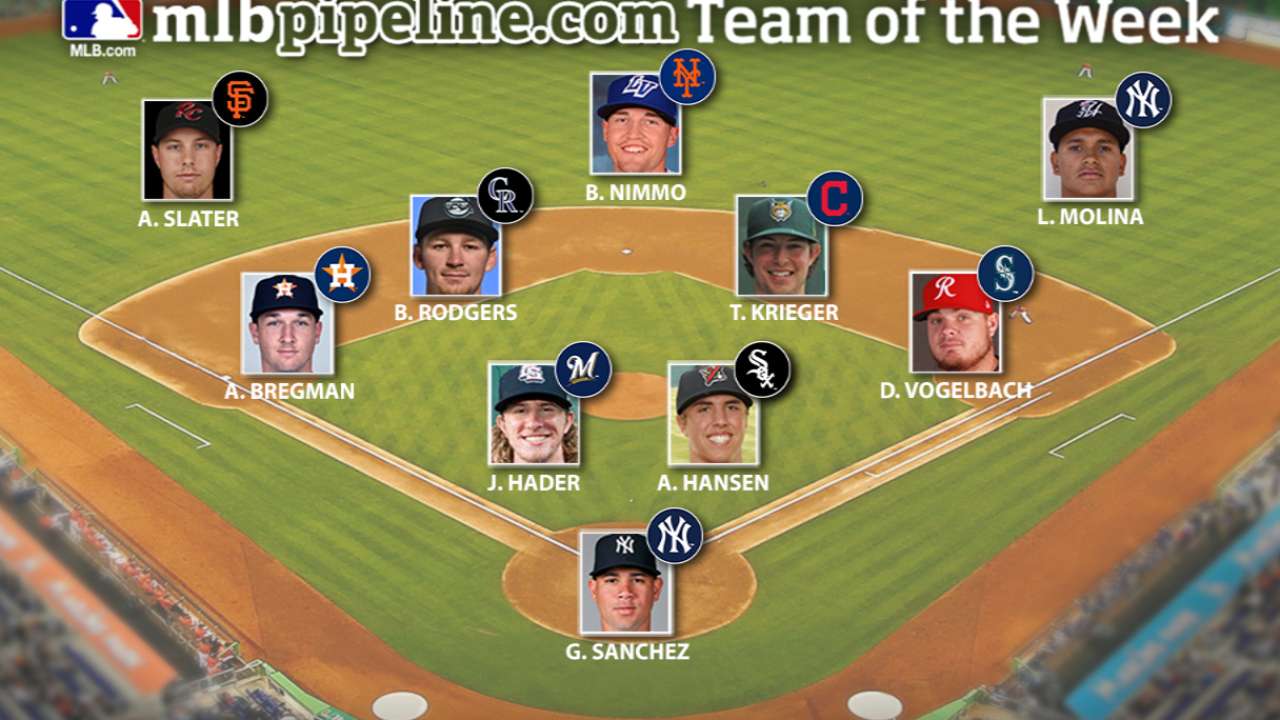 "It's good when you've got good young players," Rockies manager Walt Weiss said. "We have a lot of them, and we've seen a lot of them at the Major League level this year. Load up that stable, man. That's what you've got to do.
"I've heard a lot about Brendan, and I've seen him a little bit. Not in game action, but I've seen him take his batting practice and take ground balls. He's a good looking player. Another young player with a bright future around here."
Daza is third in the SAL with a .307 batting average. He ranks second in hits (146) and doubles (35). He also leads the league with 22 outfield assists.
Ben Weinrib is a reporter for MLB.com based in Denver. This story was not subject to the approval of Major League Baseball or its clubs.