Rox get back Reynolds sooner than expected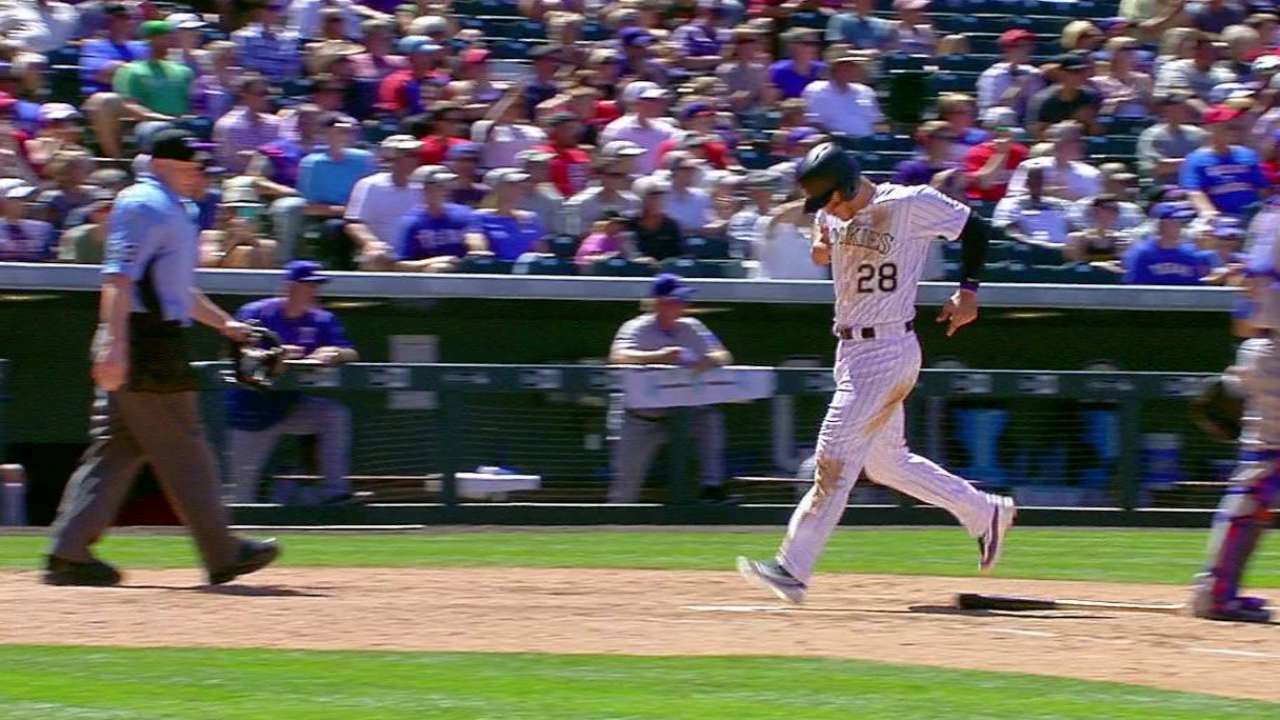 DENVER -- Despite an initial prognosis of a six-to-eight week recovery, first baseman Mark Reynolds has rejoined the Rockies from a broken hamate bone after missing less than three weeks.
Reynolds was reinstated from the 15-day disabled list Wednesday, while infielder Daniel Descalso was placed on the paternity list. He replaced Gerardo Parra at first in the 6th inning of Wednesday's 7-0 win over the Dodgers in Game 1 of the doubleheader and went 0-for-1.
Reynolds has only hit batting practice on the field once since the injury, and he will be used in a limited role. However, his presence as a right-handed power bat is significant as the Rockies' lineup has been left-handed-heavy lately with injuries to rookie Trevor Story and Reynolds in the past month.
"When Trevor went down and Mark went down, that's two impactful right-handed bats," Rockies manager Walt Weiss said. "We've had to make some adjustments there, and we've had some unfavorable matchups at times. But we have some left-handed hitters that hit left-handed pitching pretty well, too, so we haven't been overexposed there. Ideally, sure, we'd rather have those right-handed bats."
Reynolds' return also should be a major boost to the infield defense. In his absence, the Rockies have used Descalso and outfielders Parra and Ryan Raburn out of position, along with the since-optioned Ben Paulsen.
"I did not know he's as good of a defender as [Reynolds] is," Weiss said. "I know as an infielder when you have a guy over there that's going to catch everything in the vicinity, it gives you a lot of confidence to try to finish plays like our guys do. Everything he gets to he'll try to finish. Knowing that Mark's going to pick it out of the dirt or show the proper footwork to stay on the bag and get the out, it's real important."
Motte moving forward: Right-hander Jason Motte is progressing in his rehab from a right rotator cuff strain. He threw a 30-pitch bullpen session on Tuesday at 85 to 90 percent with fastballs and cutters, and he played catch Wednesday. He expects to throw another bullpen session Friday at a higher intensity.
September callups may be delayed: The Rockies have an off-day on Thursday, and they won't announce who will be added to the active roster until Friday. However, some players may not be added until even later. Triple-A Albuquerque's season ends on Monday, and the team is still in contention for the playoffs, although it is 5 1/2 games out of first place in the Pacific Southern Division and the elimination number is two.
Potential trade targets: Left-handed starter Jorge De La Rosa and left-handed reliever Boone Logan are the most-discussed trade targets on the Rockies, but as of Wednesday morning, nothing was in the works. Veteran catcher Nick Hundley -- like De La Rosa and Logan, in the last year of his contract -- could also draw interest.
There is no deadline for teams to trade for players who have passed through waivers, but players have to be acquired before Sept. 1 to be eligible for postseason play.
Ben Weinrib is a reporter for MLB.com based in Denver. This story was not subject to the approval of Major League Baseball or its clubs.