Tapia among Rockies' roster reinforcements
Murphy, Bergman also called up; Chatwood, Miller, Descalso activated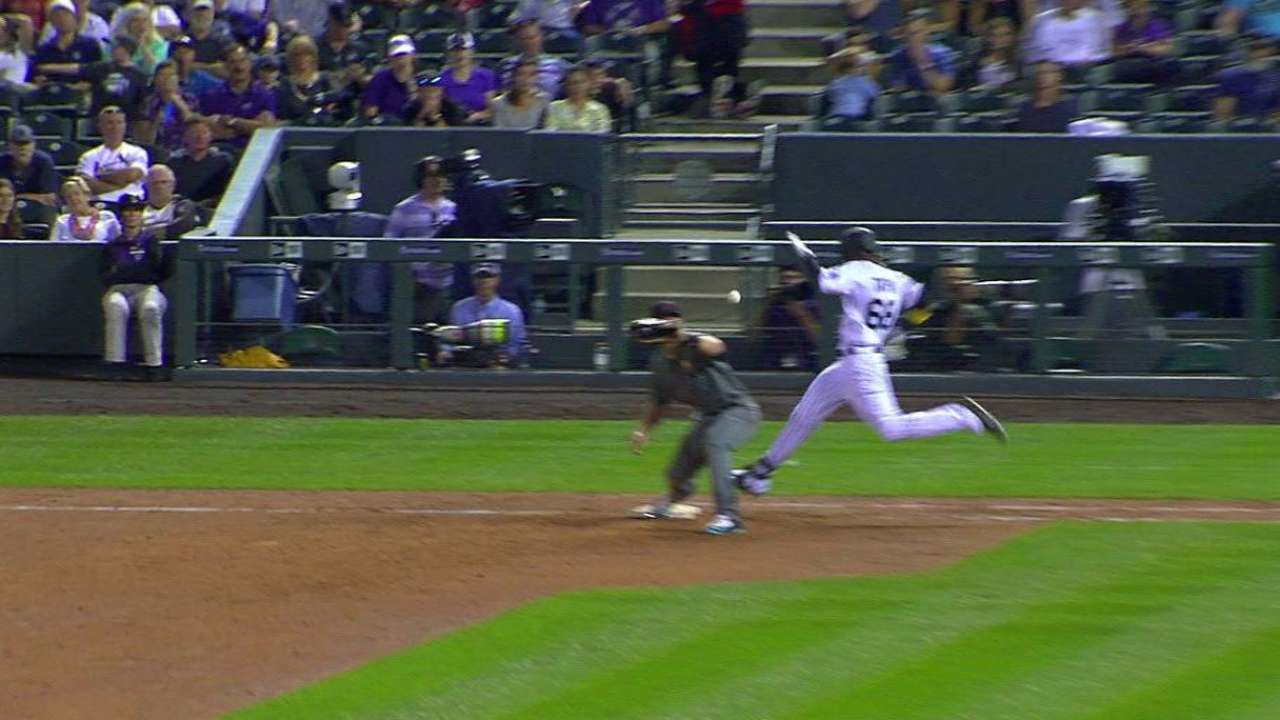 DENVER -- If the Rockies' stable of left-handed-hitting outfielders wasn't exciting enough, they called up another promising hitter in Raimel Tapia on Friday, as rosters expand in September.
Tapia, the team's No. 4 prospect and the No. 78 overall prospect according to MLBPipeline.com, didn't wait long to record his first Major League hit, knocking a pinch-hit single and scoring a run in the sixth inning of the Rockies' 14-7 victory over the D-backs on Friday night.
"I am very happy because I was having my first opportunity in the Major Leagues," Tapia said through an interpreter. "It's really exciting."
Tapia headlined a group of six players added to the active roster. Right-handers Tyler Chatwood and Justin Miller were reinstated from the 15-day disabled list, infielder Daniel Descalso was reinstated from the paternity list, and right-hander Christian Bergman, catcher Tom Murphy and Tapia were recalled.
Tapia was leading all Minor Leaguers with 173 hits, leading to a .328 average between Double-A Hartford and Triple-A Albuquerque. He has modest power with eight home runs, and has stolen 23 bases, although he was caught 17 times.
"He brings swagger," said Rockies rookie outfielder David Dahl, who has played with him since Class A Asheville in 2014. "He knows he can hit, so he's not going to fear any pitcher. He's going to go up there and battle and give it his best."
Congratulations to @RaimelTapia on his 1st Major League hit! pic.twitter.com/WhHEfYlWdY

— Colorado Rockies (@Rockies) September 3, 2016
Tapia, 22, has hit above .300 at every level since coming to the U.S., but the promotion caught him off guard as he was just called up to Triple-A on Aug. 7.
"After a game, they called me into the office, and they told me," Tapia said through interpreter Carlos Estevez, the team's closer. "I was so happy and emotional that they asked me if I was going to cry. I said I won't cry. I wasn't expecting this. I was hoping to make the Majors, and this was just a dream come true."
However, with All-Stars Carlos Gonzalez and Charlie Blackmon, Dahl and Gerardo Parra, who all hit left-handed, there may not be much room for Tapia to earn starts.
"We are trying to win games, that's the bottom line," Rockies manager Walt Weiss said. "That's the barometer for me. These are a couple of guys who can help us win games. I don't have an exact plan on how I am going to use them. ... But I know that with Murphy, especially, he's going to get some time. And Tapia is a nice weapon to have off the bench."
Murphy made a brief cameo with the team last September and hit .257 with three home runs in 35 at-bats. This year he's slashing .327/.361/.647 with 52 extra-base hits in 303 at-bats.
Murph's back pic.twitter.com/5cRKqHfnFV

— Colorado Rockies (@Rockies) September 3, 2016
Perhaps more important, Murphy has caught most of the current Rockies pitchers in Albuquerque. Rookie starters Jeff Hoffman and Tyler Anderson combined to make 25 starts in Triple-A, and Murphy has caught nine of the teams' 10 active relievers this season.
"That comfortability between pitcher and catcher is huge," Murphy said. "Hoffman and I just had a conversation in the bullpen about his previous starts and what he can do better. If I'm catching him next time, this is what he wants to happen. Continuing what we did at the Triple-A level because his stuff plays no matter what."
Ben Weinrib is a reporter for MLB.com based in Denver. This story was not subject to the approval of Major League Baseball or its clubs.