Rockies go gold for child cancer awareness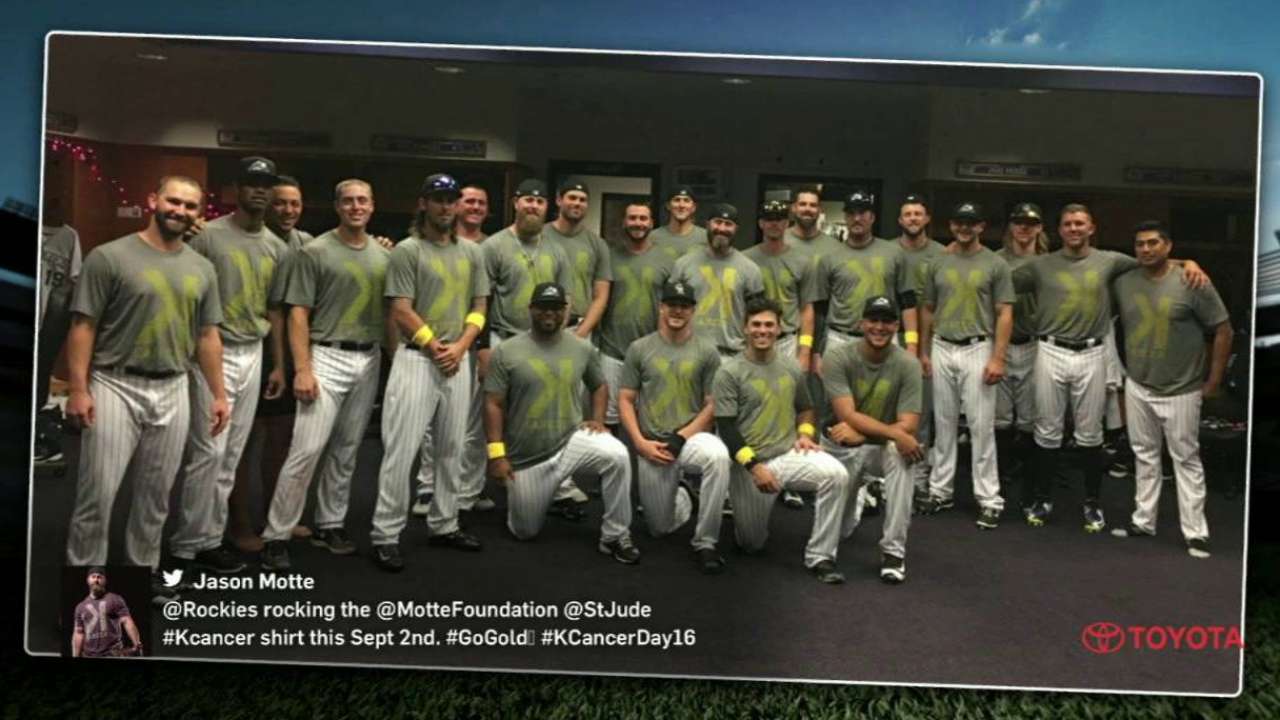 DENVER -- Major League Baseball has designated Friday as Childhood Cancer Awareness Day, which has a special meaning to the Colorado Rockies.
The team warmed up before the game wearing shirts with a gold backwards K on the front. The shirts come from reliever Jason Motte's foundation, which raises money for children's hospitals and pediatric cancer programs.
"Obviously it's a pretty amazing cause," Rockies manager Walt Weiss said. "Any time kids are dealing with cancer, that never seems right. It's a great cause, and the players always embrace it. Jason Motte has done a great job. [Outfielder] Brandon Barnes, who has been with us, has done a great job. The players have really embraced it, for good reason."
Rockin' yellow #KCancer tees today in support of #KCancerDay and to kick off Childhood Cancer Awareness Month! pic.twitter.com/YhUP9Jckaf

— Colorado Rockies (@Rockies) September 2, 2016
Motte wears five rubber bracelets around his left wrist, one of which reads "Team Brandt." Motte became especially involved in this cause in 2012, when he met Brandt Ballenger, then 8, who was suffering from Wilms tumor, a cancer of the kidney that typically occurs in children.
Although Ballenger died a year later, he inspired Motte to help "Strike Out Cancer." Motte, along with Barnes, has taken over recently traded shortstop Troy Tulowitzki's role in a Rockies program that brings pediatric cancer patients to the team's Spring Training site.
This is the fourth year that the Rockies have hosted pediatric cancer patients. This year, 24 patients from Children's Hospital of Colorado came to the team's camp in Scottsdale, Ariz.
"It's a cause that means a lot to me," said Motte, who has two young children. "It's something that I think we can make a difference in."
@Rockies rocking the @MotteFoundation @StJude #Kcancer shirt this Sept 2nd. #GoGold #KCancerDay16 pic.twitter.com/zOmR8Grifz

— Jason Motte (@JMotte30) September 2, 2016
Worth noting
• Motte threw a 30-pitch bullpen session on Friday after throwing one on Tuesday. He ramped up his effort from "85 to 90 percent" to "90 percent or more" in the latest session. Motte expects to throw another bullpen before returning to the team.
• Rookie starter Jeff Hoffman is not listed in the next turn in the six-man rotation after dealing with an apparent blister problem. The team's pitching schedule lists left-hander Jorge De La Rosa in Wednesday's game, which Hoffman had been in line to start, although Weiss wouldn't say that Hoffman was removed from the rotation.
"We haven't had any conversations contrary to him going out there again and starting," Weiss said. "Those are conversations we'll continue to have, but we haven't had any conversations yet about taking Hoffman out."
Ben Weinrib is a reporter for MLB.com based in Denver. This story was not subject to the approval of Major League Baseball or its clubs.