Weiss: Anderson's success not limited to Coors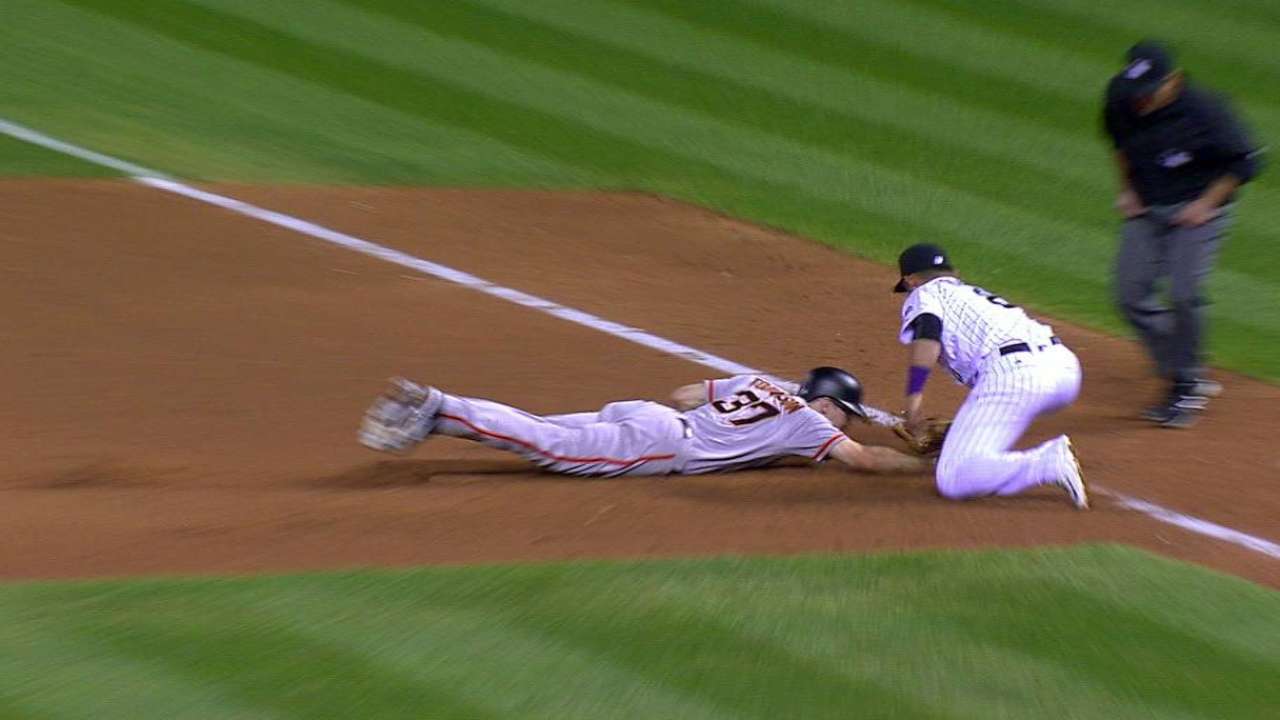 DENVER -- Perhaps the most amazing part of Rockies left-hander Tyler Anderson's rookie campaign has been his stunning success at Coors Field. His overall 3.35 ERA is already the lowest for the first 16 starts of any Rockies pitcher, but he also owns a 3.04 ERA at home.
Anderson kept his home success rolling in his 11th start at Coors Field by firing 7 1/3 innings of two-run ball with six hits, two walks, and two strikeouts in the Rockies' 3-2 loss to the Giants on Tuesday.
Anderson has been consistent throughout the season, but strangely enough, he has a 4.21 ERA on the road. That home/road split is rare for a pitcher who makes half his starts at Coors Field.
Coors Field has by far the highest park factor for runs at 1.486 -- Cleveland's Progressive Field is second at 1.231. Games in Denver average 12.5 total runs, and no other ballpark averages more than 11 total runs in a game.
"He's been good everywhere," Rockies manager Walt Weiss said. "He executes pitches. He always has a solid game plan, and he has the ability to execute and speed hitters up and go to the changeup and vice-versa. He just looks in complete control when he's out there."
Anderson did well to pitch so effectively without his best arsenal Tuesday. His changeup -- his best out pitch -- wasn't moving as well as it usually does, so he leaned on other pitches to get weak contact instead of swings and misses.
"We were able to battle through and grind, but without having quite the secondary [pitches], you hope for, you still have to get it done," Anderson said. "We had to make due with the cutter and fastball mostly. When you do that, obviously guys are swinging early, because they all look like fastballs. We were able to get the ball in play a lot."
Another key to Anderson's success has been inducing weak contact. Among pitchers with at least 200 batted balls, Anderson has the lowest exit velocity induced at 84.9 mph.
Although the Giants were able to hit 18 of their 28 batted balls harder than that mark on Tuesday, Anderson was able to neutralize them by picking off Kelby Tomlinson at first in the fifth inning and inducing two double plays.
"I think it's really easy to shy away from contact and base hits when you start giving them up," Anderson said. "But our defense here is so unbelievable, so I keep putting the ball in the strike zone, and guys put the ball in play. Sometimes there are going to be outs."
Ben Weinrib is a reporter for MLB.com based in Denver and covered the Rockies on Tuesday. This story was not subject to the approval of Major League Baseball or its clubs.