Blackmon sets Rockies' mark for leadoff RBIs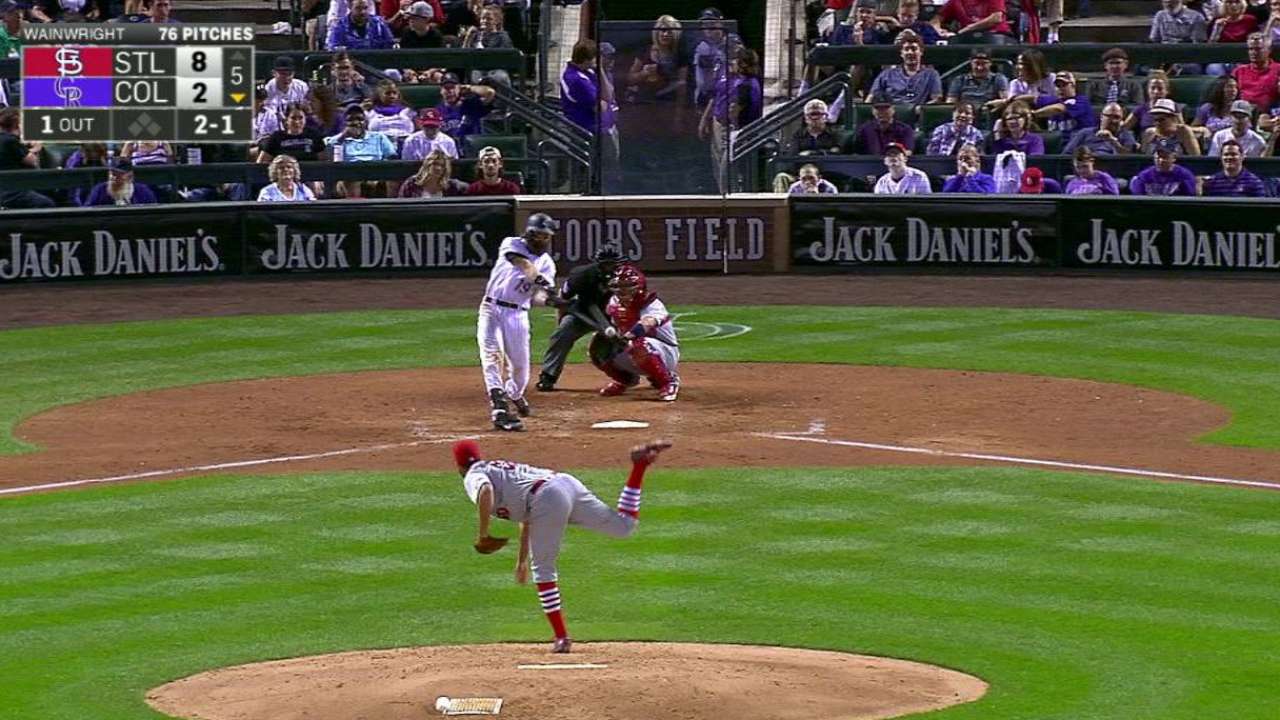 DENVER -- With a home run in the fifth inning of the Rockies' 10-5 loss to the Cardinals on Tuesday night, center fielder Charlie Blackmon set the franchise record for RBIs by a Colorado leadoff hitter.
With 75, Blackmon passed Eric Young's mark of 74 RBIs in 1996. As Blackmon rounded third on the homer, he high-fived Young, who was filling in as the third-base coach.
"EY, he's my boy," Blackmon said. "I'm upset that his record got broken, but I'm glad it was me. I don't know if he'd say that, but I will."
Young joined team two years ago as a first-base coach after spending parts of five seasons with the organization as player, hitting leadoff. Blackmon has been the team's leadoff hitter as long as Young has been coaching, so the two have worked together a good deal.
"I talked to him my first year about things that I had experienced and things that I tried to do as a leadoff hitter, but Charlie has a good sense of what he wants to do from Day 1," Young said. "It's all coming together this year, and you can tell by all the records he's breaking from the leadoff spot. It's a tribute to him and the way he goes about his business each and every day of preparing to be successful. If anything, I took a step back and not try to impose my will because he's a little different type of leadoff hitter."
Whereas Young hit .295 and averaged six homers and 36 steals in his time with the Rockies, Blackmon is cut from a different mold. Over the past three seasons, Blackmon is hitting .297 with an average of 21 homers and 29 steals.
"Charlie's evolved into quite a player," manager Walt Weiss said. "I talk about him being a dual threat at the top of the order. He can get on base and slug, and hit the ball in the seats, as he's shown this year. His power has continued to develop the last three years. He's a good player. He's a tough out, and he can do damage as well as steal a base for you. He's quite a threat at the top."
What makes Blackmon's season even more impressive is that he missed 15 games with turf toe in April and another five starts in September with lower back stiffness. Blackmon has already surpassed in 131 games what Young did in a full season.
"Mostly, I just want to have good at-bats and get on base," Blackmon said. "But I think this year I've been a little more aggressive in certain situations. Obviously, I think it's really important to be good with runners on base, so RBIs really, I can't do much unless I've got guys out in front of me. As a team, we've been doing a good job."
Ben Weinrib is a reporter for MLB.com based in Denver. This story was not subject to the approval of Major League Baseball or its clubs.