MLB.com Columnist
Barry M. Bloom
Black bringing superior baseball knowledge to Rockies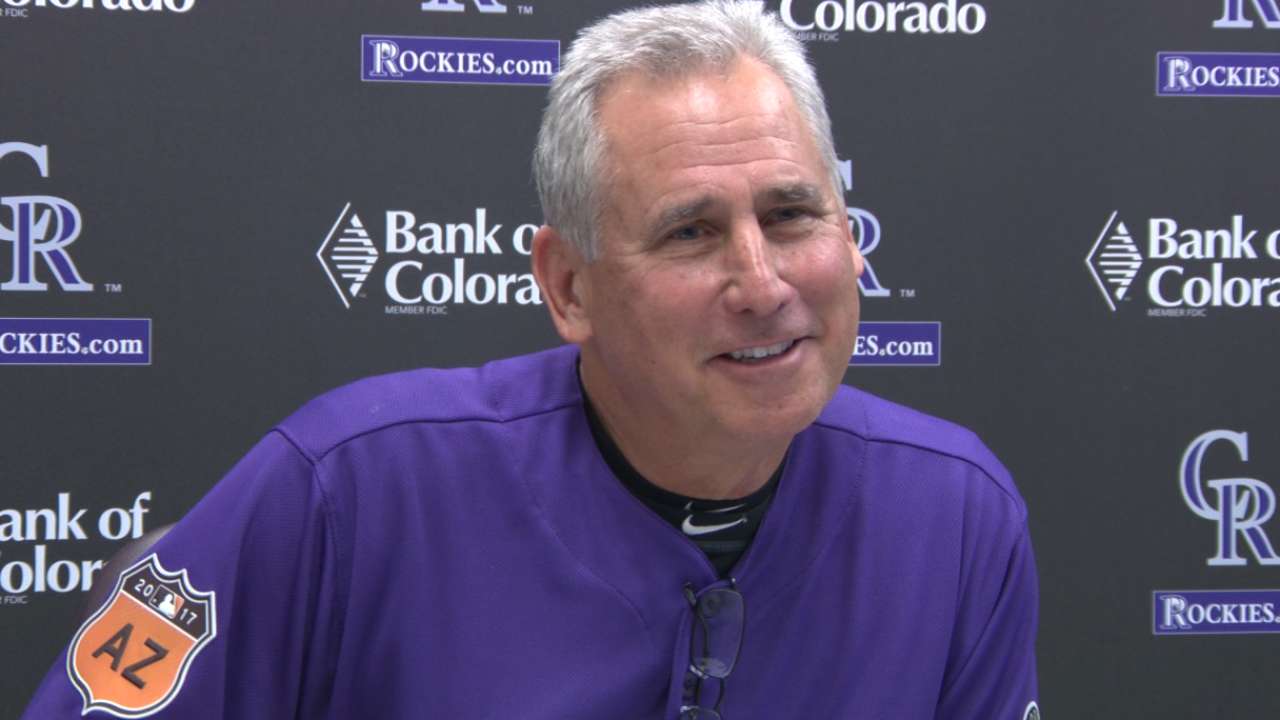 SCOTTSDALE, Ariz. -- After a season working in the Angels' front office, it's great to have Bud Black back in the day-to-day mix.
Black is one of those rare erudite baseball people who knows the game inside out and can explain his managerial machinations with grace and intelligence. A left-handed pitcher, pitching coach and now the new manager of the Rockies, Black first received a degree in management from the Fowler College of Business Administration at San Diego State in 1979.
From there, Black won 121 big league games, captured a World Series pitching for the Royals in 1985 -- and another with the Angels working under Mike Scioscia in 2002 -- and managed the Padres for a little more than eight seasons, from 2007 until he was fired on June 16, 2015.
At 59, Black's challenge now is taking everything he learned through all his trials and tribulations with the Padres and Angels into his new job in Colorado.
"You become an amalgam of everywhere you've been, basically," Black told MLB.com during an interview in his new Spring Training office at Salt River Fields on Tuesday. "You take all of your experiences, but there's no doubt that the years of managing a Major League team give you great resources to draw from.
"Not only in-game stuff, but before the game, after the game, conversations with coaches, players, front office that you use in your managing skills presently."
Black and the Rockies are about to embark on a new adventure. The team in the Rocky Mountains is at times a victim of playing in Coors Field at 5,200 feet, the highest elevation of any ballpark in the Majors.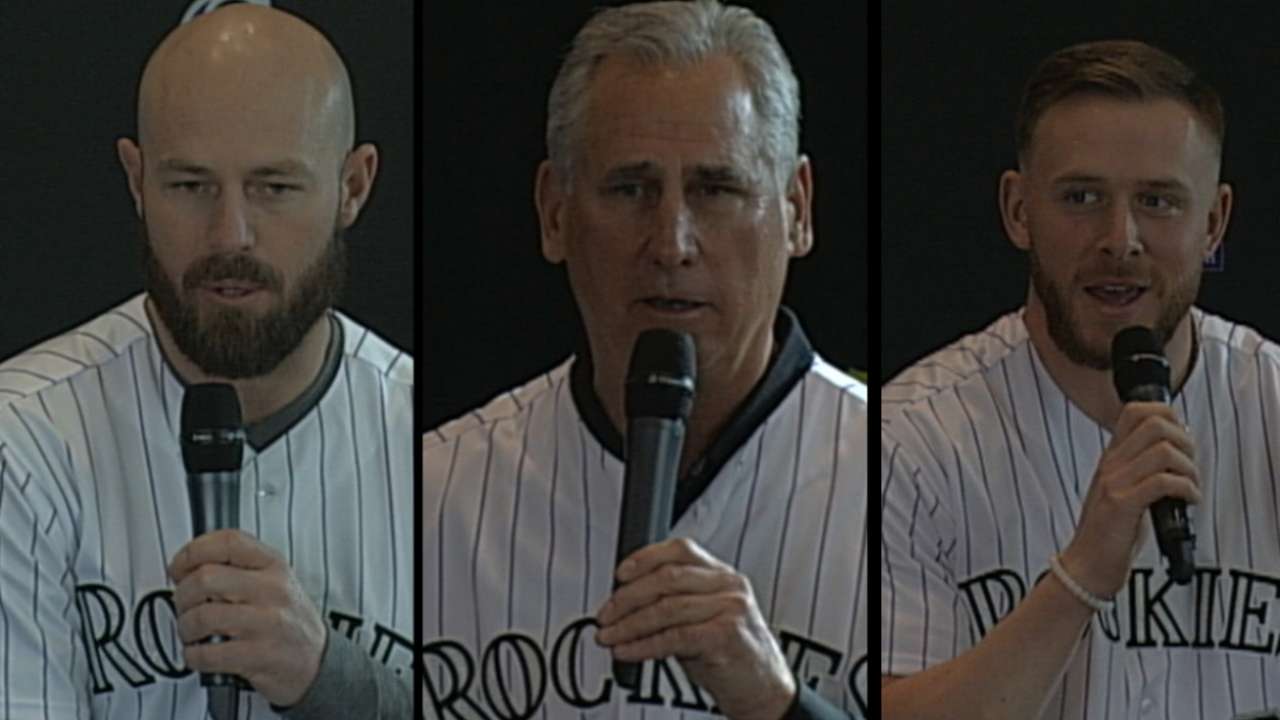 Humidor or no humidor, the ball tends to fly in the higher, lighter air, giving offenses a greater advantage. Hurlers say their pitches have less break and bite there, and the ballpark has been a graveyard for pitchers since it opened in 1995.
Into this environment steps Black, with his vast knowledge of how to compete in the National League, and in the NL West in particular. Aside from Bruce Bochy, who has managed 22 years in the NL West with the Padres and currently the Giants, no one has as much experience managing in the division than Black.
No manager save for John Farrell in Boston and Bryan Price in Cincinnati has as much experience working with pitchers as Black. They are the only former pitchers and pitching coaches currently managing a Major League team.
"When I was in San Diego, and I'm doing it here, I empower my pitching coach to coach as he sees fit," Black said. "Ironically, I think I spend more time talking to position players than I do pitchers. When I do get technical with pitchers, that comes very naturally to me. I know how important our defense is to their success. From an offensive and defensive aspect, I know how I want my team to play and feel. Coors Field, we'll deal with that."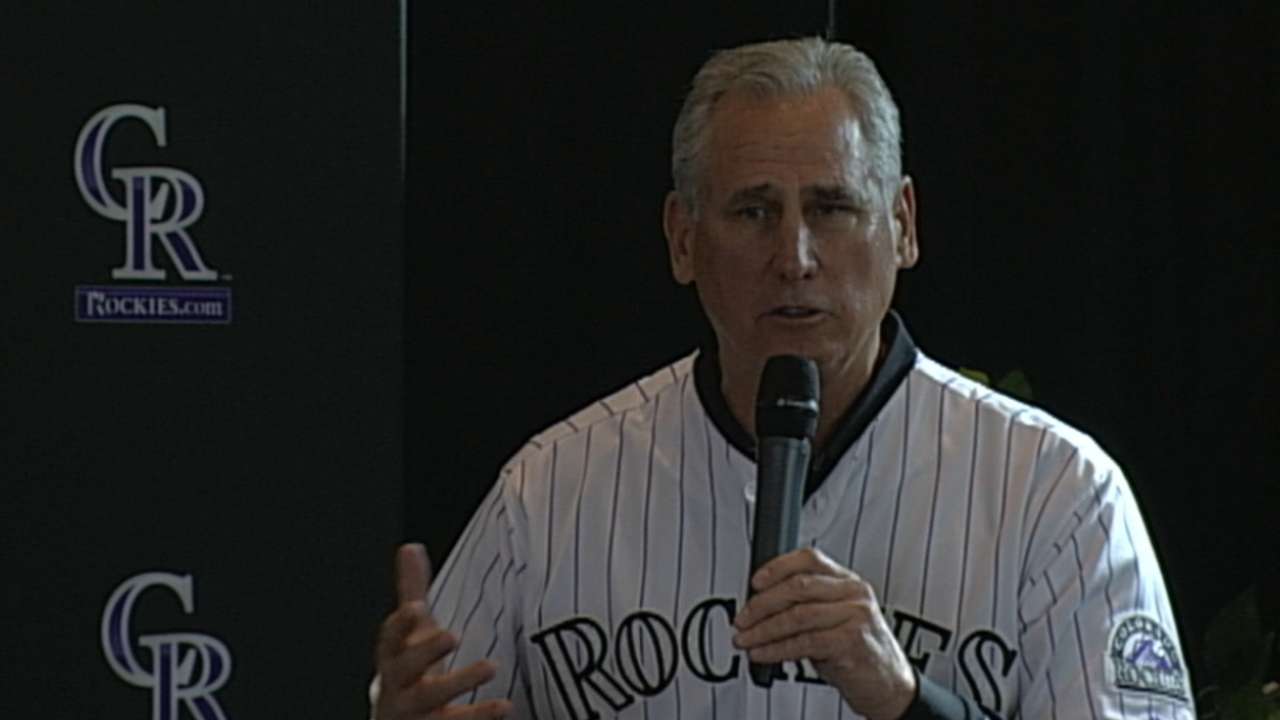 Black was the constant during his tenure in San Diego. He worked under two ownership groups, three club presidents and five general managers. The roster was in constant flux, and the two times the Padres had a chance to make the postseason under Black, they lost the final game of the season in both 2007 and '10. Every other full season, they were below .500.
The Padres still haven't made the playoffs since back-to-back appearances from 2005-06, the last two years Bochy was manager.
Black is the third Rockies manager since Clint Hurdle resigned 46 games into the 2009 season. They made the playoffs in '09 under Jim Tracy, and haven't been back since.
Under Black two years ago, the Padres bulked up their roster in the offseason, but they were 32-33 and six games behind the division-leading Dodgers as of June 15. At that point, management decided to replace Black with Pat Murphy. They finished that season at 74-88, and Murphy was also let go.
Black, who has a wry sense of humor and an upbeat personality under most circumstances, actually laughed about his dismissal. He said current Padres GM A.J. Preller called him into a meeting and gave no explanations. Black's contract was set to expire at the end of that season, and the meeting was very short.
"From my side of it, I thought it would have been better to go through the year," Black said. "Give the coaching staff and the players a chance to go through the season, and if that didn't work, then make a change. But those in management who made the decision obviously felt that at that point, my time had ended. And I understand. There's a time to end all things."
Black has an introspective personality, and as one would imagine, he said there were lessons learned that will help him in his new job.
"I have no animosity at all," Black said. "I've run into A.J. a couple of times, and things are fine. In this business, you work with people, and in most cases, you remain baseball connected and baseball friends. I can draw something, no check that, I can draw a lot from my experience there that hopefully will benefit us moving forward -- us meaning the Rockies."
Black is certainly a great get for the Rockies. Welcome back.
Barry M. Bloom is a national reporter for MLB.com and writes an MLBlog, Boomskie on Baseball. Follow @boomskie on Twitter. This story was not subject to the approval of Major League Baseball or its clubs.