Motte brings children's hospital patients to camp
Reliever's foundation supplies pizza party, games and more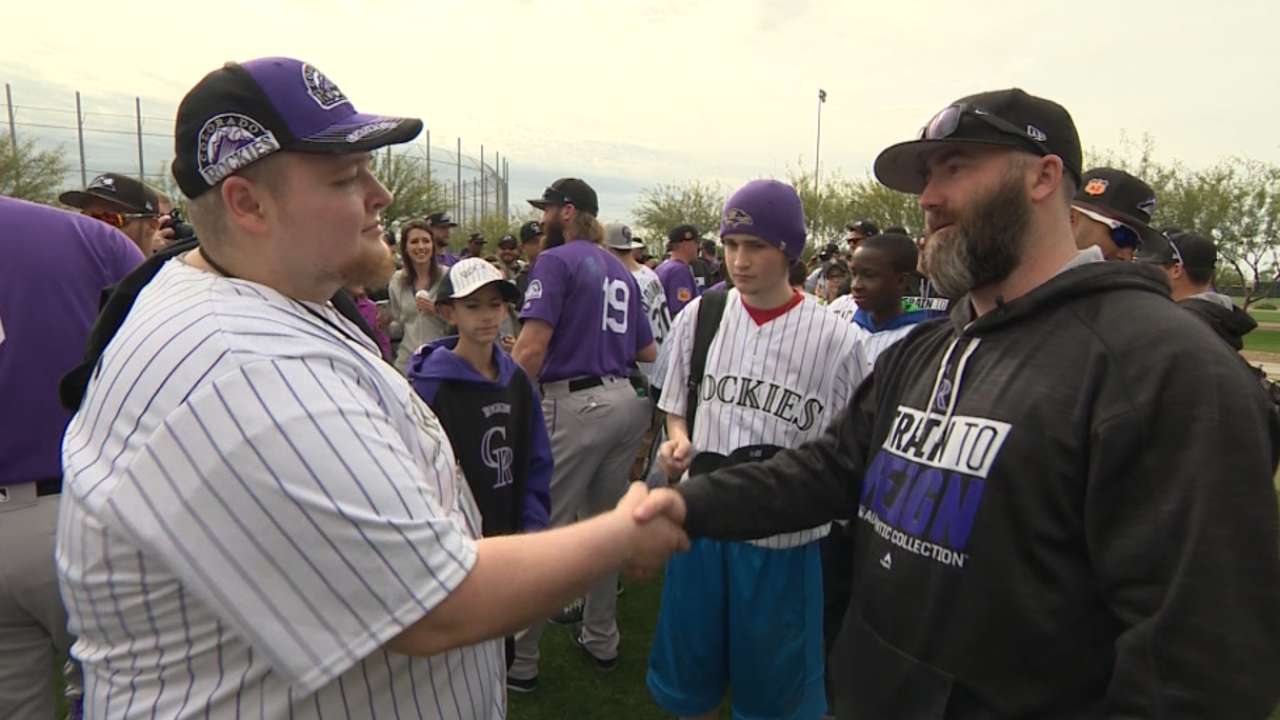 SCOTTSDALE, Ariz. -- Rockies right-handed reliever Jason Motte's job gives him plenty of time for his passion.
On Sunday, Motte hosted 23 cancer patients and 15 of their caregivers from Children's Hospital Colorado for a meet-and-greet with all of the team's players and coaches at Salt River Fields at Talking Stick. Motte also held a pizza party for them on Friday, and played games at a Dave & Buster's and hosted them at the facility on Saturday.
Motte and his wife, Caitlin, established the Jason Motte Foundation in 2011 after Caitlin's grandfather was diagnosed with the disease. The trip to Spring Training -- which was paid for in the past by shortstop Troy Tulowitzki before he was traded to the Blue Jays in 2015 -- allows the patients, ages 12-24, a chance to have fun away from the hospital.
"You get to see these kids, these teenagers, having fun, talking trash, doing stuff like that," Motte said. "The whole point of this trip is it's a little getaway for them to kind of forget about what's been going on, what they've been battling."
Motte's foundation's mission "is to provide comfort and care where there is a need for those affected, either directly or indirectly, by cancers of all kinds."
Motte said getting the team involved was "easy -- these kids are teenagers and a lot of them look up to some of these guys in here. … It's not that tough. It's all about helping out, giving back."
Thomas Harding has covered the Rockies since 2000, and for MLB.com since 2002. Follow him on Twitter @harding_at_mlb, listen to podcasts and like his Facebook page. This story was not subject to the approval of Major League Baseball or its clubs.