Tweaked delivery helping Hoffman with command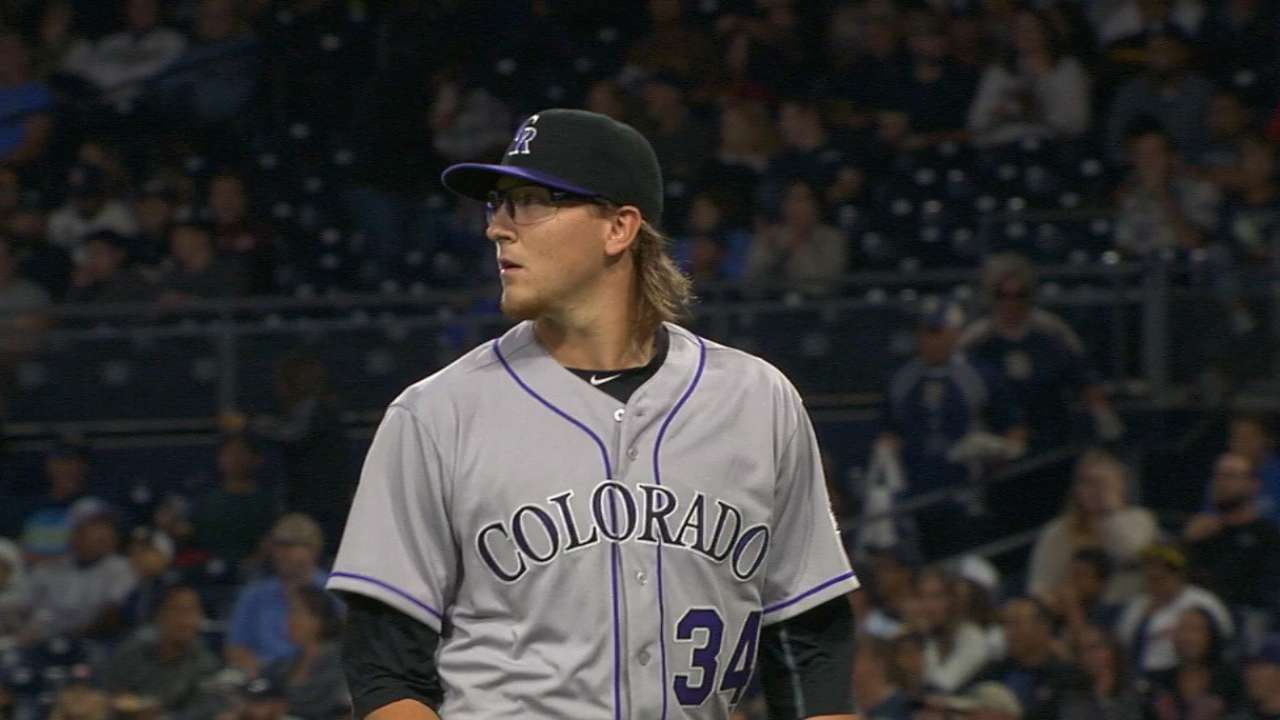 LAS VEGAS -- Improved command has been a focal point for Jeff Hoffman this season and Friday night exemplified why.
The Rockies' No. 2 prospect struggled with control in 2016, walking a career-worst 3.34 batters per nine inings. As a result, Hoffman altered his delivery a bit heading into 2017, hoping to smooth it out and better attack the zone.
Admittedly it's still a work in progress, but when everything is clicking, Hoffman has the ability to dominate just as he did in his most recent start.
The 24-year-old right-hander threw 55 of his 90 pitches for strikes, struck out eight and gave up just one hit over seven scoreless frames as Triple-A Albuquerque topped Las Vegas, 8-4.
"It's just a little bit of a rhythm deal," Hoffman said of the tweaks he made to his delivery. "I'm just trying to have a little better rhythm, have a little better flow, not as much choppiness, more fluidity. I feel it's coming along well and once it's ironed out, I think people will notice and hopefully that gets me to the next level."
Performances like the one at hitter-friendly Cashman Field in Las Vegas are why Hoffman is so highly regarded. They're why he was a first-round pick (ninth overall) in 2014 and why he was such a big part of the trade that sent Troy Tulowitzki from the Rockies to the Blue Jays in 2015.
"The stuff and the strike throwing ability and the size and the pitch mix, it's all there to become a quality top of the rotation starter," Rockies' senior director of player development Zach Wilson said. "He's at a point in his career where he's fine tuning all those things in order to compete every five days at the Major League level."
Hoffman got a taste of what it's like to pitch in the Majors last season in a brief stint with the Rockies, where the consequences of poor location are magnified at Coors Field.
Hoffman tossed 31 1/3 innings, but walked 18 (one intentional) and finished with an 0-4 record and a 4.88 ERA.
The right-hander hopes to get back to Coors Field in the near future and Friday's start was certainly a step in the right direction. Although it's only been five starts this season, Hoffman is trending in the right direction as his walks per nine innings are down to 2.89.
"I feel great," the 24-year-old said. "I'm confident the work I'm putting in is going to pay off eventually, so I just keep my head down and keep grinding."
William Boor is a reporter for MLBPipeline.com. Follow him on Twitter at @wboor. This story was not subject to the approval of Major League Baseball or its clubs.