Confidence in curve helps Marquez vs. Twins
Righty escapes jam in 5th by getting Sano to pop out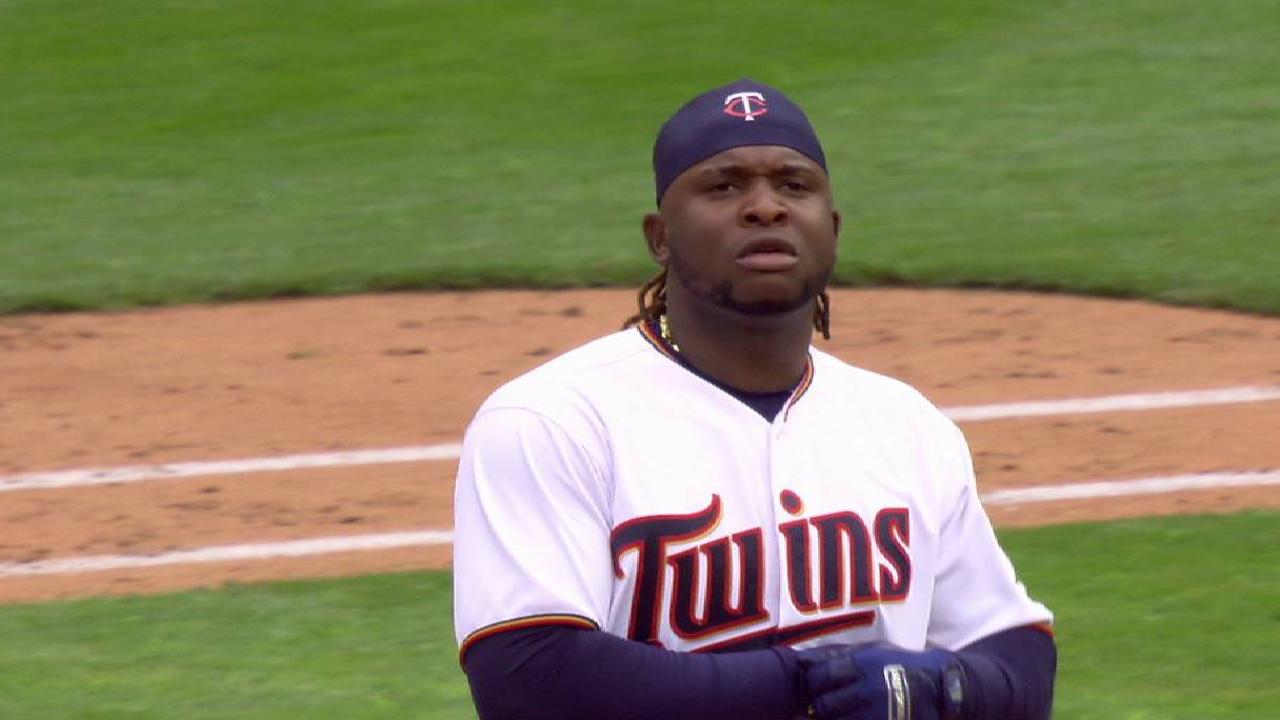 MINNEAPOLIS -- In dreams, Rockies right-hander German Marquez's final-pitch curveball Thursday would have had Twins heavy hitter Miguel Sano whiffing and the ball hit the dirt.
In reality, the pitch hung middle-in at thigh level. But so what? Sano popped to third base to end the fifth inning, and Marquez walked away with the decision in the Rockies' 5-1 victory in the first game of a doubleheader at Target Field.
Marquez, 22, demonstrated that as long as the pitcher disrupts the hitter's timing, he can get away with pitches that aren't sharp.
"I give myself credit for executing that pitch to the point that he didn't put it in the seats," Marquez said in Spanish, with first-base coach Tony Diaz interpreting.
Had Sano hit that curve -- Marquez's 101st pitch -- the Twins would have had momentum. Eddie Rosario had tripled and scored, and there were two on for Sano. But Marquez, who had escaped with two on and one out in the first inning and after a Jorge Polanco leadoff double in the second without yielding a run, had in mind the whole time that he wanted to beat Sano with a curve.
It displayed faith in a pitch that was late showing up at the Major League level.
Obtained from the Rays before last season (with reliever Jake McGee in the deal that sent slugging outfielder Corey Dickerson to Tampa Bay), Marquez debuted in the Majors late last season partly because his breaking pitches were an effective complement to his power fastball. But the curve, specifically, was not as sharp to start of the season.
But on May 10, Marquez had his best fastball and used the curve selectively while holding the Cubs scoreless on three hits in eight innings.
Thursday was different. The fastball command came and went. Suddenly, Marquez found himself needing the curve, along with a slider and even a changeup -- a pitch Marquez obsessed about this spring, until coaches told him to just throw it and stop thinking about it.
In the end, Marquez, with Tony Wolters catching, used the fastball at close to the same rate as before -- 68 pitches, or 65 percent, after using it 65 percent his previous four starts, according to Statcast™. He threw a lower percentage of curves and changeups, and he used his slider five times -- after using it four previously, according to Statcast™.
Rockies manager Bud Black liked the way Marquez made his mix work, even if the outing was not smooth.
"The Twins had some good at-bats, and there were a couple times when he let some 0-2, 1-2 counts get to 3-2 and some foul balls," Black said. "Polanco had some good at-bats, and some other fellows battled him hard.
"But his stuff was good -- not quite the consistency of the breaking ball that we saw last week. But he showed well."
Good enough, for Marquez, was good enough.
"There's no perfection, anyway," Marquez said.
Thomas Harding has covered the Rockies since 2000, and for MLB.com since 2002. Follow him on Twitter @harding_at_mlb and like his Facebook page. This story was not subject to the approval of Major League Baseball or its clubs.