De La Rosa pleased with outing on rainy day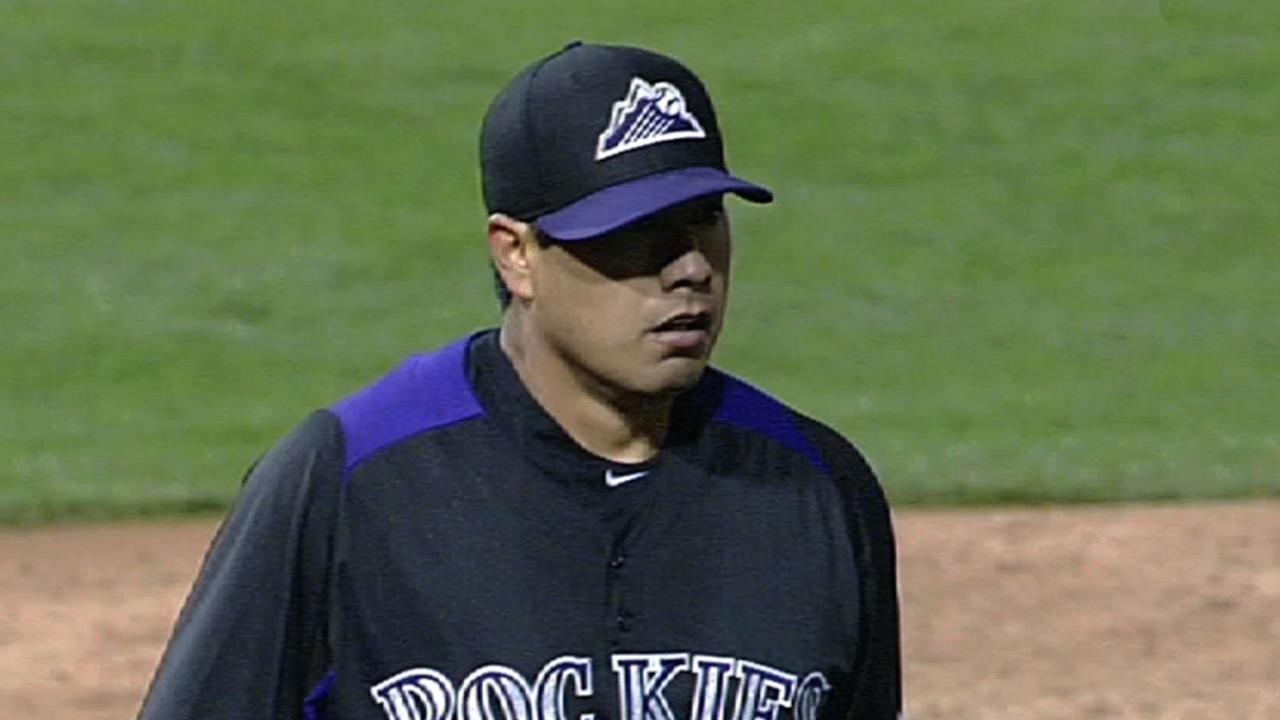 SCOTTSDALE, Ariz. -- Rockies left-hander Jorge De La Rosa sat in his Scottsdale home watching the nasty weather on Friday, wondering if he'd have a chance to display his revamped mechanics that night.
But after a long stretch recently where nothing seemed to work out, things went De La Rosa's way. The rain took a break long enough for De La Rosa to throw three solid innings against the Royals in a game that was called after four, with the Rockies leading, 3-1. De La Rosa struck out two and gave up a run on one hit. He threw strikes on 28 of his 50 pitches.
After two rough starts in which he gave up three runs, four hits and four walks in 3 2/3 innings, the decent outing was welcome even though it won't count officially. De La Rosa underwent Tommy John surgery on his left elbow in 2011 and made just three starts at the end of last season (0-2, 9.28 ERA). Before the injury, he had emerged as one of the Rockies' most effective starters.
"I felt much better with my mechanics, more comfortable," De La Rosa said. "Today I knew what I was doing on the mound."
De La Rosa said he was not worried about the two rough starts this spring, even though he showed few signs of the form he used to build a 39-28 record in a Rockies uniform -- accounting for a .582 winning percentage that's the highest in Rockies history for a pitcher with at least 50 starts.
Before this start, De La Rosa watched videos of himself from his best days on the mound, and talked with pitching coach Jim Wright and special instructor Pedro Astacio before setting out to correct the delivery issues -- moving too fast, flying open with his front arm and not keeping his fingers on top of the ball, especially on the slider.
De La Rosa was happy to display it all in the abbreviated game.
"I'm glad I got my work in," De La Rosa said. "I thought we weren't going to get it in, because it was raining so hard and the wind was bad. I'm glad we played."
The Rockies scored their runs in three innings against Jeremy Guthrie, who began last season with the Rockies before being traded to the Royals.
Guthrie, who threw 28 strikes in 52 pitches, was satisfied with his second start despite giving up the three runs.
"I look at the pitches and today they felt much crisper than last time," Guthrie said.
Up next: Rockies right-hander Juan Nicasio, who missed much of last season with a left knee injury and has been struggling to find consistency this spring, will start against the Angels at Tempe Diablo Stadium at 1:05 p.m.
Thomas Harding is a reporter for MLB.com. Read his blog, Hardball in the Rockies, and follow him on Twitter @harding_at_mlb. This story was not subject to the approval of Major League Baseball or its clubs.