Fowler, Chatwood spark Rockies over D-backs
Outfielder goes deep; right-hander allows one run over four innings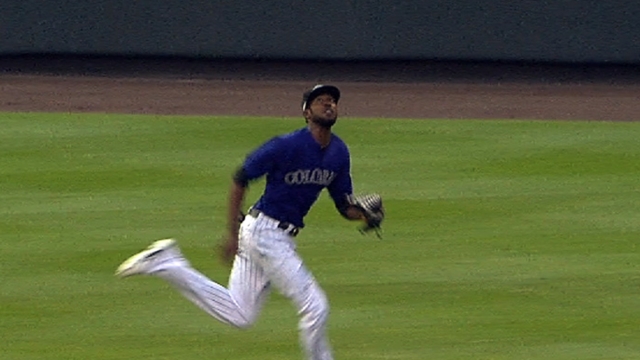 SCOTTSDALE, Ariz. -- Center fielder Dexter Fowler is making Rockies fans happy, not nervous, this spring.
Fowler lashed two hits, including a first-pitch home run to open the sixth inning against former teammate Matt Reynolds, in the Rockies' 4-3 triumph over the D-backs at a sold-out Salt River Fields at Talking Stick on Tuesday afternoon.
The switch-hitting Fowler's 2-for-3 afternoon lifted his batting average to a reassuring .400 through eight Cactus League appearances. He also has three extra-base hits, two doubles and the homer, from the right side against the lefty Reynolds. After hitting a career-high 13 homers last season, Fowler has developed into a power threat from the leadoff slot.
It's a major improvement from last spring, when Fowler hit .149 in 21 games. It was enough of a concern that then-manager Jim Tracy dropped him to eighth in the order at times during the early part of the season. New manager Walt Weiss doesn't have that worry, although Fowler insisted then and believes now that there's little need to put too much stock in the Cactus League.
"It's still Spring Training, just trying to get ready for the season," Fowler said.
The power, he said, comes from experience.
"It's just knowing the league and knowing the people you're playing against," Fowler said. "I've been playing against them for going on five years now. That always gets a little easier."
The power is making Fowler a non-traditional leadoff hitter, which is fine with Weiss, who on occasion will bat Fowler second behind speedster Eric Young.
"The way to handle Dexter is to let him be an athlete," Weiss said. "You can't sit there and critique his swing path. He's a very athletic guy and he'll figure things out through his athleticism.
"He's got a bit of an upper cut, particularly from the left side, but he'll hit the ball out of the park, too."
The Rockies' Ben Paulsen and Henry Wrigley each had run-scoring doubles.
Rockies starter Tyler Chatwood, competing for a spot either in the rotation or in middle relief, threw a solid four innings, during which he gave up one run on four hits. Chatwood struck out two against one walk, and forced eight groundouts.
Chatwood dueled with D-backs right-hander Josh Collmenter, who already has been placed in a long-relief role. Collmenter gave up two runs and four hits in his four innings for a D-backs split-squad. The rest of the squad played the Mariners in Peoria, Ariz.
D-backs right-hander Brad Ziegler continued his stellar spring by striking out one during a spotless fifth inning.
Up next: Left-hander Jorge De La Rosa, with a decent outing in his last start after two rough ones, will start against the Cubs at HoHoKam Park on Wednesday at 2:05 p.m. MDT. Righty reliever Manuel Corpas, who was the closer during the Rockies' 2007 run to the World Series but now is seeking a spot as a non-roster invitee, also is scheduled to throw.
Thomas Harding is a reporter for MLB.com. Read his blog, Hardball in the Rockies, and follow him on Twitter @harding_at_mlb. This story was not subject to the approval of Major League Baseball or its clubs.