Chacin lets loose late in simulated game
Likely Opening Day starter hopes to provide leadership on Rockies staff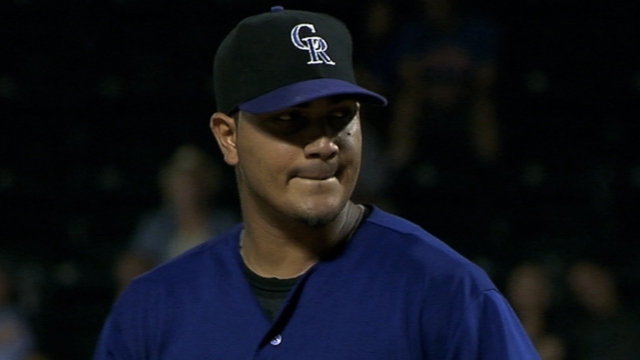 SCOTTSDALE, Ariz. -- The life in Jhoulys Chacin's right arm came back just in time Tuesday for the Rockies to feel a little bit better about their pitching fortunes.
After representing Venezuela in the World Baseball Classic in Puerto Rico for several days, Chacin flew across the country, with a connection in Philadelphia, with teammates Carlos Gonzalez and Ramon Hernandez. The Rockies scheduled Chacin for a simulated game Tuesday morning.
Chacin's arm took a while to wake up. In five innings while facing hitters Kent Matthes and Tim Wheeler, Chacin didn't give up a run, had three strikeouts and gave up three hits. But the electricity on his pitches was missing for the first three innings.
But in the last two frames, Chacin had sharp fastball command, and his changeup and slider were at the nastiness that the Rockies need out of a guy who stands as the logical candidate to pitch Opening Day on April 1 in Milwaukee.
"It was a long day yesterday, and I didn't throw at all -- I couldn't play catch or anything," Chacin said. "So today was pretty good. My arm feels good and everything feels fine."
Hernandez, who caught Chacin, understood how the long travel day affected the pitcher.
"The last two [innings], he was kind of getting loose, getting into rhythm," Hernandez said.
Chacin is working on some mechanical issues, especially out of the stretch. But he was happy with the action of his pitches at the end of Tuesday's outing.
"The changeup was really good, my fastball command was good, too," Chacin said.
"I liked the way he pitched -- I think he was the one who pitched best for us," Gonzalez said.
In light of those numbers, the simulated game went well, and fans no doubt would like to see better numbers when he returns to Cactus League play Sunday against the Giants. Chacin is more concerned with building his pitch count to 75-80.
"Good results make you feel better, but I'm just building my arm -- like today, my fastball and everything went well, and that's what I'm looking for," Chacin said. "In the season is when it counts. Down here I'm just getting my arm ready."
Chacin struggled early last season while trying to pitch through discomfort and ended up missing a large chunk of the season with a nerve issue in the right side of his chest. After his return in August, he went 3-2 with a 2.84 ERA and began to look like the potential ace the Rockies believe he is.
The club's pitching staff is a major question that Chacin could go a long way toward answering.
Veteran lefty Jeff Francis has looked strong in camp, and young lefty Drew Pomeranz has authored encouraging spring work and is in the beginning stages of approaching his potential as a power arm from the left side. Veteran Jorge De La Rosa, who has had just three big league starts since undergoing Tommy John surgery on his left elbow during the 2011 season, is trying to work into regular-season form. Several candidates are competing for a fifth spot, and the Rockies are known to be seeking a trade for pitching.
With a 3.68 ERA that is second lowest in Rockies history for a pitcher with at least 50 starts, Chacin is a logical choice for ace and staff leader. Also, although the Brewers' lineup could be different because of injuries that threaten Opening Day for several projected regulars, the Rockies will be facing a team full of right-handed firepower to start the season.
"I'm going to be ready whenever they tell me," Chacin said.
Thomas Harding is a reporter for MLB.com. Read his blog, Hardball in the Rockies, and follow him on Twitter @harding_at_mlb. This story was not subject to the approval of Major League Baseball or its clubs.