Improvement shows as De La Rosa revisits past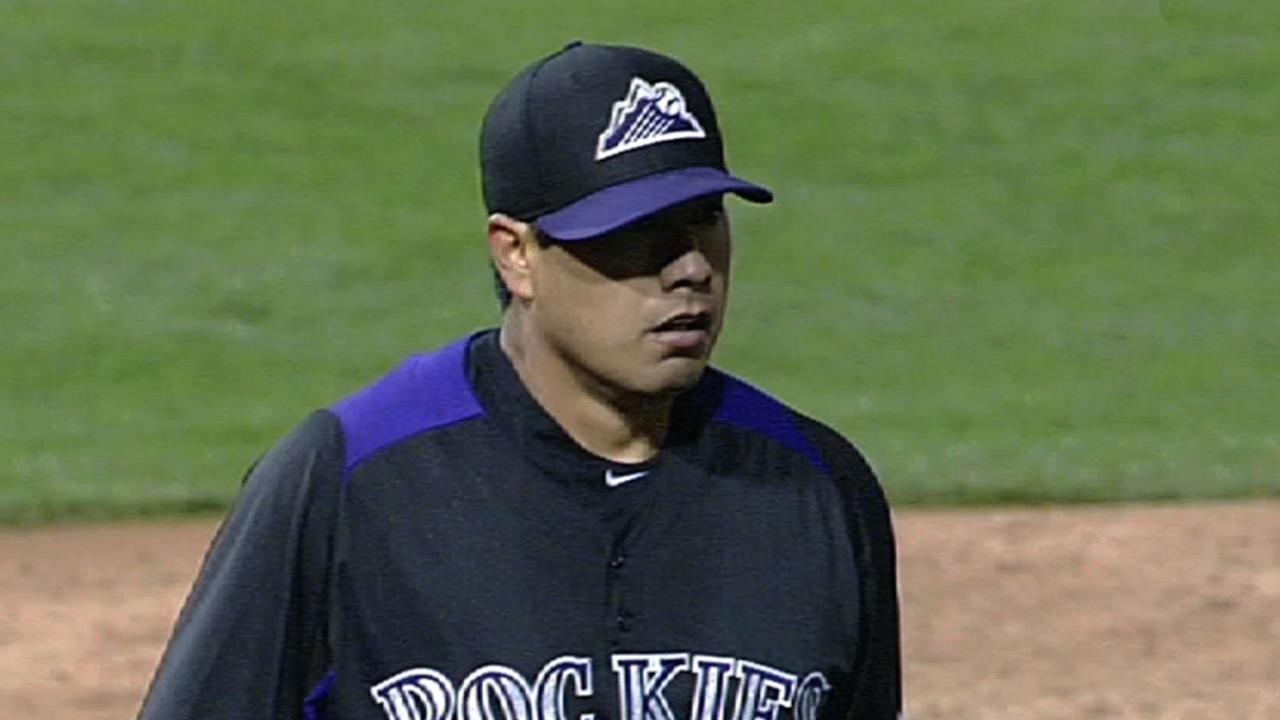 MESA, Ariz. -- Rockies left-hander Jorge De La Rosa has introduced himself to his old self.
After undergoing Tommy John surgery on his left elbow in June 2011, De La Rosa spent nearly a year and a half rehabbing his way through both good moments and setbacks. After becoming one of the Rockies' rotation leaders from 2008-11, he was rusty in three starts at the end of last season (0-2, 9.28 ERA), and his first two outings of this spring weren't much better (0-1, 7.36 ERA).
But while watching old video, De La Rosa remembered how he would tap the back of his glove against his right leg at the start of the windup -- a timing mechanism. He then went back to a practice drill that had him replace the ball with a towel and snap it in the direction of home plate -- an exercise he had forgotten. After showing such negative body language that first-year manager Walt Weiss brought it to his attention, De La Rosa went back to stepping off the mound and taking deep breaths, the way he did when he went from a shakable pitcher to one who could handle traffic on the bases.
De La Rosa put it all together -- or back together -- Wednesday while pitching four scoreless innings in a 2-0 win against the Cubs.
The outing wasn't perfect. He threw 72 pitches and twice faced bases-loaded jams, including one with no outs in the third inning. But he finished with six strikeouts and gave up four hits with two walks. His ability to make pitches when they counted turned the day into a major positive. It was De La Rosa's second consecutive improved outing.
"I used to do a lot of things before I got hurt to get my mechanics there," De La Rosa said. "I was more busy so I wouldn't feel pain before, and I didn't work too much on my pitches. Now I'm good."
De La Rosa has touched 94 mph with his fastball, which sets up his slider and a changeup that he believes he can throw ahead or behind in the count. He used a couple of sliders and a curveball as put-away pitches Wednesday.
"I'm getting close," De La Rosa said. "I still need to work on more things. I'm not ready yet, but I'm getting much better. When you don't feel pain, you pitch more comfortably."
The Rockies need a healthy and fearless De La Rosa, who will earn $11 million in the last year of a three-year deal with a club option for 2014 worth the same amount. Righty Jhoulys Chacin is also returning from an injury, meaning two potential rotation leaders could rebound as the Rockies hope to become a surprise contender.
"I threw with a lot of fear last year," De La Rosa said. "I didn't finish my pitches. You can't pitch like that. Now I feel pretty good. I don't have excuses."
Thomas Harding is a reporter for MLB.com. Read his blog, Hardball in the Rockies, and follow him on Twitter @harding_at_mlb. This story was not subject to the approval of Major League Baseball or its clubs.