Cuddyer not caught up in trade speculation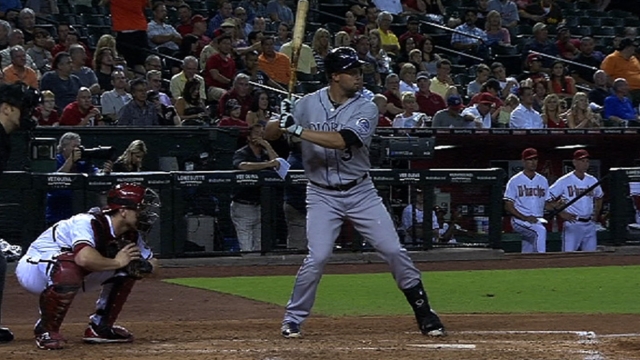 GOODYEAR, Ariz. -- With starting pitching considered their biggest weakness, the Rockies figure to be part of the trade-rumor mill. As was the case during the winter, some suggest that veteran outfielder-first baseman Michael Cuddyer be moved.
During the offseason the Rockies showed no inclination to move him, and they haven't indicated they'll change their minds this spring. Cuddyer made it clear Friday he does not want to be moved, and the talent the Rockies have could be better than analysts think.
"Full-bore Rockies -- everybody in this clubhouse's attitude should be that way," said Cuddyer, who went 3-for-3 and scored a run against the Reds on Friday night. "There's no reason to believe it shouldn't. There are going to be rumors out there on countless people for the next four months, but to start reading and believing you're going to be someplace else, you're not doing your teammates justice, the organization justice, and more importantly you're not doing yourself justice.
"I'm a Colorado Rockie. I'm excited. I wouldn't want anything different."
Cuddyer, who turns 34 on March 27, is in the second year of a three-year, $31.5 million contract. The dollar figure, plus the fact that he's an experienced player who an expected contender may want, could add up to trade bait. But during the winter, the Rockies identified Cuddyer as a leader who could help bring about quick change. New manager Walt Weiss is looking to bring aggression and crisp, fundamental play, and Cuddyer is seen as an important agent of those principles.
"When you're coming off a 98-loss season, the outside world doesn't think too much of you," said Cuddyer, who hit .260 with 16 home runs, 30 doubles and 58 RBIs in 101 games in a 2012 season cut short by an oblique injury. "You've got to have expectations bigger than that. We feel we're right there.
"We've got a good direction that we established four or five weeks ago, and we've stuck to that through games. There's tons of talent. I don't think anybody in baseball can question our talent. But it's executing, and that's what we are trying to hone in on this spring."
Cuddyer said the pitching staff as constructed has shown signs of developing the ground-ball-oriented style the Rockies believe will lead to victories.
"When we're turning three, four double plays in a game, that's pretty special," Cuddyer said. "If we continue that, that's how you win at home and on the road, turning walks or hits into double plays -- two for one, you're out of the inning, move on and let us go hit."
Thomas Harding is a reporter for MLB.com. Read his blog, Hardball in the Rockies, and follow him on Twitter @harding_at_mlb. This story was not subject to the approval of Major League Baseball or its clubs.