Escalona happy with result despite ball off face
Rockies reliever believes it's far more important to get his sinker to work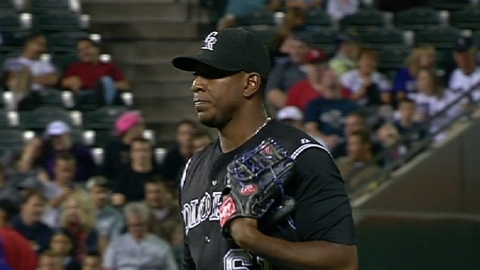 SCOTTSDALE, Ariz. -- When his left jaw stopped hurting, thanks to ice, and Rockies relief pitcher Edgmer Escalona was ruled concussion-free, thanks to new attention and precautionary handling, he could finally enjoy a small-but-important accomplishment.
Escalona was pitching in a simulated game on Tuesday, when a hard one-hopper ticked off his glove and smacked against his left cheekbone, threatening to put an end to a much-needed strong spring performance. In the end, Escalona wasn't hurt seriously.
And he figured he had fulfilled his mission.
"I've been working on my sinker, because everybody says we have to be looking for ground balls, every time," Escalona said. "After I got hit, everybody was sad. Finally, I said, 'I'm fine, but the important thing is the ground ball.'
"I got a ground ball. I don't care that it hit me in my face."
Escalona hasn't pitched in a game since then, but is scheduled to appear for two innings against the Royals on Tuesday at Surprise, Ariz. Escalona has pitched four Cactus League innings and has given up one run on four hits, with six strikeouts and zero walks. He also struck out one and pitched a scoreless inning against Team USA's World Baseball Classic squad during an exhibition game.
Being out of Minor League options, if the Rockies want to send Escalona to the Minors they must expose him to other clubs through waivers. Clubs have a hard time giving up hard-throwing relievers, however. Escalona is 0-1 with a 3.50 ERA in 41 Major League appearances over the last three seasons, including 22 games last year.
However, the Rockies plan to carry just three middle relievers, although four could be in the mix if the club goes ahead with a plan to pick up a reliever and swap out a position player during long homestands. Adam Ottavino, who functioned well in the role last year, and non-roster candidates Manny Corpas and Miguel Batista, along with Chris Volstad are right-handed candidates. Josh Outman and Rule 5 Draft prospect Daniel Rosenbaum are lefties who could pitch in the middle. The Rockies also could use starter-types who don't win a rotation spot in the role.
To distinguish himself from the crowd, Escalona is trying to improve his hard slider and show confidence in a changeup that can be nasty. Escalona said he is gaining the confidence he needs to use the changeup in games.
"I practiced in Venezuela on my changeup, threw a lot of them, and now it's working," Escalona said. "I've got to throw a changeup, because I have a good fastball. Now my slider is good. I feel confident with my pitches."
Thomas Harding is a reporter for MLB.com. Read his blog, Hardball in the Rockies, and follow him on Twitter @harding_at_mlb. This story was not subject to the approval of Major League Baseball or its clubs.