Chacin looks to stay aggressive moving forward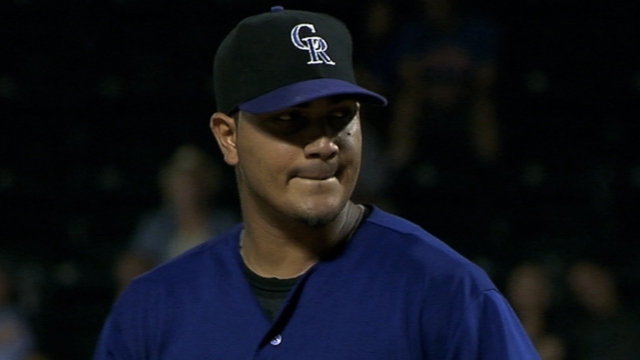 SCOTTSDALE, Ariz. -- The Rockies' bold and desperate move to a four-man rotation during the summer of a difficult 2012 season was scoffed at and, eventually, discredited. The Rockies lost a club-record 98 games, and the discord that grew out of the pitching experiment led to some major organizational changes.
But right-hander Jhoulys Chacin is brave enough to say some good came of it.
Chacin returned from a nerve injury in his chest in August, while the Rockies were going with four starters. He had some of the team's best work before the plan was scrapped, and his work after his return -- 3-2 with a 2.84 ERA in nine starts -- served as a bright spot at a dark time. The strategy he used during that period -- staying in the strike zone and forcing at-bats to come to speedy conclusions -- is not much different from the way he plans to pitch going forward.
That plan led to some of the trouble he experienced on Sunday - four runs and nine hits in 4 2/3 innings of the Rockies' 9-7 loss to the Giants. But he theorizes that when the regular season starts and he's using all of his pitches, rather than limiting himself the way he did on Sunday, the aggressive strategy will pay dividends.
"I really learned to pitch more for contact, and that's what I'm trying to do -- make my pitch and get quick outs so I can throw more innings," Chacin said. "Here today I was just trying to throw fastball and change, work more on my changeup so when I get to the season I can throw changeup for strikeouts or ground balls. I want to throw four pitches for outs, my fastball, sinker, slider and changeup."
Chacin made his first start since returning from his participation with Venezuela in the World Baseball Classic. The Cactus League numbers haven't been good -- a 7.00 ERA in nine innings over three games. Still, Chacin is a favorite to start the opener on April 1 in Milwaukee, because he matches up well with the Brewers' right-handed lineup. If the experimentation works, he will be able to spot his fastball and set up the secondary pitches, which have been ahead of his fastball since he broke in with the Rockies in 2009.
The Rockies have a new manager in Walt Weiss, who took over after Jim Tracy unexpectedly resigned after discussing strategy moving forward. Pitching coaches Jim Wright and Bo McLaughlin took over after longtime pitching coach Bob Apodaca resigned last season, and they're with the squad from the beginning of this year.
While the team has gone back to a five-man rotation, Weiss said the information that led to the four-man experiment -- the difficulty of Rockies pitchers, visiting pitchers at Coors Field, and in the industry in general when facing a lineup for a third time -- will figure into in-game decisions with starters. Weiss also likes the idea of quick decisions and is big on the double-play grounder. So what Chacin learned last year will be useful.
Weiss backed Chacin's decision to step outside of a normal game plan, but still attack the strike zone on Sunday.
"That's what we're trying to do," Weiss said. "His changeup is a great pitch. The more that's in play, the better off he is.
"You can experiment with some things, and then when it's time to go, go out there and compete. I don't think it's much of an adjustment to try to do that."
Thomas Harding is a reporter for MLB.com. Read his blog, Hardball in the Rockies, and follow him on Twitter @harding_at_mlb. This story was not subject to the approval of Major League Baseball or its clubs.