Nicasio sees progress in changeup to offset heater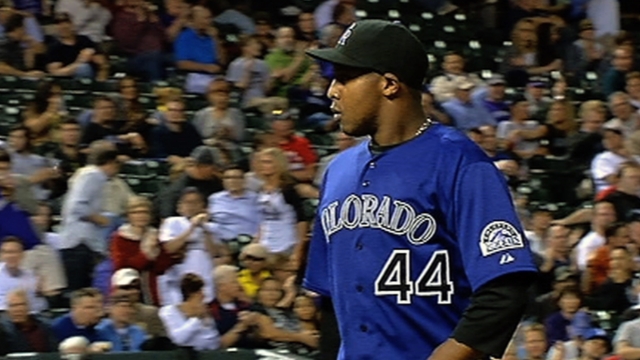 SURPRISE, Ariz. -- Rockies right-handed pitcher Juan Nicasio came to Spring Training with two initiatives. At the end of an interview, he asked for an assessment of one of them.
"How is my English?" Nicasio said, smiling.
That's progressing, and he'll need it if he can continue to develop his other project, which is more vital to his job. A hard thrower, Nicasio is developing confidence in a changeup that can offset his fastball and slider. On Tuesday, he used the changeup better than he has at any point in his career, while holding the Royals to one run and three hits in five innings of the Rockies' 7-2 victory.
Nicasio, 26, has been impressive at times in injury-shortened stints with the Rockies in 2011 and '12, but the lack of a third pitch has been an issue, especially when hitters have seen him in a game. He has managed a 6-7 record with a 4.65 ERA in 24 total starts. Showing supreme confidence that he will develop, the Rockies didn't throw his spot in the rotation open for competition in Spring Training.
Last year, Nicasio worked on his changeup in the bullpen, but barely used it in competition. On Tuesday, he enticed Royals leadoff man Alex Gordon to ground sharply to first base and fanned Gordon with a full count in the fifth, both times on changeups.
"Now I feel like I want to throw it," Nicasio said. "I feel the same as my fastball when I throw my changeup.
"I play in Coors Field. I need one pitch to help my fastball. It's hard because everybody is talking about the breaking ball, it can't break in Denver."
Nicasio is throwing a four-seam circle change. He had tried throwing with a two-seam grip like a sinker, but didn't feel it had the same downward bite as the circle change. He still has a fastball with upward movement. Two of his three strikeouts were on 97 mph fastballs to Eric Hosmer.
The change wasn't perfect. Mike Moustakas swatted one -- which was 87 mph, rather than the 84 mph that his best changeup travels, and hung in the middle of the plate -- beyond the right-field fence and almost over the grassy knoll behind it in the second inning. But he is learning the good and the bad. .
"We pitched him in the Triple-A game in his last outing, so he had more chances to throw his curveball and slider and get more confidence," Rockies pitching coach Jim Wright said. "Going five innings today was a step forward for him.
"He's working on the changeup in the bullpen. It doesn't show up quite as good in the game yet, but it's incrementally getting better each start. He hadn't pitched in seven months [because of a knee injury] and hasn't pitched much the last couple of years."
As a rookie in 2011, Nicasio suffered a broken neck when hit in the face by a ball hit by the Nationals' Ian Desmond, and last year he suffered the knee injury trying to field a hard-hit ball through the middle.
If Nicasio perfects his changeup, he can overcome the experience he missed.
"When you can throw 97 [mph] and have a changeup, it makes it tough for the hitter," manager Walt Weiss said. "That's the best I've seen his changeup."
Thomas Harding is a reporter for MLB.com. Read his blog, Hardball in the Rockies, and follow him on Twitter @harding_at_mlb. This story was not subject to the approval of Major League Baseball or its clubs.