Young working to shed label as bench player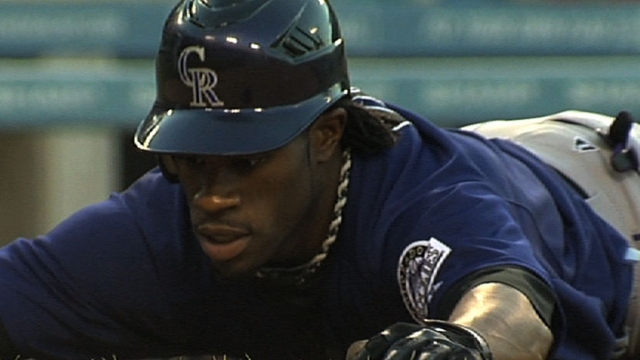 SCOTTSDALE, Ariz. -- The more Eric Young Jr. proves he deserves playing time, the harder it is to describe him.
He's on the Rockies' roster as an outfielder. New manager Walt Weiss is reintroducing him to second base and has mentioned third as a possibility. Young played well enough when injuries forced him into the lineup last year and has continued that this spring (batting .406 in 11 games), which just might be erasing the description that he spent last spring trying to earn: bench player.
Last year under manager Jim Tracy, Young, 27, was the out-of-options, make-or-break guy who had the strong spring he needed to earn a roster spot. He responded with 14 pinch-hits -- second most in the Majors. But Young hit .339 and had a .387 on-base percentage as a starter, mostly when Michael Cuddyer was out with an oblique injury. Young's season ended in August with an oblique issue, but he's not lost the groove.
"It's easy to get typecast, especially if you are having success off the bench," Young said. "In my mindset, I want to give my best effort whenever my opportunity arises, whether that's starting or coming off the bench. I was just being used coming off the bench so it seemed like that was the only time I had success. All I wanted was the opportunity to go out there and show on an everyday basis what can happen."
He's not a clear starter, but the strong spring and the look of the lineup when the switch-hitting Young hits leadoff and center fielder Dexter Fowler drops from leadoff to second could spell at least semi-regular starts.
The Rockies have a solid outfield in Fowler, Carlos Gonzalez and Michael Cuddyer, and Tyler Colvin showed power last season. Cuddyer and Colvin can spell Todd Helton at first base.
Young has played 15 innings at second base this spring. Although his struggles there led to the move to the outfield, Young has a new chance to show he can help the team at his old spot.
"It's my natural position -- I never lost confidence, always felt the same there, just wasn't getting the reps there," Young said. "Like I've been saying all spring, I just want the at-bats. If I can get the at-bats, I can do something.
"Whatever position I need to play, that's fine, whether it's outfield or second base or third base. It's all the same thing, catch the ball, throw it to the next person."
Thomas Harding is a reporter for MLB.com. Read his blog, Hardball in the Rockies, and follow him on Twitter @harding_at_mlb. This story was not subject to the approval of Major League Baseball or its clubs.