Brothers finding success with smoother delivery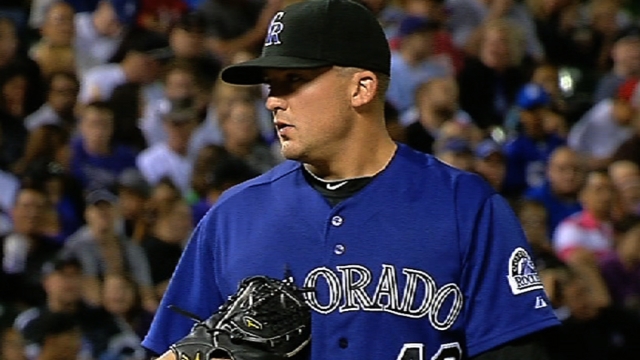 SCOTTSDALE, Ariz. -- A smoother delivery has helped hard-throwing Rockies left-hander Rex Brothers, who has thrown seven scoreless innings -- including a perfect fifth inning in Friday's 11-6 loss to the Giants at Salt River Fields at Talking Stick.
Brothers, the Rockies' primary lefty setup man, came to the Majors in 2011 with a maximum-effort delivery, one that generated power but could work to his disadvantage when he was off. Falling behind hitters became a problem early last season, and Brothers found himself at Triple-A Colorado Springs for four appearances.
The 25-year-old smoothed out his delivery by essentially relaxing throughout his motion and was better when he returned. Brothers finished the year 8-2 with a 3.86 ERA in 52 games, but he was 6-0 with a 3.27 ERA after his return from the Minors.
By keeping his head steadier and not tensing up as much, Brothers said his effort level has gone from an effort level of nine to 10 to about four to five. It hasn't hurt his upper 90s fastball velocity, but quieter body movements have allowed him to keep his motion in line with the plate and not lose sight of the plate because his body is jerking.
"It's been taking it back, so that way it's easier to repeat," said Brothers, who also pitched an inning against the Giants on Thursday night. "That's where I'm going to get my consistency. It's what I struggled with for two or three years, trying to find consistency.
"It started with keeping my head still, but in order to keep my head still, I had to take the effort level down. I'm still doing it, but the intensity is not what it was. Softer is harder, basically, is what it comes to."
Brothers said he was told to avoid tension in his mechanics throughout his career, but it clicked with the influences of veteran Rockies pitchers Matt Belisle and Rafael Betancourt.
"It's one thing to be told, but then it's one thing to feel it and repeat it," Brothers said. "It came a lot from listening to Belisle and Raffy talk about how they approach it, then figuring out what I need to do, so that when my name is called you know what you're going to get."
Thomas Harding is a reporter for MLB.com. Read his blog, Hardball in the Rockies, and follow him on Twitter @harding_at_mlb. This story was not subject to the approval of Major League Baseball or its clubs.