Garland excited for chance in Rox rotation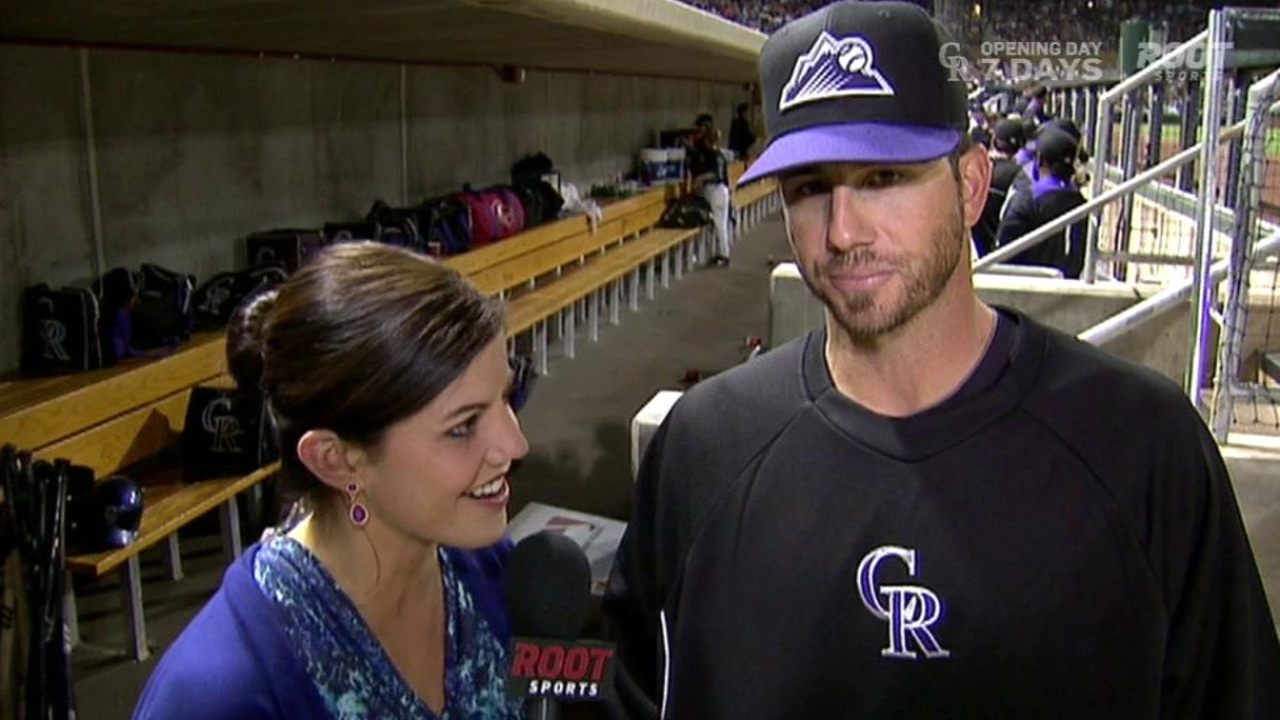 SCOTTSDALE, Ariz. -- Veteran right-hander Jon Garland decided he had better opportunities to make his Major League comeback than the one the Rockies offered this winter.
Turns out Garland, 33, overestimated the Rockies' starting pitching depth. After pitching well this spring for a Mariners squad that ended up not having a spot for him, he corrected that mistake Sunday by signing a one-year, $500,000 contract with incentives that can take his earnings to roughly $2 million.
The Rockies envision Garland, who will pitch for the Rockies on Tuesday against the Dodgers in Glendale, Ariz., as an example of the ground-ball-oriented pitching they are preaching to their younger starters. Garland underwent right shoulder surgery while with the Dodgers in 2011 and missed the rest of that season and all of 2012.
"Honestly, I felt these guys had too much young pitching that was Major League ready or on the verge of being in the Major Leagues," Garland said. "As a guy who was trying to prove that I was healthy and trying to get back into a rotation, I thought it would be one of the tougher places."
The Rockies decided not all that pitching was quite ready. Lefty Drew Pomeranz, who seemed in line for the fifth spot, survived more than thrived last year as a rookie, while righty Tyler Chatwood was plagued by walks this spring and lefty Christian Friedrich missed the first half of the exhibition schedule with back problems. All have been optioned to Triple-A Colorado Springs, with the Pomeranz decision being announced Monday.
Garland, who posted a 2.25 ERA in four spring starts with the Mariners, became available when he requested and received his release Saturday. He joined the Rockies the next day.
"I'm not surprised at my health, but early in spring I was surprised at how I was bouncing back," Garland said. "That was my biggest concern. I knew the strength was there, but until you get that adrenaline going and face big league hitters, it's that next day that really tells you something. I was able to bounce back, throw all my bullpens and make my next start."
"Someone's got to take a leap of faith on me. I think there's a huge upside if I give the team a chance to win. If I don't, things fall apart or the arm's not going to hold up, they can send me on my way, it's not going to cost them too much and they have plenty of arms ready to go."
The Rockies' history of pitching struggles is well known, but the club has at times done well with pitchers either coming off injuries or coming out of periods of difficulty. The Rockies expect to have a strong lineup, as often is the case, and need someone to be competent, if not necessarily dominant.
"There are some guys that stick out in my mind, like Rodrigo Lopez is one I remember," Rockies shortstop Troy Tulowitzki said. "It's important he fit what we've been preaching, ground balls, someone with experience that can keep us in games.
"You look at his career record and he has more wins than losses. With that experience comes a guy who knows how to pitch."
Thomas Harding is a reporter for MLB.com. Read his blog, Hardball in the Rockies, and follow him on Twitter @harding_at_mlb. This story was not subject to the approval of Major League Baseball or its clubs.