Garland makes strong first impression with Rox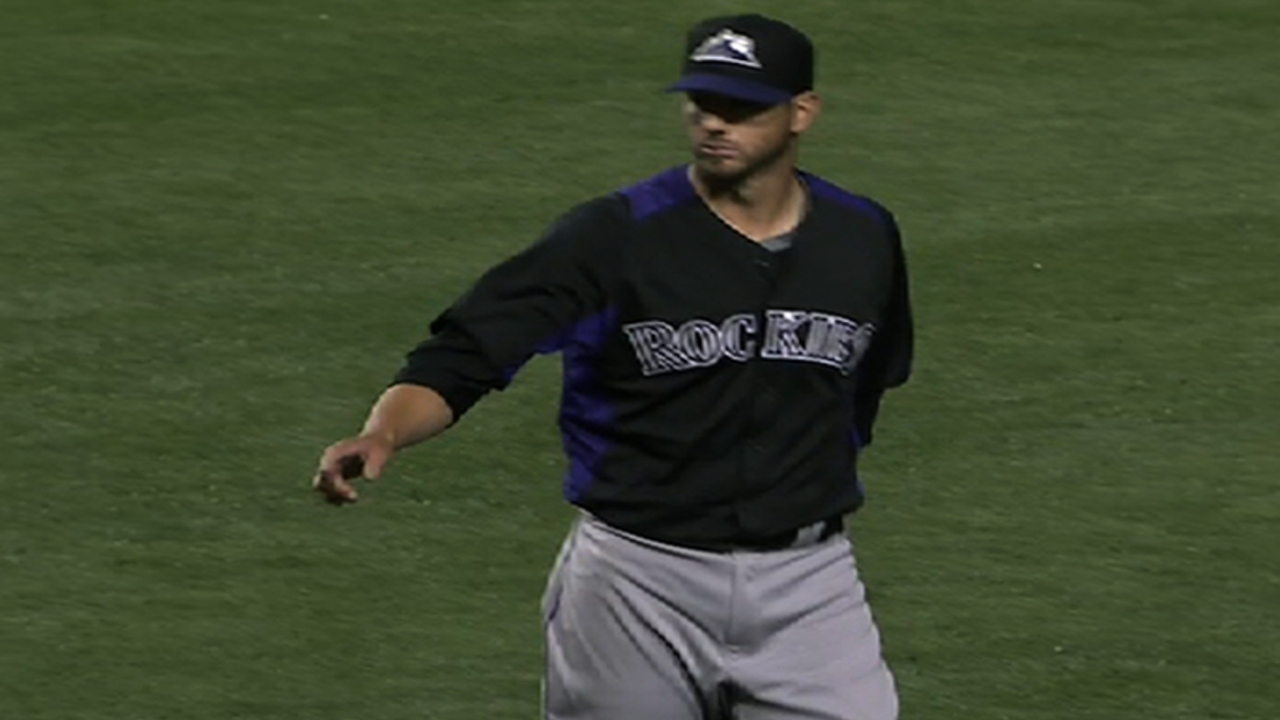 GLENDALE, Ariz. -- Jon Garland performed as advertised in his first outing with the Rockies on Tuesday night, keeping the ball down, getting ground balls and continuing what has been an impressive spring.
His previous Cactus League starts had been with the Mariners, but when they cut him loose from his Minor League deal, the Rockies jumped on the opportunity to bring the veteran in on a Major League contract, hoping he'd provide veteran savvy and some strong work on the mound.
That's what he did Tuesday in six innings of work, allowing one run on five hits while recording 11 ground-ball outs and inducing two double plays -- a similar outing to his last one with Seattle.
"I really felt the same as the last outing prior to this one, another six-inning job," he said. "Tonight, I was feeling good, staying on top of the ball and driving to the zone."
For Rockies manager Walt Weiss, seeing Garland in uniform and watching every pitch he threw painted a picture of a professional, one he's happy to have in the fold.
"He's a pitcher," Weiss said. "He's able to execute a plan. It's fun to watch that."
With that outing, a whirlwind spring is about at an end for Garland, who signed a Minor League deal with Seattle on Feb. 12, then proved over the next five-plus weeks that he had made it back from 2011 shoulder surgery that wiped out his 2012 season.
"I said it the first couple of days: I was debuting for pretty much every team out there," Garland said. "Just because I was wearing that uniform, it wasn't a given that they were going to keep me. I knew there were scouts at every game, keeping an eye on me."
When the Mariners decided they didn't want to commit to him, Garland's agent, Craig Landis, advised him not to fly home to Los Angeles, thinking a team would be calling soon. It turned out to be the Rockies, and now he's getting comfortable with a new team.
A strong outing Tuesday night was a good way to introduce himself to his new teammates.
"That's definitely the easy part, because you're going out there and competing," Garland said of his first outing in a Rockies uniform. "It doesn't matter which guy you pick, what he's wearing, what day it is, it could be a Sunday softball game, a professional athlete's going to go out there and compete. That's what I've tried to maintain, and it's worked out well."
John Schlegel is a national reporter for MLB.com. This story was not subject to the approval of Major League Baseball or its clubs.