Chacin's Opening Day tuneup doesn't go as planned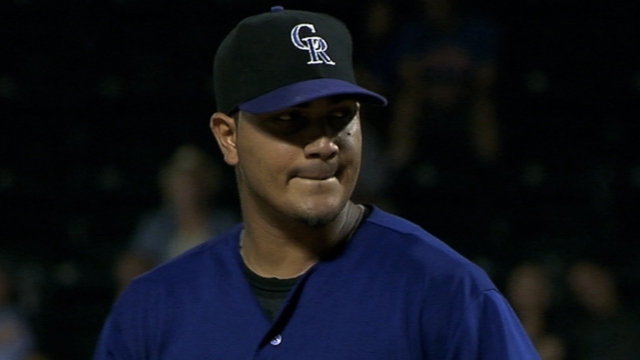 PHOENIX -- Rockies right-hander Jhoulys Chacin tuned up for his Opening Day start on Monday against the Brewers at Miller Park by squandering two leads to a bevy of A's Minor Leaguers in a 6-5 loss on Wednesday at Phoenix Municipal Stadium.
Making his first start since March 17 against the Giants due to back spasms, Chacin allowed 10 hits and six earned run in five innings, most of the damage coming after A's manager Bob Melvin began taking out regulars in the second inning.
"He was up [in the strike zone] a little too much today," Rockies manager Walt Weiss said about Chacin. "He has to get strikes with his fastball and outs with his changeup. He can do that. He labored a little today."
Chacin finished the spring with an 0-2 record and 8.44 ERA over five appearances, four of them starts. Chacin opened the spring with two scoreless, hitless innings on Feb. 26 against the Cubs, but since then has allowed 15 runs on 25 hits in his last 14 innings.
Chacin's back spasms scratched him from a scheduled start last Friday against the Rangers at Surprise Stadium and he came back on Saturday night in relief against the Padres at Salt River Fields, giving up two home runs in two innings.
Yet, Weiss has his five starters set, if not their place in the rotation. Weiss hasn't named his starters for the Milwaukee series on Tuesday and Wednesday nights. Jorge De La Rosa, though, was scratched from his scheduled start against the Brewers on Thursday in the closing game of the spring at Salt River Fields and will pitch instead in a Minor League game because Weiss admitted he doesn't want Milwaukee to see him so close to the opening series of the season.
So, De La Rosa will start one of those Brewers games, probably Tuesday night. Weiss said Jeff Francis will pitch the home opener against the Padres next Friday and newcomer Jon Garland is slated for the next night at Coors Field. That probably leaves Juan Nicasio to pitch Wednesday night against the Brewers.
Weiss did say despite Chacin's tepid spring, the manager has faith he will turn things around on Opening Day.
"With Jhoulys, he's just got to command his stuff," Weiss said. "I'm not concerned about him not doing that on Monday. I feel good about him being out there on Monday."
On Wednesday, Chacin worked through the opening inning in order and then began having trouble as Melvin kept going to the bench for Minor Leaguers.
Weiss said a loss of a focus on Chacin's part due to the level of hitters he was facing should have had nothing to do with his struggles.
"No, I don't think so," Weiss said. "We're trying to take the hitter out of the equation. Of course, you've got to know who you're facing and try to exploit some things. We're trying to focus on what we do well and take the emotion and the hitter out of it as much as we can."
Barry M. Bloom is a national reporter for MLB.com and writes an MLBlog, Boomskie on Baseball. Follow@boomskie on Twitter. This story was not subject to the approval of Major League Baseball or its clubs.