Arenado sent to Triple-A despite strong spring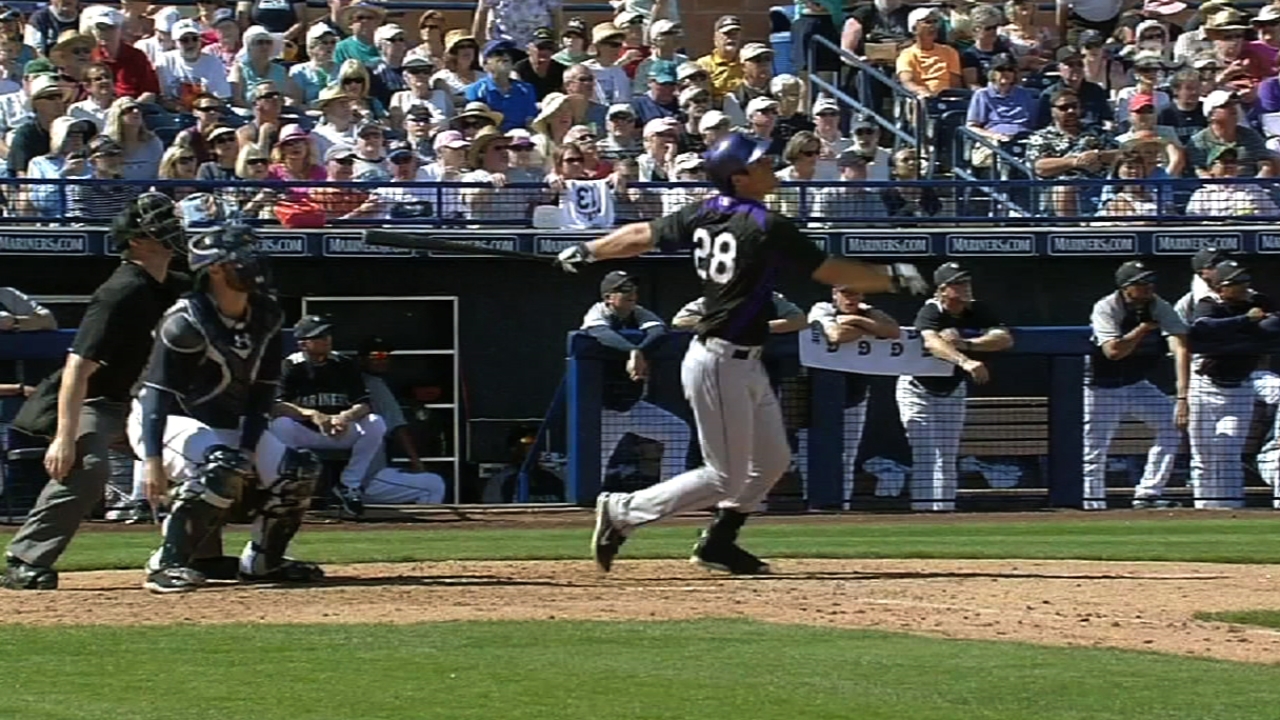 SCOTTSDALE, Ariz. -- Rockies third-base prospect Nolan Arenado found himself in the strange and disappointing place of hearing club officials compliment him and, in the same conversation, inform him that he did not make the Opening Day roster.
Arenado, who turns 22 on April 16, hit four home runs early in Spring Training before leveling out. He went into Thursday's Cactus League finale with the Brewers hitting .288. Incumbent Chris Nelson, who entered Thursday hitting .265 with homers in two of his final three games, will remain the starter.
"It definitely hurts, no question about it," Arenado said. "That wasn't their plan for me to make this team. I've just got to deal with it, so I'll go down to Triple-A and things go well. And I'll stay healthy. If both of those happen, I'll be back."
Arenado hasn't played above Double-A and had a 2012 season full of challenges, but he reported to camp more mature mentally, physically leaner and better defensively. Although he didn't keep up his early spring pace, he was more consistent over the length of camp than he was last year -- his first invitation to big league Spring Training -- and he pushed the decision to the final week.
The way the Rockies' lineup is constructed, if he had made it, he likely would have had to hit eighth, which is a tough spot for a young hitter. Pitchers don't typically give that spot much to hit, because they know they're facing a pitcher next. Arenado displayed patience throughout camp, but at Triple-A he will be able to revert to a power hitter's approach. The Rockies see him as a run producer in the future.
"I made my case for being in there," Arenado said. "I came ready, and I showed them what I've got.
"They said, 'Keep doing what you're doing. Keep working hard and find your way back here.'"
It was a good spring for Arenado, who emerged from early inconsistency to hit .285 with 12 homers and 56 RBIs for Tulsa last year, but it was not quite enough to force the Rockies into a decision with Nelson, who is out of Minor League options.
If the Rockies had kept Arenado and opted to send Nelson to the Minors, he would have been exposed to other teams through waivers. Trading Nelson was an option, but for the Rockies to receive the pitching they want, he would have to be part of a larger deal.
There are future payroll considerations as well. If Arenado is the type of talent who will enter the Majors and stick, the Rockies can delay his arbitration eligibility by holding him out of the Majors for a couple of months. Players with three years of service time can file for arbitration, and guys who have between two and three years can file as Super Two players if they rank in the top 22 percent of service time among this group. Keeping Arenado in the Minors long enough could give the Rockies another year on his arbitration clock.
Thomas Harding is a reporter for MLB.com. Read his blog, Hardball in the Rockies, and follow him on Twitter @harding_at_mlb. This story was not subject to the approval of Major League Baseball or its clubs.