Ottavino at his first Rox opener as a player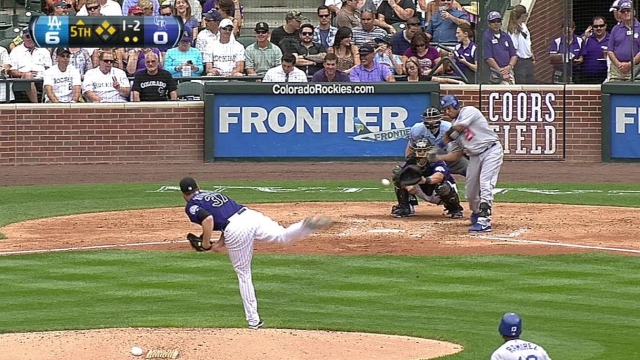 MILWAUKEE -- Two men wearing black and purple uniforms for Monday's Opening Day game against the Brewers were at Shea Stadium when the Rockies played their inaugural game on April 5, 1993, at Shea Stadium.
One is an easy answer: New hitting coach Dante Bichette participated in the 3-0 loss to the Mets.
The other?
It's Rockies right-handed relief pitcher Adam Ottavino, who grew up a Yankees fan in New York. However, his mother, Eve, was a Mets fan. His grandfather took the 7-year-old future Rockie to the game.
"I went to a lot of Opening Days when I was a kid, and I actually went to the Mets' opener against the Rockies in their first-ever game," Ottavino said. "I just remember that there was a homer hit and the Mets won the game."
Bobby Bonilla hit the homer off David Nied in the fifth inning.
Monday was Ottavino's first Opening Day in a Major League uniform. After making five appearances for the Cardinals in 2010, he joined the Rockies last season and established himself as a middle reliever by going 5-1 with a 4.56 ERA in 53 games.
"It was good for me -- I got a lot more experience throwing multiple innings that way," Ottavino said.
Thomas Harding is a reporter for MLB.com. Read his blog, Hardball in the Rockies, and follow him on Twitter @harding_at_mlb. This story was not subject to the approval of Major League Baseball or its clubs.