Chacin's injury not an oblique issue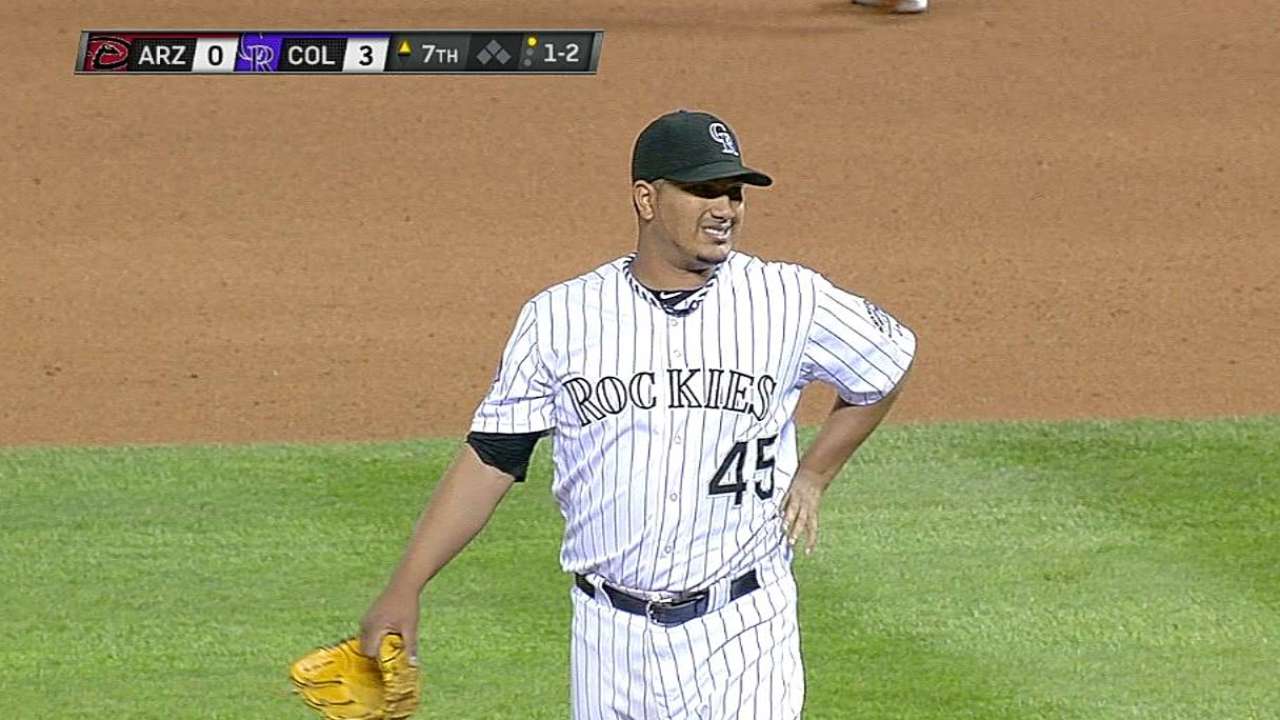 DENVER -- Right-hander Jhoulys Chacin will not make his next scheduled start, but said Saturday he felt "way better than yesterday" and believed the injury that forced him to leave Friday's start was not to his left oblique.
Chacin was examined Saturday by Dr. Tom Noonan, the Rockies' medical director, who gave Chacin the good news and confirmed that he does not have an oblique issue. Chacin's pain is related to his back, but he will still have an MRI taken on Monday to determine a more specific diagnosis.
Chacin pitched 6 1/3 scoreless innings against the D-backs on Friday and left the game after throwing his 100th pitch. The Rockies' Opening Day starter, Chacin is 3-0 with a 1.46 ERA in four starts.
Chacin suffered spasms in his lower back during Spring Training while doing squats and said he felt pain in the "same area" Friday. Chacin was encouraged by how how he felt Saturday.
"I was able to do some exercise, and if it was an oblique, I couldn't do it," Chacin said. "I feel quite better today."
Chacin's next scheduled start is Wednesday against the Braves at Coors Field. The Rockies don't have a scheduled off-day until May 2, so a pitcher from Triple-A Colorado Springs will need to be called up to face the Braves.
Left-hander Drew Pomeranz pitched for Colorado Springs on Thursday and could start in Chacin's place. But the Rockies may be reluctant to disrupt the routines and development process of Pomeranz and Tyler Chatwood, who has been Colorado Springs' best starter recently, by calling them up to pitch once or twice in Chacin's absence.
"Of course, I've thought about that scenario," Weiss said, referring to filling Chacin's spot. "I don't exactly know who that would be, at this point. There's a few different candidates down there. So, we'll cross that bridge, I guess, when we get to it."
The weather forecast calls for rain on Monday afternoon, turning to snow at night with some rain and snow on Tuesday. If a game with the Braves is postponed, the Rockies could push their starters back and not have to fill Chacin's slot.
Jack Etkin is a contributor to MLB.com. This story was not subject to the approval of Major League Baseball or its clubs.