Denver's cold temps affecting even the most brave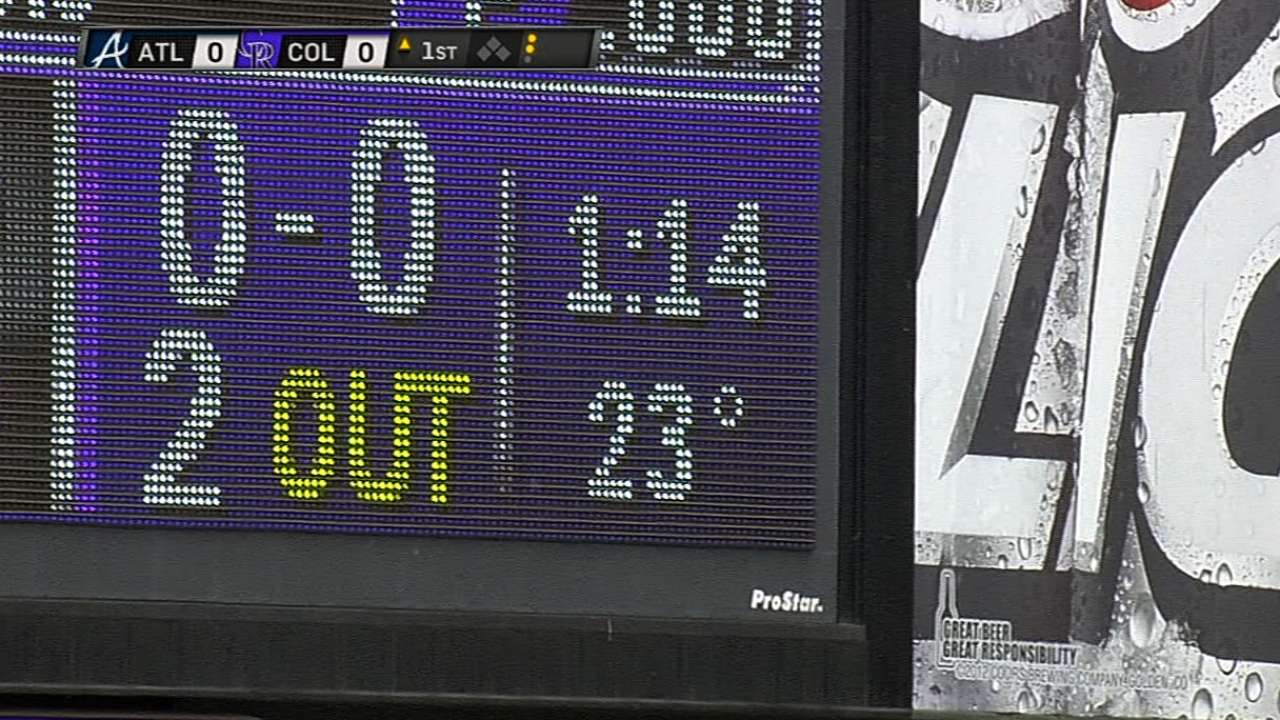 DENVER -- Last Tuesday, when the Rockies played in temperatures in the 30s, Mets hitters were greeted by the intimidating sight of left-hander Rex Brothers entering a game bare-armed -- no sleeves extending from his game jersey.
With the game-time temperature this Tuesday at 23 -- a record low for a Rockies home game -- it was doubtful Brothers would be so brave again. Brothers did have a cold-tub treatment before the game, but that may be his limit.
"When I got out of the cold tub, I thought I might have to ask 'Schulzie' [clubhouse operations director Keith Schulz] for a turtleneck today," Brothers said.
Truth be told, Brothers' bravery was a mistake.
"It snuck up on me," Brothers said. "Down there in the bullpen, you're kind of shielded from the wind and the cold. We're underneath, under the heaters.
"When I ran out on the field, I was like, 'Yeah, I should've worn sleeves. No doubt about it.'"
Closer Rafael Betancourt also went without the long sleeves.
Whatever the reason, hitters have to take notice, and probably wonder about the sanity of the pitcher. Manager Walt Weiss wouldn't put it past a relief pitcher to intentionally avoid the warmth.
"The bullpen guys are the offensive linemen of baseball; I don't know how they do it," Weiss said. "I wouldn't be out there with no sleeves.
"But I think it's just a feel thing. A lot of pitchers don't like throwing with anything on their arms. Even if it's 12 degrees out there, that's what they're going to do."
Thomas Harding is a reporter for MLB.com. Read his blog, Hardball in the Rockies, and follow him on Twitter @harding_at_mlb. This story was not subject to the approval of Major League Baseball or its clubs.