Series of lefties could wake up Rockies' bats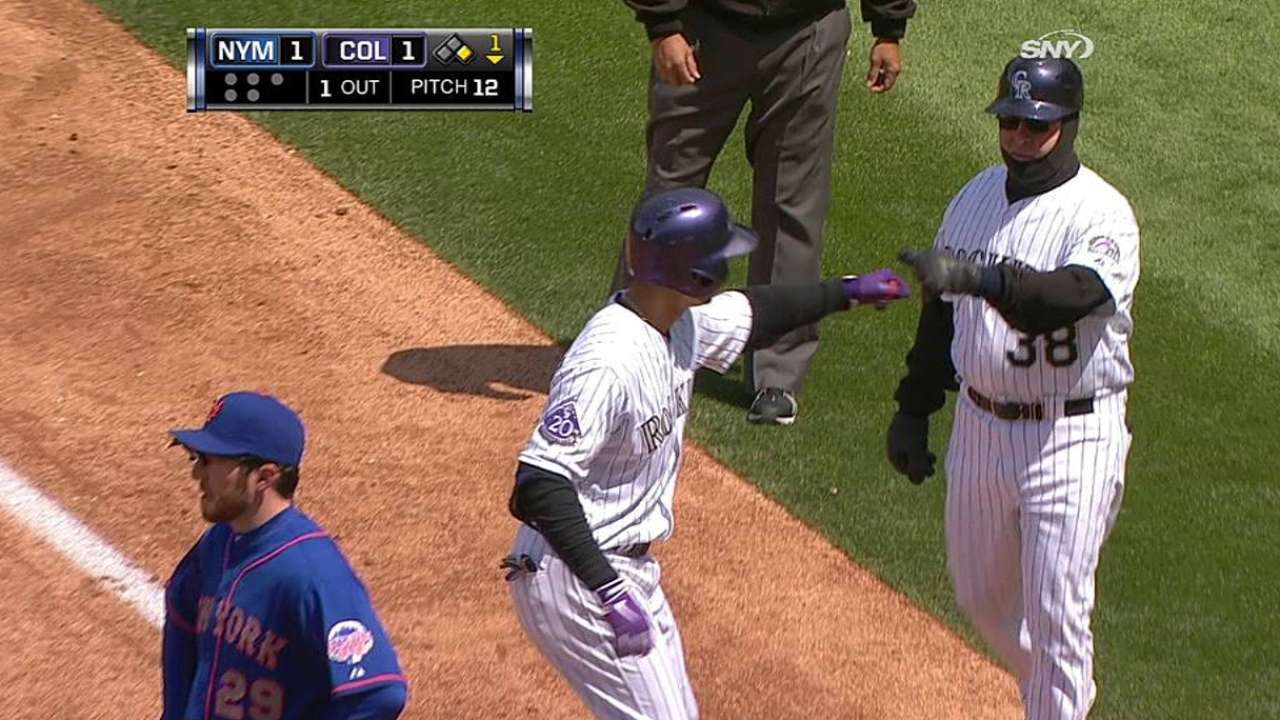 PHOENIX -- The pitching matchups for the next week could be good news for the Rockies.
Going into Friday night, when the Rockies faced D-backs righty Brandon McCarthy, the Rockies ranked fourth in the National League in batting average against lefties, and not all of their big guns were clicking. And starting Saturday, when they match up with D-backs lefty Wade Miley, the Rockies will be facing lefty starters for four straight games and six of the next eight.
Left-handed-hitting left fielder Carlos Gonzalez has hit .391 (9-for-23) with two doubles, a homer and three RBIs against left-handers. Several right-handed hitters were also doing well. Michael Cuddyer was hitting .357 with two doubles, Chris Nelson was at .313 and Wilin Rosario and Josh Rutledge each were at .273.
In their careers, Rosario (.336, 15 home runs), Jordan Pacheco (.335) and Troy Tulowitzki (.304, 39 homers) are considered tough matchups for lefties. Tulowitkzi started this year 2-for-17 (.118) against left-handers, but hopes that will change with some regular at-bats.
"It's definitely better than having them separate, having lefty-righty, lefty-righty," Tulowitzki said. "We know we're up against a few of them. I actually feel good up there against lefties. I've just hit some balls hard and had nothing to show for it."
It's possible that a solid run of lefties could help Gonzalez, who was 2-for-24 with eight strikeouts in his last six games before his first-inning hit Friday. The theory is Gonzalez has been chasing pitches out of the strike zone, so tracking pitches is more of a premium when going left-on-left.
"I don't really care," Gonzalez said. "I just need to have a good approach against lefties. It doesn't matter who I face, although sometimes it's good to face four in a row. But I have to be patient against anybody. I just have to do it."
After Miley on Saturday night, the Rockies will face the D-backs' Patrick Corbin on Sunday afternoon, the Dodgers' Ted Lilly on Monday and the Dodgers' Hyun-Jin Ryu on Tuesday. Two of the three pitchers the Rockies are scheduled to face in next weekend's series with the Rays at Coors Field are lefties David Price and Matt Moore .
Thomas Harding is a reporter for MLB.com. Read his blog, Hardball in the Rockies, and follow him on Twitter @harding_at_mlb. This story was not subject to the approval of Major League Baseball or its clubs.