Tulowitzki day-to-day with left rotator cuff strain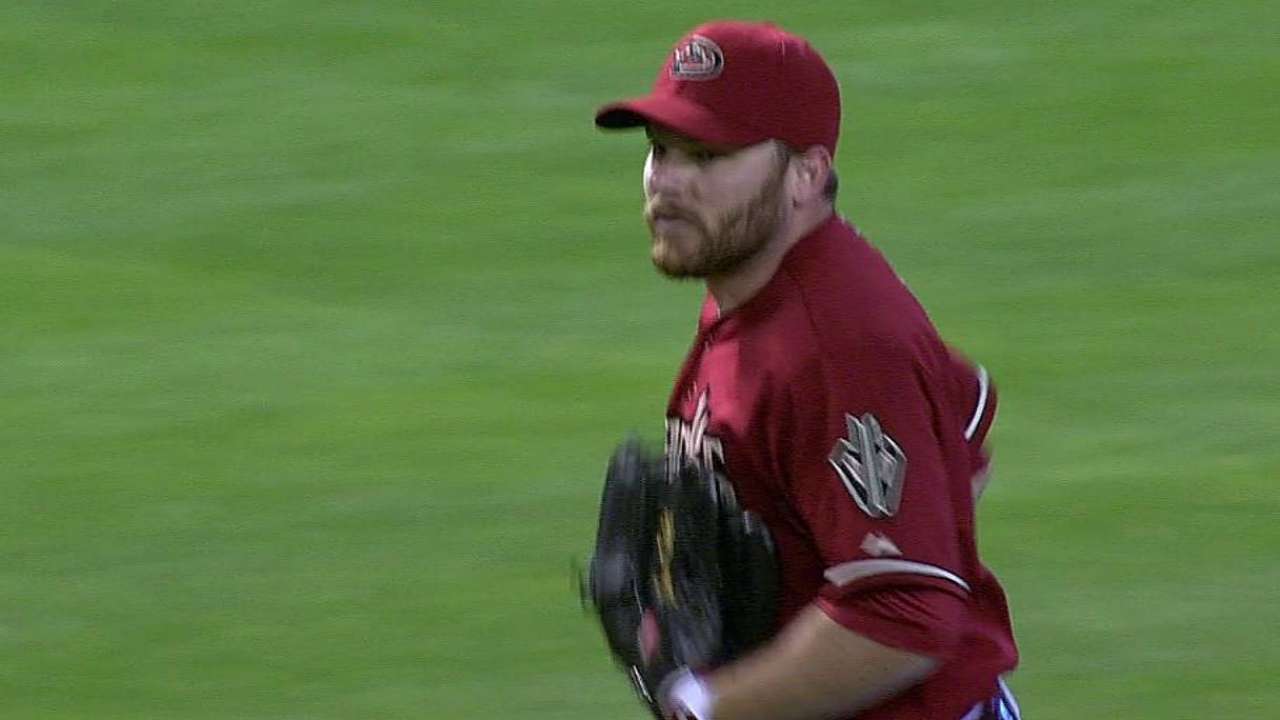 PHOENIX -- Rockies shortstop Troy Tulowitzki suffered a strain to his left -- non-throwing -- rotator cuff and was removed from Sunday afternoon's 4-2 loss to the D-backs before the bottom of the third inning.
Tulowitzki slid and made contact with D-backs catcher Miguel Montero on a play at the plate in the first inning. Evaluations during and after the game concluded with the same result, and the team did not feel an MRI was necessary. Tulowitzki will be on anti-inflammatory medicines and do movement exercises to prevent tightening, and it's expected he will be back in the lineup soon. There is no timetable.
Tulowitzki played two innings at short after the slide, and was replaced by Jonathan Herrera to open the bottom of the third. The pain is in the back of the shoulder, according to the shortstop.
"I was really worried," Tulowitzki said. "I definitely felt something. I never had any shoulder problems. Out there on defense, it kept tightening up on me. I think I definitely feel more confident standing right here talking than if you'd have talked to me after the second or third inning. I'm a little bit relieved.
"I'll take it day by day and check with these guys tomorrow."
It is doubtful he will play Monday night against the Dodgers. Tulowitzki expects some swelling, which could impact his ability to swing the bat. He certainly could have done without the injury, but Tulo is 4-for-32 with one double in his career against the Dodgers' Monday starter Ted Lilly.
It's a lesson in discretion for Tulowitzki. In 2008 and last season, he attempted to play through leg injuries, only to have them worsen and result in missing time. Last year, he suffered a left groin injury in the season's second game, went on the disabled list after playing 47 games and ended up missing the rest of the season because of surgery to remove scar tissue.
Tulowitzki, hitting .308 with six home runs and 22 RBIs and leading Major League shortstops in slugging (.610) and OPS (1.008), reached on a fielder's choice in the first inning. With two out, he tried to score from second on Michael Cuddyer's single, only to be thrown out by D-backs left fielder Jason Kubel. Tulowitzki slid awkwardly with his left shoulder underneath him and rolled into Montero.
"I kind of slipped a little bit, and my arm went straight, then [Montero] kind of jarred me and pushed me down," Tulowitzki said. "It was just awkward. I knew something was going on when I was running out on defense."
Tulowitzki took some swings in the batting cage and was tentative enough that Rockies head athletic trainer Keith Dugger recommended that manager Walt Weiss remove him.
Thomas Harding is a reporter for MLB.com. Read his blog, Hardball in the Rockies, and follow him on Twitter @harding_at_mlb. This story was not subject to the approval of Major League Baseball or its clubs.