Changeup keeping Brothers honest amid torrid streak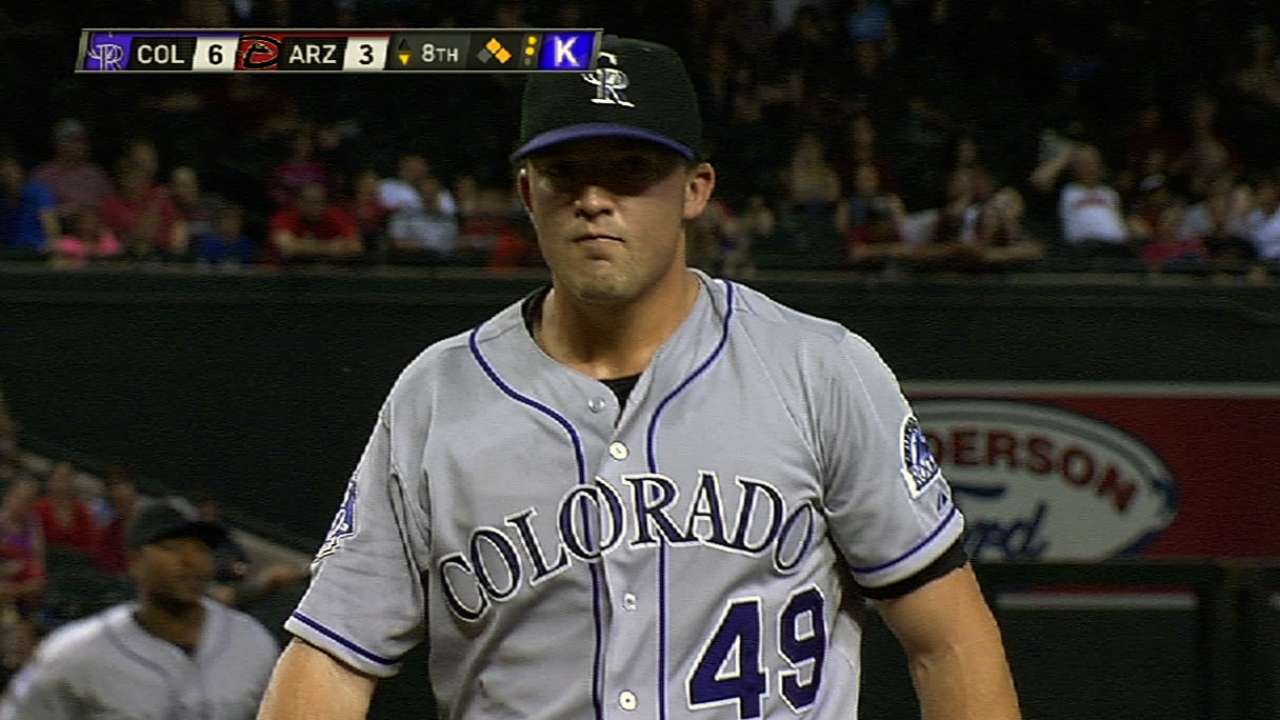 DENVER -- Reliever Rex Brothers has not only developed his changeup into a reliable pitch that complements his mid-90s fastball and hard slider, but one that has become a vital way for Brothers to monitor his mechanics.
In particular, his changeup helps Brothers avoid rushing his delivery.
"Whenever I need to [remember to] stay back over the rubber, keep my head still and get that good extension out front," Brothers said, "the changeup's going to tell me whether all those things are working together and to get that end result on any of my pitches.
"It takes that good extension and good feel out front to throw a good changeup, and with that comes the slot for the fastball and the slider."
Brothers entered Sunday 1-0 with a string of 12 straight scoreless outings covering 11 innings. Overall, he is 1-0 with a 0.63 ERA in 16 games, having allowed one run -- April 6 in his fourth appearance -- with seven walks, 17 strikeouts and 11 hits allowed in 14 1/3 innings.
His torrid start has been a carryover from 2012, when Brothers went 2-0 with a 1.53 ERA in his final 21 appearances with 12 walks and 24 strikeouts in 23 2/3 innings. The 25-year-old Brothers gives a lot of credit to fellow reliever Matt Belisle, 32, for his development.
"He's the one that's always steered me, and I talk to him about it day in and day out about just what it takes and just kind of molding my own kind of repertoire," Brothers said. "I can't say enough about what he's meant to me."
Belisle said: "I try to remind him to stay humble and stay extremely hungry. And I think he's doing that well. I think Rex wants to learn, and that's a big difference. He obviously has a very, very gifted arm, gifted stuff. But it's not complete without maturing, continually trying to improve the mental side of the game, because there's been a lot of [great] arms that have come through. You've got to keep adapting. So I'm really proud of the work he's tried to implement every day."
Jack Etkin is a contributor to MLB.com. This story was not subject to the approval of Major League Baseball or its clubs.