Tulowitzki sits again, as Rockies play it safe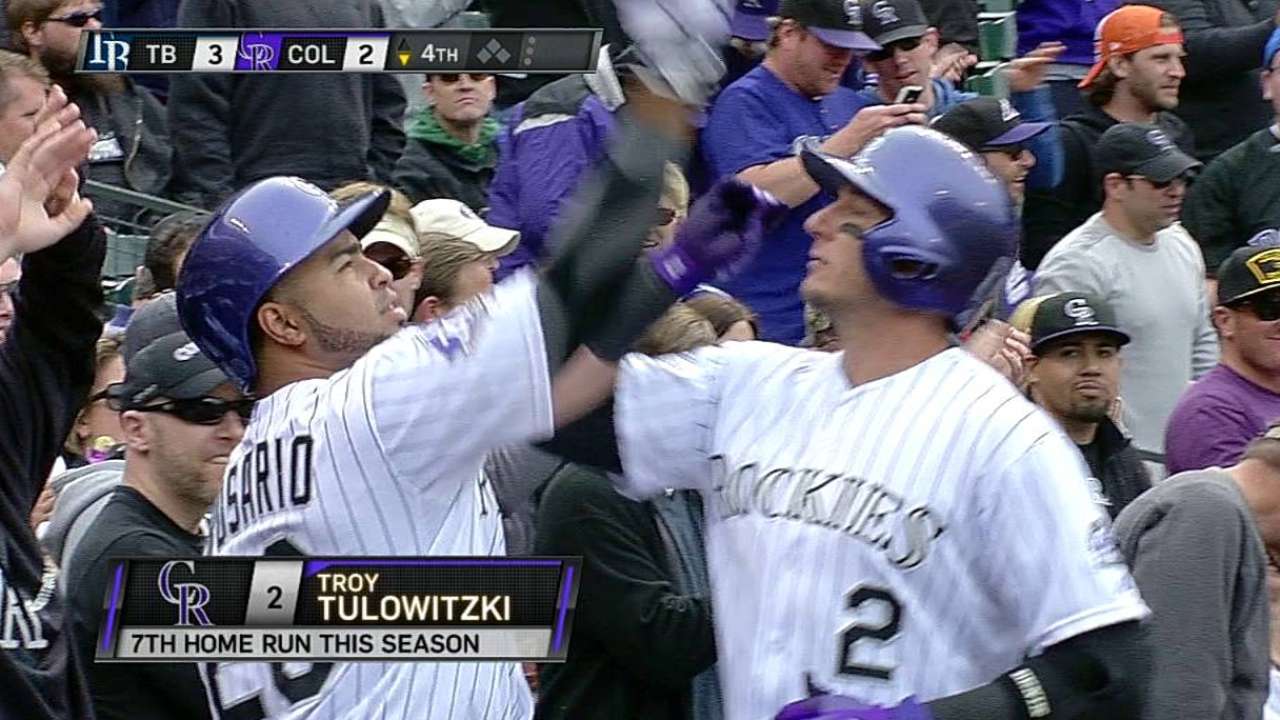 DENVER -- Rockies shortstop Troy Tulowitzki was hoping the rain Wednesday would intensify. The Rockies decided not to start him against the Yankees, even though his ailing left groin had improved enough for him to feel he could play.
"I'm hoping for a rainout here," he said with a smile.
It was the second straight game against the Yankees and the third time in the last five games that manager Walt Weiss, with input from head athletic trainer Keith Dugger, sat Tulowitzki. On Tuesday, Weiss said the decision would be based more on how Tulowitzki felt than the weather, but he changed his mind as the late-afternoon rain fell.
Tulowitzki ended up pinch-hitting in the eighth inning of the 3-2 loss to the Yankees. He was hit by a pitch on the first pitch he saw, and was promptly pinch-run for.
The caution comes because Tulowitzki suffered a groin injury that limited him to 47 games last season. He underwent surgery in June to remove scar tissue and did not return.
"I felt good [running on Tuesday] but I met with Walt and Doogie, and as soon as I walked in there they knew I wasn't going to be very happy," said Tulowitzki. "But they said, 'Hey, the weather is too much. We don't want to throw you out there.'
" It's probably a smart decision, but when you wake up in the morning and you're like, 'I didn't get to play yesterday and today I'm excited to play,' and it doesn't happen, you're going to be disappointed. But sometimes you've got to listen. We're going to put a good team out there, still, and expect to win."
Weiss said he accepts input from Tulowitzki and appreciates the honesty of the shortstop, but "it's not easy to do. You want to have that guy out there in the middle of your lineup. It's going to be a wet night out there weather-wise. I think an extra day would make sense."
That being the case, it's not clear whether Weiss would feel comfortable using Tulowitzki in Thursday's finale of the three-game series with the Yankees. More rain is expected.
Tulowitzki missed two games last week with a slight left shoulder strain. He returned last Wednesday to go 2-for-4 in a 7-3 victory over the Dodgers. During that game, he felt tightness in the groin after beating out a throw to first base, then going from first to home on Michael Cuddyer's double. He was limited to a pinch-hit appearance Friday against the Rays -- he was walked intentionally and removed before having to run the bases -- then went 5-for-7 with a home run, a double and four RBIs the next two games against the Rays.
Thomas Harding is a reporter for MLB.com. Read his blog, Hardball in the Rockies, and follow him on Twitter @harding_at_mlb. This story was not subject to the approval of Major League Baseball or its clubs.