Tulowitzki back in action for finale against Yankees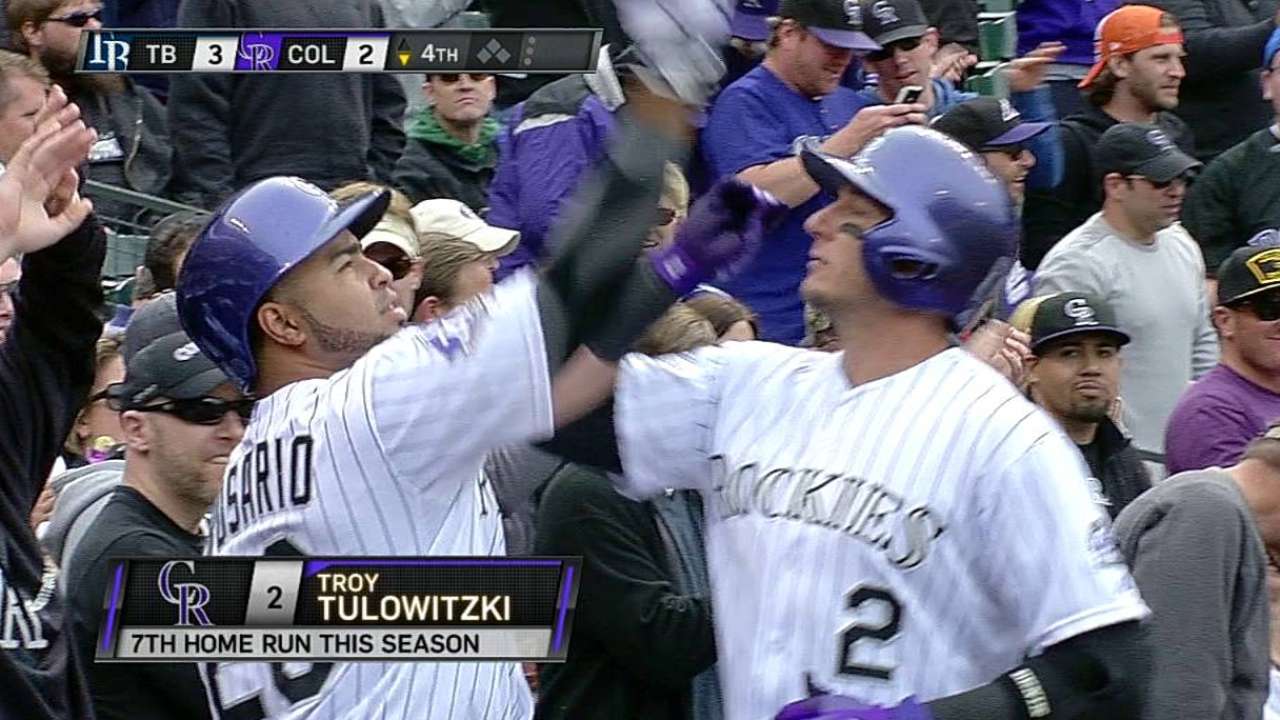 DENVER -- The "bump-in-the-road" pain Troy Tulowitzki experienced in his last start for the Rockies on Sunday didn't measure up to the challenge of having one of the club's best hitters champing at the bit on the bench.
After an off-day Monday and two rainy games with the Yankees, during which he was limited to a late-inning pinch-hit at bat in Wednesday's loss, Tulowitzki was back in the lineup for Thursday's rubber match.
"It's tough watching," Tulowitzki said before Thursday's 3-1 loss. "I think yesterday I was going to play. They just held me out because of the weather. That was their main concern, that I'd slip or something. And then the extra day was going to benefit my leg. I feel good. There's no doubt I'm going to go out there and play with it in the back of my mind and know that I have to take it easy, but there's also a point in time that you have to get out there, otherwise they're going to DL you."
Tulo sat the first two games of the series with a sore left groin, brewing concern about the groin injury that ended his 2012 season on May 30. Tulo accepted the cautious approach, and missed Friday's tilt with Tampa Bay while experiencing "heavy legs," then hit 5-for-8 with a homer and four RBIs the rest of the series.
"The rest has benefited me a lot," Tulowitzki said. "Three days ago, I was feeling real sore out there, even that day game I went out there against Tampa Bay, I was playing through some pain. My feedback was, 'Hey, it was a lot of pain out there,' and they said, 'All right, we need to get the MRI,' which they did. And then the rest came after that."
The MRI gave Tulowitzki and the club peace of mind that the nagging soreness was not more serious.
"I've been through some injuries in that leg and I know when it's major and I know when it's just a little bump in the road," Tulowitzki said. "I knew it wasn't something real severe, but I knew I'd probably have to get it taken care of. I didn't know how it was going to get taken care of, but they said the rest would do the job."
With much of the first two Yankees games played in the rain, the conditions favored Tulowitzki's return for Thursday's day game, despite intermittent rain and temperatures climbing back into the 50s.
"I had a pretty good feeling that he'd be ready to go," manager Walt Weiss said. "He was trying to talk his way into the lineup [Wednesday] night, so I had a pretty good feeling that he'd be ready to go today."
Tulowitzki pinch-hit in the eighth inning Friday and was intentionally walked. He pinch-hit again in the eighth Wednesday and was hit by a David Robertson curve that glanced off his helmet and neck.
"I was all right, it just stung a little bit," Tulowitzki said. "Got me in the vertebrae. Good thing it was an offspeed pitch."
Tulowitzki singled in his first at-bat and finished 1-for-3.
Owen Perkins is a contributor to MLB.com. This story was not subject to the approval of Major League Baseball or its clubs.