Bichette keeps level head despite team's struggles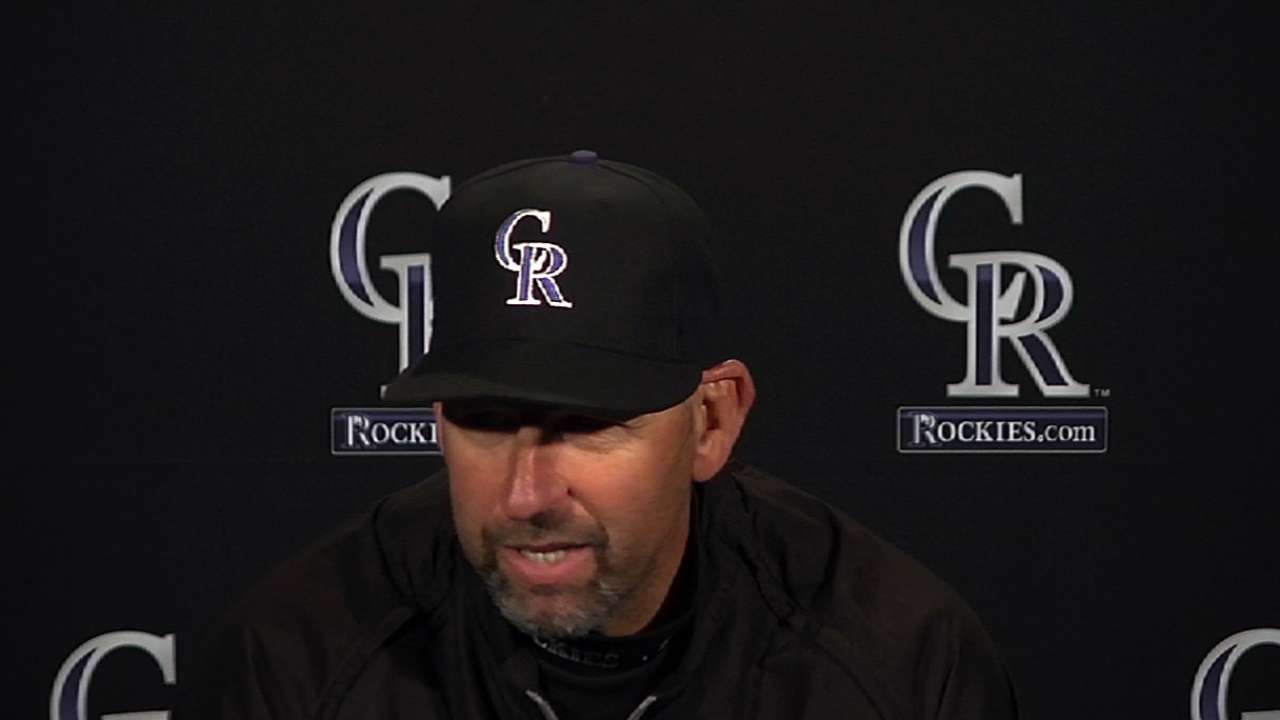 ST. LOUIS -- Rockies hitting coach Dante Bichette stayed quiet when the offense was producing during the strong early days of the season. He's keeping the same approach through the team's struggles, which include consecutive shutouts against the Cardinals on Friday and Saturday.
"That's the game, you have to handle it in your head," Bichette said. "You have to slow the game down in these times, you have to take it one pitch at a time. Nobody needs to be a hero right now. There is nobody panicking in here. Walt [Weiss, the Rockies' manager] has gone through this many times. It will make us better when we get through it.
"You have to give those guys [Cards pitchers Shelby Miller and Adam Wainwright] credit. Sure, we could have been better, but not a whole lot better, considering how they threw to the plate. There weren't too many in the fat part of the strike zone."
As a team struggles, many aspects of the operation come under scrutiny. One is the structure of the coaching staff. The Rockies have not joined the trend that most teams are part of -- hiring an assistant hitting coach. The team does have a pitching coach (Jim Wright) and an assistant (Bo McLaughlin).
And Bichette said there are enough folks keeping an eye on hitting.
"We have three or four hitting coaches," Bichette said. "They might not be labeled hitting coaches, but we have Pat Burgess, that's the bullpen catcher [a teammate of Troy Tulowitzki at Long Beach State] who helps out with hitting. We have Chris Warren, who is the advanced scout who helps out a lot with the hitting, as does Brian Jones, the video guy. There is a lot of information there. There is plenty of information. And Walt gets involved, so there is plenty of help."
The theory behind a team having two hitting coaches is one could relay information from the video room to the hitting coach, or to players, during the game. But Bichette's coaching philosophy is against information overload.
"If someone has a game plan you don't always want to go in there and change the plan," he said. "These guys are up there and they are taking the at-bats, and as the day goes along, good hitters develop their game plan.
"Give them help if they look lost. But I actually saw some good at-bats as the [Saturday] game went on, from our good hitters. Nothing fell for us, but we hit the ball hard and we made some good adjustments. I wouldn't want to panic on the guys."
Thomas Harding is a reporter for MLB.com. Read his blog, Hardball in the Rockies, and follow him on Twitter @harding_at_mlb. This story was not subject to the approval of Major League Baseball or its clubs.