Rockies, Tulo continuously manage groin injury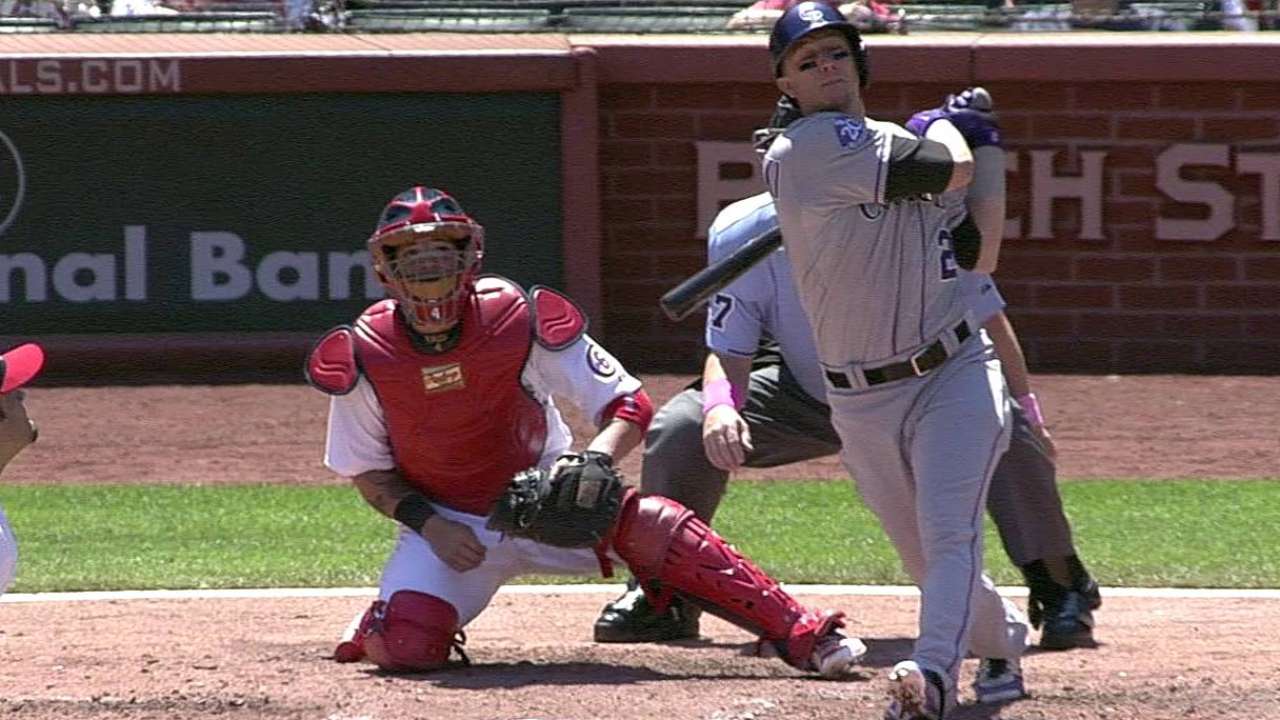 CHICAGO -- Troy Tulowitzki's three-run homer Sunday not only unlocked the Rockies' offense in an 8-2 victory against the Cardinals, but it also helped validate the team's careful approach with his left groin.
The Rockies kept Tulowitzki out of the lineup for three of the six games on their most recent homestand because of inflammation. Considering that Tulowitzki missed most of last season because of left groin surgery and has a history of leg-muscle issues, the Rockies decided to take a safe approach.
Such moves aren't always popular, given that Tulowitzki is hitting .324 with eight home runs and a team-leading 31 RBIs. But the Rockies prefer to have Tulowitzki miss some early action, so that he doesn't worsen any potential injuries. They hope to have him available throughout season without having to miss chunks of time on the disabled list, or like last season, be unavailable at the end.
"Every single day I've gotten better," Tulowitzki said. "It's kind of a marathon. As long as I'm there in September, that's the goal, not run myself into the ground.
"I've had a chance to catch up. I've felt better and better every single game. I'm excited about that. Instead of going out there being sore and being close to blowing out, I think we made the right decision."
Tulowitzki realizes he also has to manage the injury. On a chilly afternoon in Chicago, Tulowitzki navigated the chairs and tables in a cramped Wrigley Field clubhouse -- there is barely enough room to dress or eat a snack -- with a dynamic stretch warmup of movement combined with stretching. He also did the parts of his routine that involve barbells in the clubhouse, rather than the cramped training room. By the time he was done, the exercise bike, tucked in a small opening between lockers and a refrigerator, was free for him to hop on.
Tulowitzki is learning when to be reserved in some in-game movements. On a groundout Sunday, he burned down the first-base line and could have lunged to try to beat the throw, but he suffered the groin injury on a similar play earlier in the season. Since one base isn't worth another period of pain and missed starts, he eased into the base.
"We're always trying to work on different parts of the game, and that's it for me," he said. "I'm just trying to play within myself, not lunging too much. Maybe sometimes, when the game asks for 100 percent, I can only give it 80, but that's smart on my part, so I can be out there every single day."
Thomas Harding is a reporter for MLB.com. Read his blog, Hardball in the Rockies, and follow him on Twitter @harding_at_mlb. This story was not subject to the approval of Major League Baseball or its clubs.