Helton, Arrenado homers have place in MLB lore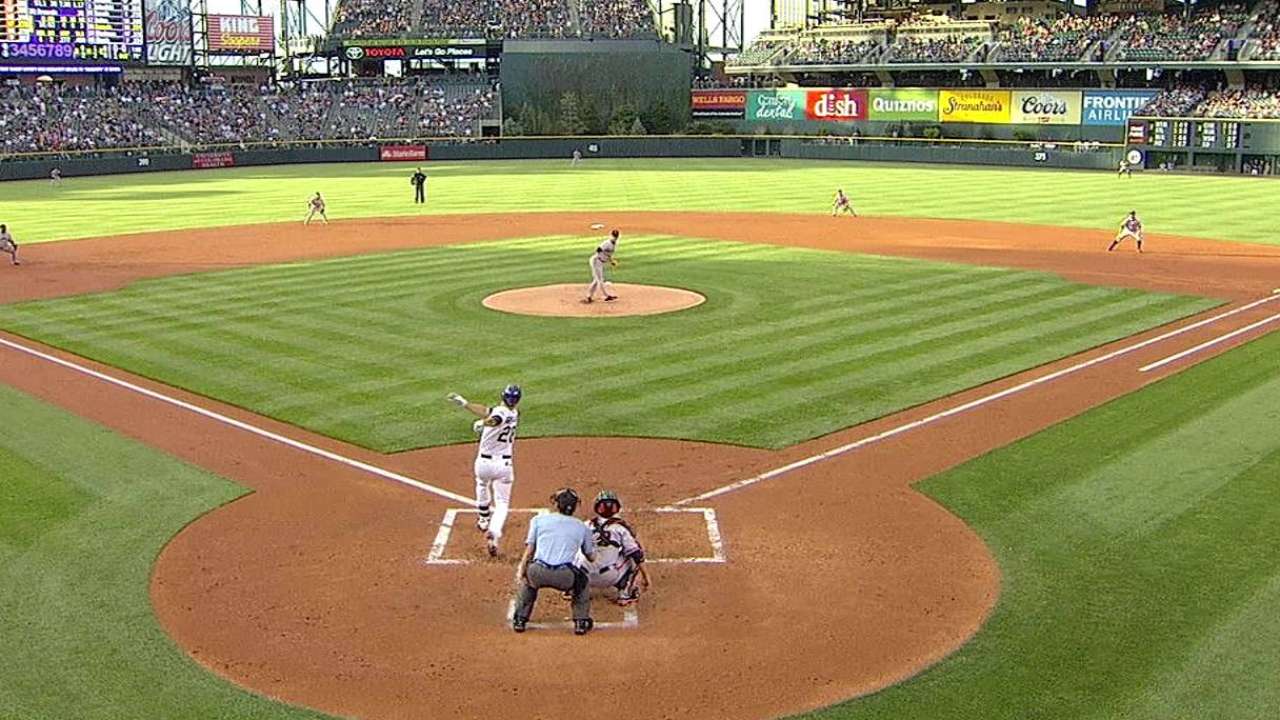 DENVER -- The consecutive second-inning home runs Thursday by Rockies veteran first baseman Todd Helton and rookie third baseman Nolan Arenado produced some age-difference trivia.
According to the Society for American Baseball Research Home Run Log, just eight times in Major League history, when it comes to back-to-back homers, has there been an age difference greater than the 17 years between Helton, 39, and Arenado, 22.
The greatest difference was 21 years, when the Giants' Hank Sauer, 41, and Orlando Cepeda, 20, went deep against the Giants on April 19, 1958. Three times has the difference been 20 years -- twice involving the Giants' Chris Speier, 20, and Willie Mays, 40, on May 14 and May 26, 1971, both times against the Dodgers. The other 20-year split came, famously, on Sept. 14, 1990, when Ken Griffey Sr., 40, homered in front of his 20-year-old son against the Angels.
The Reds' Frank Robinson was 20 and Bob Thurman was 39 when they homered against the Braves on Aug. 18, 1956. The 18-year differences involved the Red Sox's Gary Geiger, 23, and Ted Williams, 41, on July 27, 1960 against the White Sox; the Giants' Jack Clark, 23, and Willie McCovey, 41, against the Cubs on June 2, 1979' and the Phillies' Lou Marson, 22, and Matt Stairs, 40, against the Nationals on Sept. 28, 2008.
The 17-year gap between Helton and Arenado matched the differences of the Cardinals' Peanuts Lowrey, 35, and Dick Schofield, 17, against the Giants on Aug. 26, 1953; the Royals' Hal McRae, 41, and Bo Jackson, 24, against the Indians on May 2, 1984; the Tigers' Darrell Evans, 40, and Matt Nokes, 23, twice -- against the Indians on Sept. 1, 1987, and against the Orioles on Sept. 23, 1988 when each was a year older; the Blue Jays' Dave Winfield, 40, and John Olerud, 23, against the Indians on June 26, 1992; the Angles' Mike Trout, 20, and Torii Hunter, 37, against the Royals last July 25; and the Braves' Jason Heyward, 23, and Chipper Jones, 40, against the Padres last Aug. 16.
Thomas Harding is a reporter for MLB.com. Read his blog, Hardball in the Rockies, and follow him on Twitter @harding_at_mlb. This story was not subject to the approval of Major League Baseball or its clubs.