Fowler uses clear head to get back on track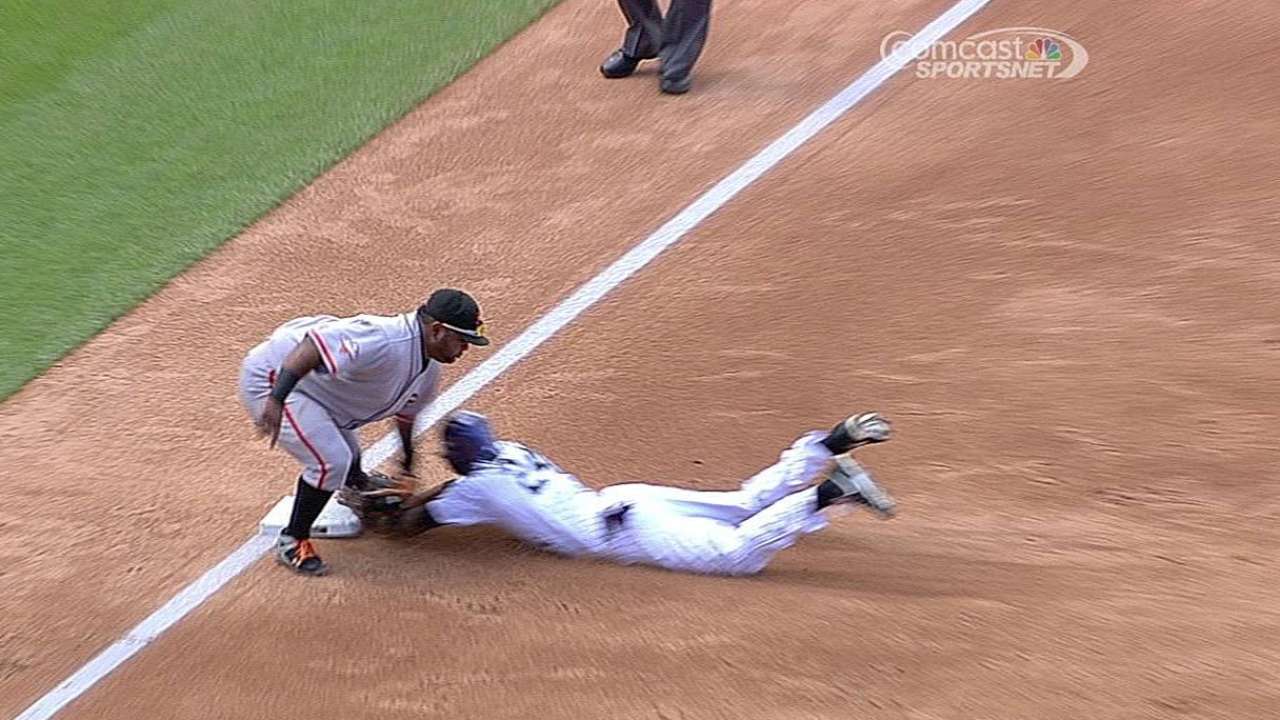 DENVER -- After a lengthy slump, center fielder Dexter Fowler went 10-for-20 as the Rockies won three of four games against the Giants.
He raised his batting average from .254 before the series to .286 going into Monday night's opener of a three-game set against the D-backs.
Fowler worked on some swing flaws during an early hitting session in Chicago, where the Rockies played the Cubs prior to returning home to face the Giants, but since then he has simply cleared his mind.
"We try to leave the thinking up to [the media], ya'll think you're thinking," Fowler said smiling. "You stop thinking. You're thinking nothing."
During Sunday's 10-2 victory over the Giants, social media blew up with fans criticizing Fowler for not thinking when they thought he should have been.
Fowler opened the bottom of the third with a single and advanced on a balk by Giants pitcher Barry Zito. As hitter Carols Gonzalez took ball four, Fowler tried to steal third -- by no means by the book, especially with Troy Tulowitzki on deck and Gonzalez a left-handed hitter.
Fowler's jump was poor and he was thrown out, which meant he violated the time-honored principle of not making the first out of an inning at third base. The Rockies didn't score in the inning.
However, manager Walt Weiss has given Fowler the green light, and has backed that by not second-guessing him when such decisions don't work. Fowler has used the bunt in odd situations as well, sometimes advancing a runner, sometimes forcing the defense to make difficult plays. Sometimes it hasn't worked.
"You go whenever you want, nobody's going to be mad at you," Fowler said. "Fans can say whatever they want. If they can be mad, they can be mad. We know how to play the game.
"Sometimes you run into some outs. [Zito] was a little bit quicker. Sometimes on 3-0, pitchers are a little slower to the plate. We've played for 20-plus years, some of us almost 30. Let your instincts take over."
Thomas Harding is a reporter for MLB.com. Read his blog, Hardball in the Rockies, and follow him on Twitter @harding_at_mlb. This story was not subject to the approval of Major League Baseball or its clubs.