Weiss, unafraid to shake up order, bats Fowler cleanup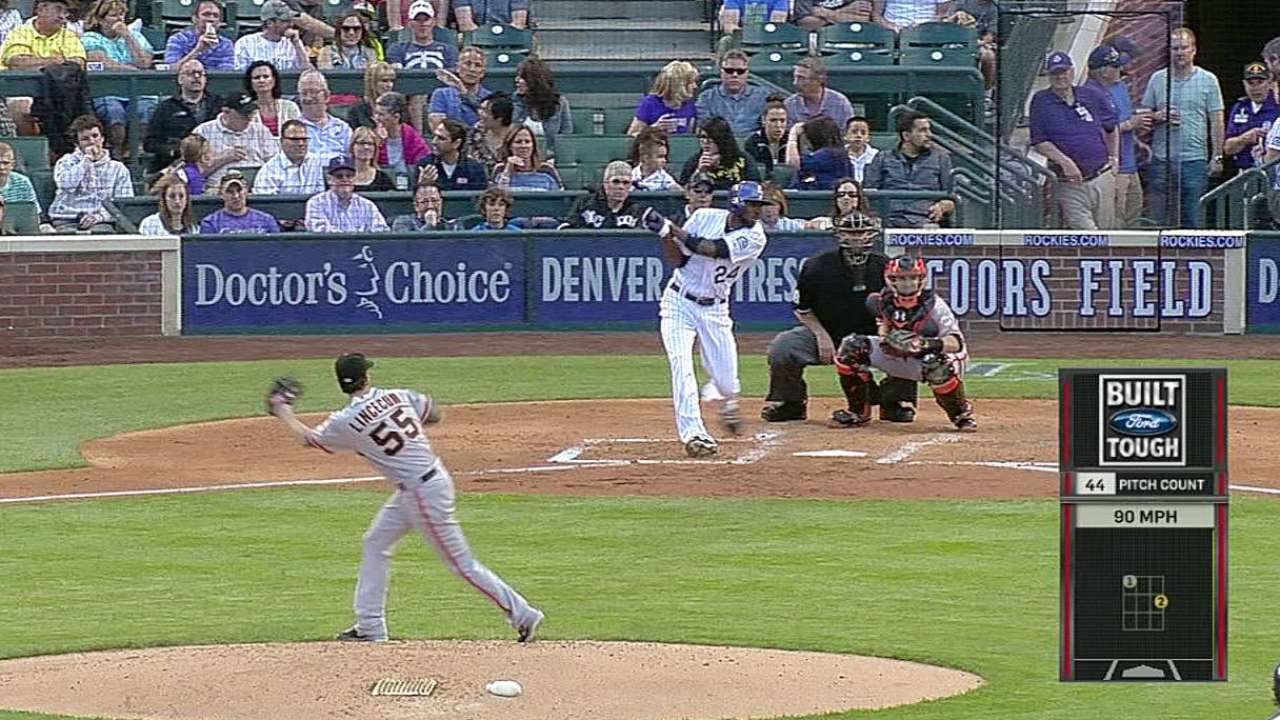 DENVER -- Rockies center fielder Dexter Fowler arrived at Coors Field on Wednesday looking quite cool in his designer jacket and pants and bow tie.
And he managed to keep his cool after being hit with a surprise.
With the Rockies resting cleanup man Troy Tulowitzki, not wanting to disrupt No. 3 hitter Carlos Gonzalez and wanting to move hot second baseman DJ LeMahieu up in the order to No. 2, manager Walt Weiss wrote Fowler -- normally either the leadoff or No. 2 hitter -- into the cleanup spot.
They had not discussed the move, but Weiss hasn't been shy about changing the top and bottom of the order based on hot streaks, players resting or matchups.
"It's kind of weird not hitting at the top, but it's all right," Fowler said. "I think it's fun. It's good for one game with Tulo out, but I'll have fun with it.
"I just came in and saw it. I trust Walt, whatever he does."
Weiss began his career with the Athletics under manager Tony La Russa, who often jumbled his lineup and sometimes even had guys playing unfamiliar positions.
"There was a method to his madness," Weiss said.
Weiss, in his first year, hasn't reached La Russa levels of strangeness in the lineup. He prefers keeping the middle of his order consistent when all the players are available. That wasn't the case Wednesday, with Tulowitzki and catcher Wilin Rosario resting, and Michael Cuddyer out until Friday because of a neck injury. Beyond that, he doesn't mind changing things up periodically, especially with the Rockies' versatile roster.
Weiss rejects the thinking that the occasional change disturbs preparation.
"With the middle-of-the-order guys, you don't want to get too crazy, because they're your run producers, and there's a level of comfort with them being in the same spot," Weiss said. "I don't really buy into, 'That screws up my approach, if I'm in a different spot in the lineup.' Just go up there and grind out an at-bat. Maybe that's why I'm not uncomfortable moving guys around at times.
"The bottom line is, you go up there, and the game will dictate what kind of at-bat you're supposed to take."
Thomas Harding is a reporter for MLB.com. Read his blog, Hardball in the Rockies, and follow him on Twitter @harding_at_mlb. This story was not subject to the approval of Major League Baseball or its clubs.