Arenado proving doubters wrong at third base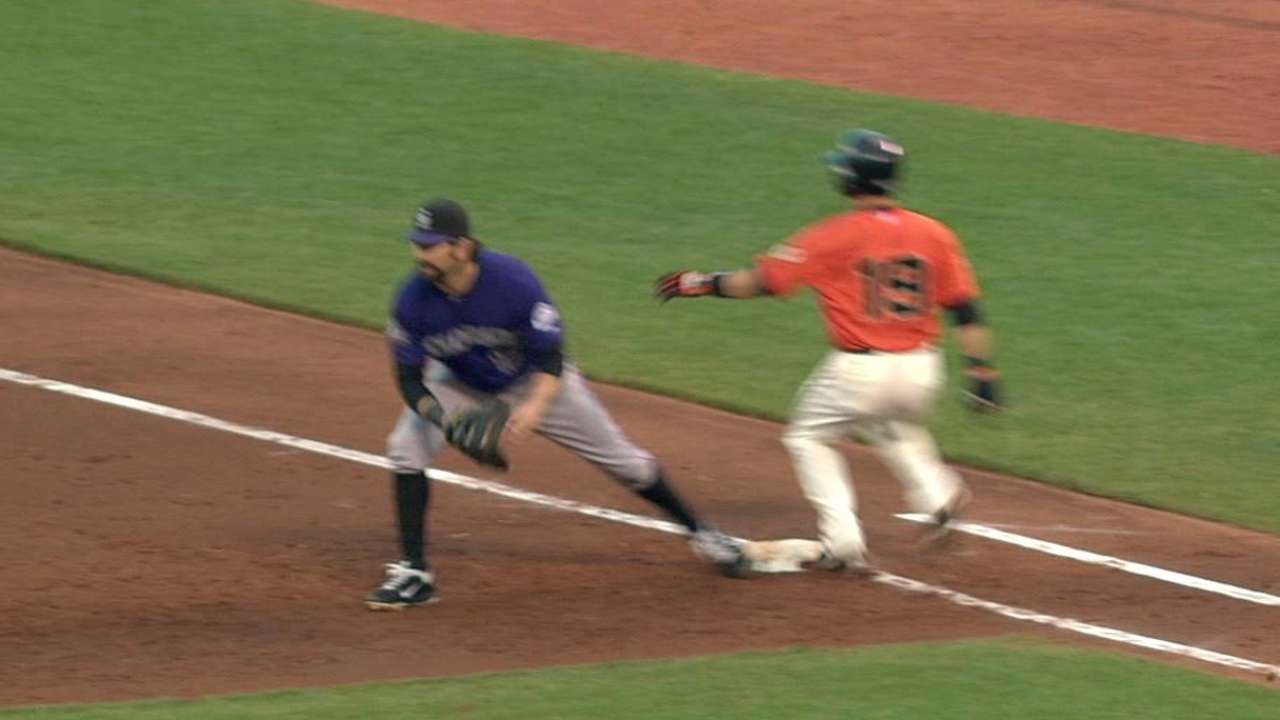 SAN FRANCISCO -- After seeing Nolan Arenado make play after dazzling play during his early time in the Majors with the Rockies, it's hard to believe that many thought he'd never play third base in the Majors.
When Arenado was drafted in 2009, he had a bulky upper body and thick legs. More than a few experts thought he would develop into a catcher. There's nothing wrong with that. However, there was nothing wrong with the way he played third.
Current Rockies catching instructor Jerry Weinstein was Arenado's manager at Class A Modesto in 2011. Weinstein knew catching and third-base play well enough to understand what Arenado truly was.
"There were a lot of people who said, 'He has a thick lower half, not a lot of first-step quickness,' blah blah blah," Weinstein said. "But he's got a nose for the ball. In football you have these free safeties that have a nose for the ball, but doesn't profile in the combine. You put a glove on Nolan Arenado or you put a hitter up there, his range is uncanny.
"For a guy with not a lot of fast-twitch, he gets to as many balls as anybody. He's going to be the standard for this game defensively. He can do everything -- tremendous arm, tremendous release, he's accurate, catches every ball."
Arenado's play at third is rooted in self-expression. He can see himself making the barehand play, like on a Marco Scutaro bunt in Friday night's 5-0 victory over the Giants, and craves the opportunity. His internal timing tells him when he needs his full arm strength and when he can save it.
"I like the plays that are just reaction -- reaching, turning around, making the quick throw -- where you don't know if you'll make the play," Arenado said.
Arenado said Weinstein helped him become more efficient by offering specific footwork drills. Possibly more important was the fact Weinstein understood perpetual focus is impossible, but he could help Arenado develop an understanding of when he needed to relax and when it was time to sharpen. He put the preparation to work in the games.
"I'd call in my game reports and say, 'Well, another SportsCenter play by Arenado, and he made it look easy,'" Weinstein said. "None of those plays look difficult, unless you've played a lot of games or seen a lot of games and know. It's like Joe DiMaggio made every catch in the outfield look easy."
Hitting was the key reason Arenado was considered one of baseball's best prospects, but there always was more to him. Arenado has been on and off at the plate. Going into Saturday afternoon's game against the Giants, he was hitting .247 with four home runs and 11 RBIs.
"If you don't play defense, you don't have a position and you're not going to help your team win," Arenado said. "We can't give up outs. I've worked hard on that, and hopefully hitting and fielding would both be there at some point."
So Arenado changed his body to make it leaner. All it did was make him look the way he played.
Thomas Harding is a reporter for MLB.com. Read his blog, Hardball in the Rockies, and follow him on Twitter @harding_at_mlb. This story was not subject to the approval of Major League Baseball or its clubs.