Two-hole causes consistent problems for Rockies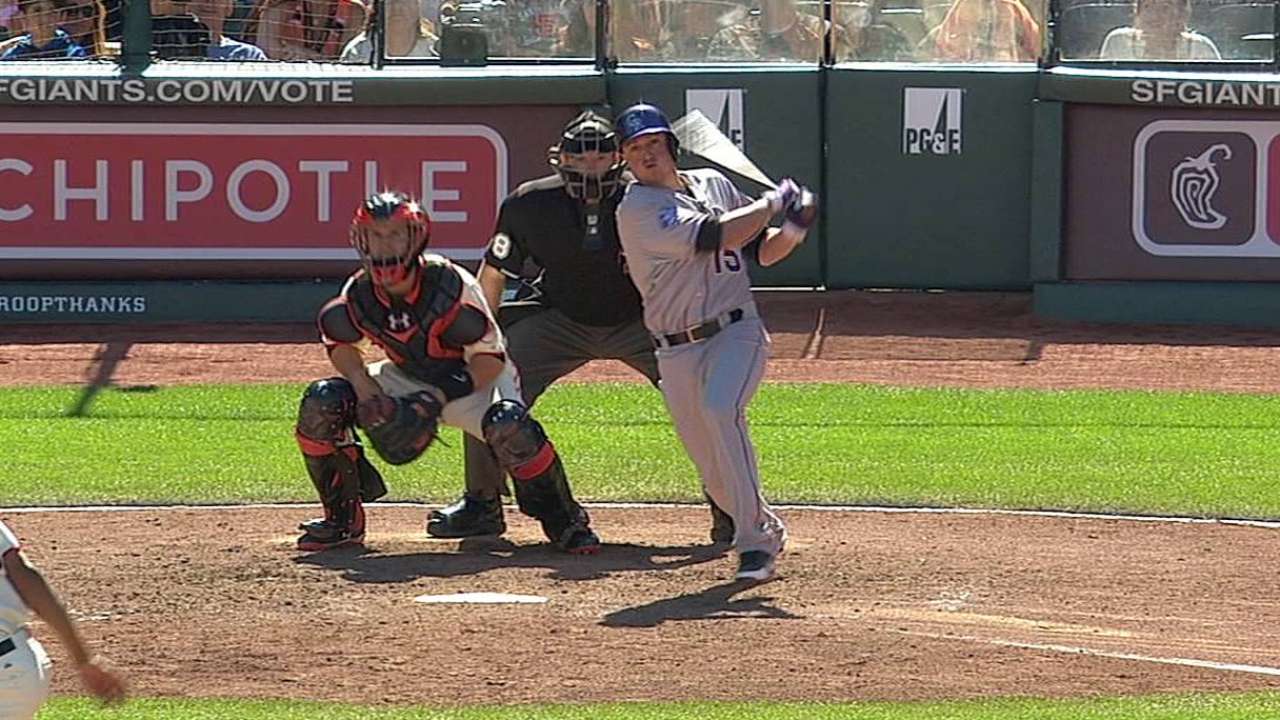 DENVER -- The two-hole in the Rockies' lineup seems to inexplicably zap many hitters of their success this season.
No. 2 hitters have batted .241 this season for Colorado. Only the pitcher's No. 9 spot is less successful. The oddity is each of the hitters that rotate into that spot are considerably better at some other place in the order. Jordan Pacheco, sharing time at first base with Todd Helton, has been the best by far in the two-hole, hitting .344 with a .400 on-base percentage in seven games.
However, Pacheco doesn't play all the time. In an effort to take advantage of the versatility on the roster, manager Walt Weiss has used many different lineup combinations. The tradeoff is instability in the second spot.
"I think it's more of a floating spot," Weiss said. "We run a number of different lineups out there, and a lot of it just depends on who's playing that day."
Dexter Fowler, placed in the spot Friday night against the Dodgers, entered hitting .250 with a .333 on-base percentage in 20 games in the second spot, but .294 and .419 in 27 games as a leadoff hitter. Fowler usually hits second when Eric Young, Jr., is in the lineup at leadoff -- as he was Friday, with left fielder Carlos Gonzalez taking the night off.
The original second hitter, Josh Rutledge, is now at Triple-A Colorado Springs. He hit .222 and got on base at a .269 clip in 18 games in the second spot, but had .314 and .400 marks in nine games in the No. 7 slot. Rutledge's replacement at second base has a similar story. DJ LeMahieu is at .154 and .214 in three games at No. 2, but .462 and .563 in four games at No. 8.
Nolan Arenado is at .250 and .333 in four games at No. 2, but .268 and .286 at 10 games in the six spot. He'll take either over the seventh spot, where he is hitting .185 with a .228 on-base percentage.
Hitting coach Dante Bichette said the Rockies are not asking any of the hitters to change their style in the two-hole.
"It's one of those interesting spots in the lineup, because there are so many views on what makes a good two-hole hitter," Bichette said. "There are guys that think speed. A lot of guys say on-base percentage. A lot of guys feel like a high-strikeout guy is good for second, because there are not a lot of double plays, and a lot of guys feel the opposite, that they need a contact hitter.
"Whatever identity they bring to the two-hole, we want them to be able to succeed there as if they hit anywhere else in the lineup. What they do anywhere else, do there. The guys that have been there are all capable of getting it done there."
Thomas Harding is a reporter for MLB.com. Ian McCue is an associate reporter for MLB.com. Read Harding's blog, Hardball in the Rockies, and follow him on Twitter @harding_at_mlb. This story was not subject to the approval of Major League Baseball or its clubs.