Rockies seek improvement with runners on base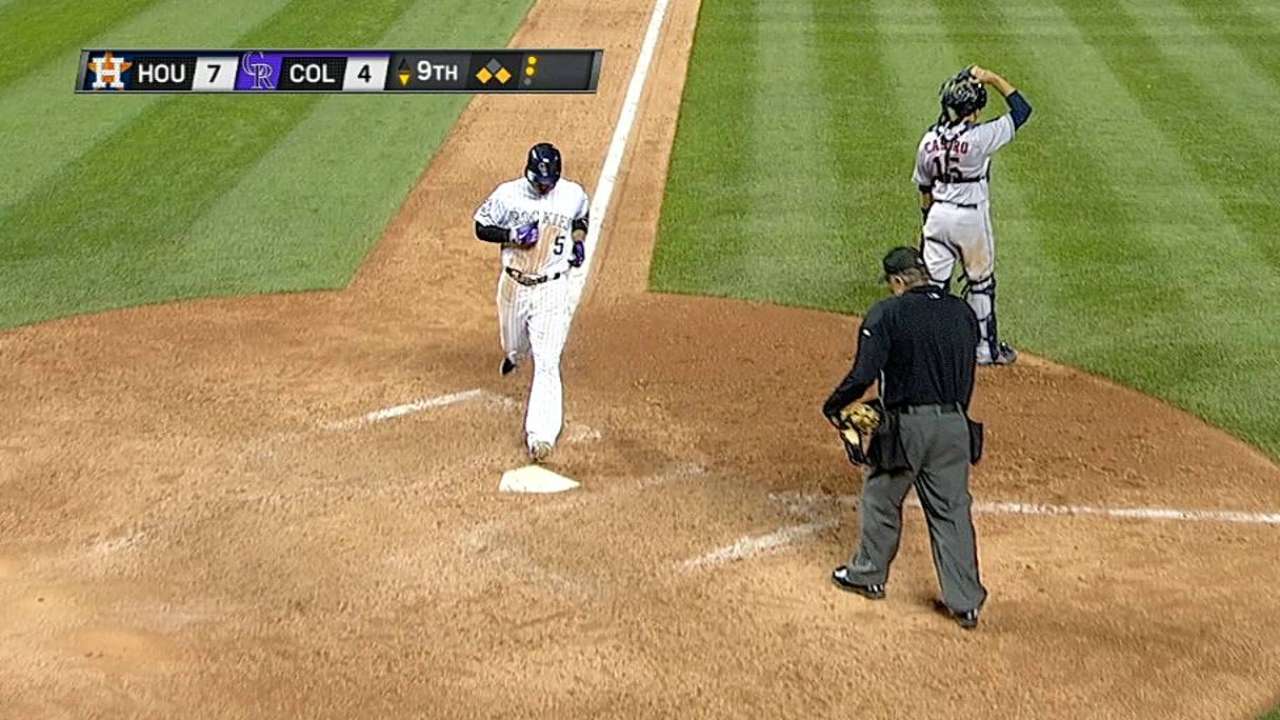 DENVER -- The opportunities were there, but the runs didn't follow. That was the story of the Rockies' series against the Astros earlier this week, as Colorado left 38 runners on base, dropping three of four games in the Interleague series.
The hits were there, just not at the right time. While this scoring drought -- Colorado scored 12 runs in four games -- can largely be credited to the cyclical nature of baseball, third baseman Nolan Arenado said Colorado can bolster its run production.
"I think as a team we need to have more quality at-bats," Arenado said. "I know personally I need to have more quality at-bats and I believe it will come, it takes time. We may play the Astros, and everyone says how they're not a good team, but they pitched well against us, and we couldn't find a way and we need to find a way if we want to win."
Colorado started the year as one of the hottest-hitting teams in baseball, scoring 141 runs in 27 games, or 5.2 runs per game. Entering Friday's opener against Los Angeles, that has dropped to 4.3 runs per game -- not a steep decline, but still evidence of a recent offensive slump.
Hitting coach Donte Bichette compared it to the slumps nearly every Major League hitter weathers at some point every season. He said this is nothing more than a temporary issue.
"We can survive the storm, because what you're looking at is the long haul," Bichette said. "There are streaks, and I don't know how many times we've lined out with guys in scoring position in the last week.
"You've got to look at the overall. You wouldn't take a week out of a guy's career or a week out of a guy's year, would you? You'd look at what kind of year he had. We're pretty good with runners in scoring position."
The Rockies are hitting an efficient .284 with runners in scoring position and .257 with two out. So even with the offensive frustration against Houston, Bichette's hitters have driven in runs at a steady rate.
The good news is that Colorado is spraying the ball across the field to put runners on base, knocking out the first step in the run-scoring process.
"It's one thing to not get anybody on base," said left fielder Eric Young. "It's another to be able to have opportunities, just got to take advantage."
Thomas Harding is a reporter for MLB.com. Ian McCue is an associate reporter for MLB.com. Read Harding's blog, Hardball in the Rockies, and follow him on Twitter @harding_at_mlb. This story was not subject to the approval of Major League Baseball or its clubs.