Helton's role not limited to pinch-hitting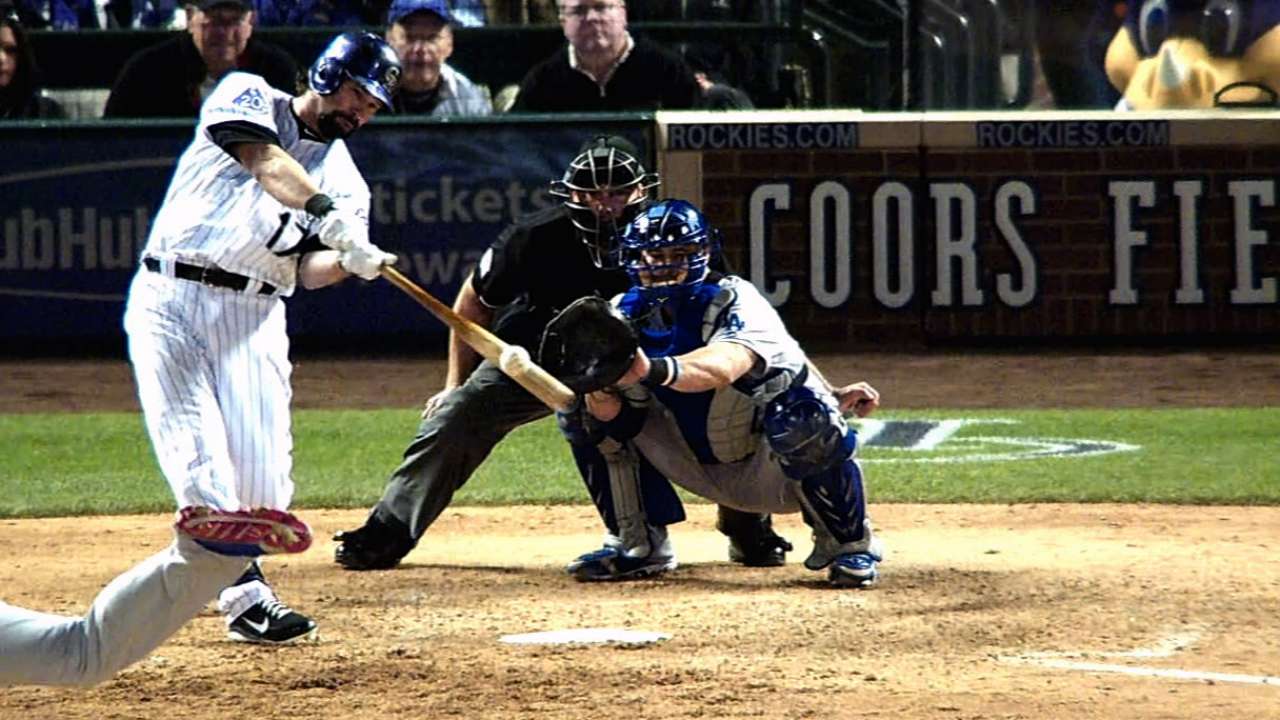 DENVER -- The ball goes a long way when Todd Helton makes contact in a pinch-hitting role, but don't call him a pinch-hitter.
Helton has struggled with a .227 batting average this year, so manager Walt Weiss is sitting him against tough starting left-handers, such as the Dodgers' Clayton Kershaw, who started Friday. But Helton parked a two-run homer off Brandon League in the second deck Friday to tie the game with one out in the ninth, only to see the Rockies lose, 7-5, in 10.
Helton is 2-for-7 as a pinch-hitter, but both hits are homers. A regular throughout his career, Helton has a predictably low pinch-hit average -- .179 (10-for-56) -- but his hits include four home runs and a double, and he has drawn 11 walks. It's a role where he tries his best, but freely admits it's not one for which he's suited.
"Pinch-hitting is not easy," said Helton, who has been teammates with some standout pinch-hitters in Colorado -- Greg Colbrunn, Lenny Harris, Greg Norton, Mark Sweeney and Jason Giambi. "When you have a guy who can pinch-hit, it's the hardest thing to do in sports. You get one at-bat, and it's usually against a tough guy and it's ... a guy like myself, who puts so much pressure on an at-bat, pinch-hitting is not really my forte.
"I have always known it was no easy feat to go out there and do that. I have always had immense respect for guys who could do that."
Weiss, who believes in Helton's ability to hit despite the early slump, isn't calling Helton the "P-H" word, either.
"He's going to be starting a lot, too, so it's not like that's going to be his role," Weiss said. "But when he is over there and he's available to hit late in the game, it makes it tough on the opposing team knowing he's sitting there and he's going to give it a good at-bat and he's going to be a tough out.
"We have a feel for the days that he's going to have off. We talk about it. He pretty much knows when he's not going to be playing. I don't see him as a bat off the bench. I see him as a guy who's going to be playing a lot."
Helton's homer Friday came at the end of an 11-pitch at-bat in which he battled back from a 1-2 count. It was the type of grit that has helped him to 2,442 career hits. But even Helton, in the starting lineup Saturday against Dodgers righty Zack Greinke, doesn't know if it will power him to a run of success.
"I'll let you know in three hours," Helton said before Saturday's game. "I mean, you can't tell. It's hard to say until I get out there and start doing it on a consistent basis."
Thomas Harding is a reporter for MLB.com. Ian McCue is an associate reporter for MLB.com. Read Harding's blog, Hardball in the Rockies, and follow him on Twitter @harding_at_mlb. This story was not subject to the approval of Major League Baseball or its clubs.