Rockies take OU ace Gray with Draft's third pick
Rockies take OU ace Gray with Draft's third pick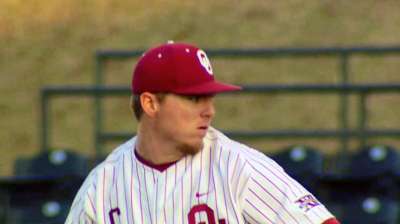 DENVER -- The Rockies snapped up University of Oklahoma right-hander Jonathan Gray, whose fastball has reached 100 mph in recent starts, with the third-overall pick in the 2013 MLB First-Year Player Draft on Thursday night.
Many analysts expected the Rockies to take third baseman Kris Bryant from the University of San Diego, with Gray and Stanford right-hander Mark Appel going 1-2 in some order, but the Rockies were ready to pounce if one of the pitchers slipped. The Astros drafted Appel with the top pick. The Cubs were said to be heavily on Appel, and they switched gears to the power-hitting Bryant with the second pick.
That opened the door for the Rockies to snag the 6-foot-4 Gray with the second-earliest pick in club history. The Rockies took Stanford right-hander Greg Reynolds No. 2 overall in 2006.
The Rockies also chose left-handed-hitting third baseman Ryan McMahon from Mater Dei High School in Santa Ana, Calif., in the second round, 42nd overall, and right-hander Alex Balog from the University of San Francisco in Competitive Balance Round B, 70th overall.
"I've had nothing but love for Colorado -- Tulsa's Double-A stadium is like 40 minutes from my house," said Gray, who will start for Oklahoma on Friday against LSU in NCAA Super Regional tournament play. "Denver is a great place to be."
Day 2 of the Draft continues with Rounds 3-10, streamed live on MLB.com on Friday, beginning with a preview show at 10:30 a.m. MT. And Rounds 11-40 will be streamed live on MLB.com on Saturday, starting at 11 a.m.
MLB.com's coverage includes Draft Central, the Top 100 Draft Prospects list and Draft Tracker, a live interactive application that includes a searchable database of Draft-eligible players. You can also keep up to date by following @MLBDraft on Twitter. And get into the Draft conversation by tagging your tweets with #mlbdraft.
Gray, a junior, is 10-2 with a 1.59 ERA and 138 strikeouts in 119 innings pitched over 16 games, All-Starts. He has four complete games, two of them shutouts. Gray, 21, has wowed scouts with his fastball and slider.
"We scouted everybody and a lot of time and effort by a lot of people went into the Draft," Rockies vice president of scouting Bill Schmidt said. "A lot of rumors were flying today. We were prepared for whoever was going to be there at No. 3. It happened to be Jonathan. We were very happy.
"He's a power pitcher with a feel to pitch, can throw strikes. We think all the qualities that are there to be a good Major League pitcher. We like him first and foremost as a person. We like his character."
Schmidt has clocked Gray at 101 mph and says he is the hardest thrower he can recall drafting. But triple digits are only occasional. He stays in the 95-96-mph range and mixes in his slider.
Gray's strong 2013 season is a result of extensive work he has done with his body and his diet over the years.
Gray had been selected twice previously, by the Royals in the 13th round in 2010 and by the Yankees in the 10th round in '11, and said he came close to signing after the Yankees took him, but is happy he returned to college. There was speculation he'd be the top-overall pick, but Gray said "slipping" to third does not bother him.
Gray spent his freshman season at Eastern Oklahoma State College, a two-year school, in 2011 and went 6-2 with a 2.89 ERA and 61 strikeouts before transferring to Oklahoma. Gray went 8-4 with a 3.16 ERA 104 strikeouts in 102 2/3 innings over 18 starts as a sophomore.
The velocity Gray has displayed this season, he said, is the result of his development physically since high school, which has been accelerated since he arrived at Oklahoma. He said he was around 250 pounds when he graduated high school and went up to 260 in junior college, but now says he is 235.
"I got stronger, lost weight and the mechanics, working with coach [Jack] Giese, our pitching coach at OU, it seemed like everything started clicking and my velocity kept climbing," Gray said. "Now I know how to control it. I can ring up triple-digits whenever. It's been another great tool, a weapon I've been able to use this year."
Schmidt said, "You look at what he's done, you look at where he's at and where he has a chance to be in the future, and we like his upside, what he potentially could do for the Colorado Rockies down the road."
ESPN.com and CBSSports.com recently reported, citing sources, that Gray tested positive for the prescription drug Adderall during an MLB-administered test. Adderall is a stimulant that is not permitted to be used without a waiver under the MLB policy regarding performance enhancing substances.
However, reports about the alleged drug test result said it would not lead to a suspension or hurt his status in the Draft, although he will be subjected to additional testing during his pro career. Also, Gray has been in good standing with the collegiate testing program at Oklahoma.
"I'm not going to talk about that right now," Gray said. "There will be a time for that, but right now I'm just happy to be selected by the Rockies. Tomorrow I have to go out and try to win the Super Regional and help us get to Omaha [for the College World Series]."
Thomas Harding is a reporter for MLB.com. Read his blog, Hardball in the Rockies, and follow him on Twitter @harding_at_mlb. This story was not subject to the approval of Major League Baseball or its clubs.