Tulo credits success to good approach, staying even
Tulo credits success to good approach, staying even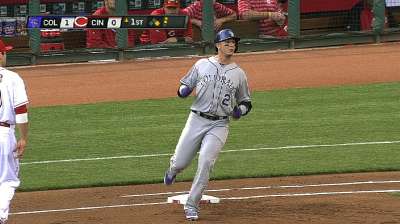 DENVER -- The balance of hitting for power and average is difficult, but Rockies shortstop Troy Tulowitzki is making it look easy.
Tulowitzki entered Wednesday night's game against the Nationals leading the National League with a .353 batting average. The only Major Leaguer with a higher average was the Tigers' Miguel Cabrera, at .363. Tulowitzki also led the NL in slugging at .651, and had 14 home runs and was tied for third in the league in RBIs with teammate Carlos Gonzalez with 51.
"I'm trying to have good at-bats, and when I get to two strikes, having a good two-strike approach," Tulowitzki said. "I'm coming to the field every day with a plan of how I'm going to attack that pitcher. I'm not getting too frustrated when either I hit into a hard out or I run into a rough patch. Everything kind of works together.
"I've been doing a good job of trying to slow the game down and not letting it speed up on me."
Tulowitzki's otherworldly swing is mostly responsible, but he insists he's not totally alone in the batter's box. Rockies bullpen catcher Pat Burgess, a teammate at Long Beach State, is the person he talks to most about hitting. He has also has done work with batting-practice pitcher Garrett Carson, and he says first-year hitting coach Dante Bichete has been a breath of fresh air.
Most of the time, little is said.
"They don't really come to me anymore -- it's more me seeking out them and getting little bits here and there," Tulowitzki said. "And if they see something, they know when to say it. That's the good thing about being around for a couple of years. They know when to talk to me and when to leave me alone. More than anything, a hitting coach is being a friend of a guy more than telling him what to do physically."
Bichette said he enjoys his talks with Tulowitzki. Because the Rockies' coaching philosophy is to trust players' athletic ability and trust them to prepare, Bichette and Tulowitzki talk as equals.
"I love talking to Tulo about hitting," Bichette said. "I love learning as much as teaching. He's a great player. We talked a little bit in Spring Training about swing plane, and that's the last time we really talked about his swing.
"He's a relentless preparer, and he's been doing it long enough to know what he's got to get done."
Tulowitzki said his comfort level is as high as it has ever been.
"It takes a lot of work," Tulowitzki said. "You have to have a lot of good guys with you, whether it be teammates watching your swing to keep you on track, certain guys in the clubhouse. A good hitting coach also helps. Dante's always been great. Pat really helps me out. I give those two guys credit, as well.
"My teammates have helped me. You can't put up good numbers without them being on base."
Thomas Harding is a reporter for MLB.com. Read his blog, Hardball in the Rockies, and follow him on Twitter @harding_at_mlb. This story was not subject to the approval of Major League Baseball or its clubs.