LeMahieu hot at plate, aggressive on basepaths
LeMahieu hot at plate, aggressive on basepaths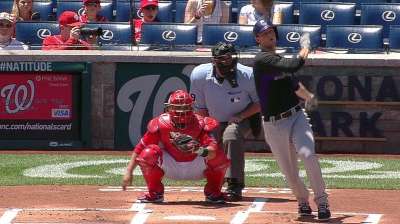 BOSTON -- From May 27 through June 5, DJ LeMahieu had no feel at the plate.
Mired in a 4-for-31 slump, he thought it would never end.
"It was one of those for sure," he said. "Anytime you're in a slump like that, it feels like it's going to last forever."
Then he smacked a single, stole a base and hit a double in his next game against the Padres. The stolen base is always his way of feeling productive.
"I'm a singles hitter," he said. "So if I can turn one base into two, that's great. That's what I need to do. It's how can I contribute."
Suddenly, LeMahieu turned a corner. Since June 6, the Rockies second baseman is hitting .365 (19-for-52) with four doubles, one homer and five stolen bases.
He's become a steady producer out of the No. 2 spot in the Rockies order and is contributing to the team's Major League-best stolen-base percentage of 85 percent. Entering Tuesday's game Colorado has stolen 58 bases and been caught just 10 times.
"They tell you here to be aggressive," LeMahieu said. "The organization, through Triple-A, is aggressive on the bases. I love it. That's what I like to do, so it works out really well for me."
In 81 games with the Rockies last season, LeMahieu was 1-for-3 in stolen base attempts. He's 9-for-9 with the Rockies this year after going 8-for-10 with Triple-A Colorado Springs.
Especially against the Red Sox, LeMahieu's speed should continue to be an asset.
With David Ross on the 60-day disabled list with a concussion, the Red Sox have put much of the catching burden on Jarred Saltalamacchia, who has thrown out just 19 percent of stolen-base attempts this season entering Tuesday's game, fourth-worst among qualified catchers.
LaMahieu was acquired from the Cubs with Tyler Colvin in the trade that sent Ian Stewart and Casey Weathers to Chicago before the 2012 season. Stewart, who spent five years with the Rockies, was signed to a one-year deal worth $2 million to play with the Cubs this season, but hit just .168 in Triple-A and was released on Tuesday.
Jason Mastrodonato is a reporter for MLB.com. Follow him on Twitter @jmastrodonato. This story was not subject to the approval of Major League Baseball or its clubs.