Nicasio's struggles may lead to demotion
Nicasio's struggles may lead to demotion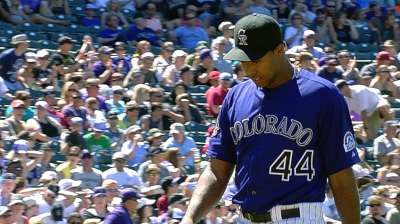 BOSTON -- If Juan Nicasio had been able to command his fastball better, he probably wouldn't be in this position.
Falling behind hitters has caught up with the 26-year-old this season, and now the Rockies won't guarantee that he'll remain in the starting rotation.
After allowing a career-high 12 hits while getting trampled by the Red Sox in 2 1/3 frames during Tuesday's 11-4 loss, Nicasio's status with the club is uncertain. Manager Walt Weiss said he and team officials will discuss the right-hander's future over the next day or two and make a decision.
"I think it's tough when you don't have command of your fastball up here [in the Majors]," Weiss said. "It's really tough to pitch here."
Out of 329 batters Nicasio has faced this season, he's gotten ahead of just 56 percent of them. When he gets ahead, opposing hitters are batting .225. But once he's fallen behind 1-0, Nicasio is getting smacked around to the tune of a .311 average and .819 OPS.
"At times, he struggled with bad counts," Weiss said. "You talk about bad counts, he's gotten in bad counts and he's having to throw his fastball. Even though it's a good fastball, big league hitters don't miss it in fastball counts. That's what's been tough for him."
A trip to Triple-A Colorado Springs is not unimaginable, especially considering how well Drew Pomeranz has performed there of late. On the season, Pomeranz has 96 strikeouts to 33 walks in 85 2/3 innings with a 4.20 ERA in the hitter-friendly Pacific Coast League.
The Rockies could use some consistency in their rotation, as they're about to enter a stretch of 16 straight games played against National League West opponents, starting with the Giants on Friday.
Jason Mastrodonato is a reporter for MLB.com. Follow him on Twitter @jmastrodonato. This story was not subject to the approval of Major League Baseball or its clubs.